At concerts and plays, though, patrons are typically asked to turn off or silence their phones, as they can be distracting for performers and fellow patrons. 
But across the country, that doesn't always stop high-tech rebels.
Last month, chaos broke out at an opening-night screening of "Star Wars: The Rise of Skywalker" in Vancouver, B.C., after a moviegoer allegedly punched a man for using his phone in the theater and the film had to be paused, according to CTV News.
"Everybody is deeply upset by it. How can you not be distressed by this?" the actress later told The New York Times. "I don't know why they buy the ticket or come to the theater if they can't let go of the phone. It's controlling them. They can't turn it off and can't stop looking at it. They are truly inconsiderate, self-absorbed people who have no public manners whatsoever. I don't know what to do anymore."
Here in the Quad-Cities, we talked to venues and patrons about cell-phone use and policies to see how often cell phones interrupt productions. 
Jeff Coussens, Augustana College's chair of theatre arts, was at the Sept. 4, 2019, Steely Dan show at Moline's TaxSlayer Center. Unlike most events at the 11,000-seat arena, fans were asked to not take any photos or videos during the show.
"There were signs prohibiting cell-phone use during the concert. When we were in line, holding my phone, they didn't take it away," he said recently.
"We thought with the ushers at various stations, they would be watching for people with cell phones out, asking people to take it away," Coussens said. "We snuck in a few photos, I'll admit, but we were discreet about it. I didn't see ushers say don't do that."
Unlike many big concerts, the Steely Dan crowd did not turn on their phone flashlight feature, which creates a starry-sky effect across the arena, he noted. The band, which hit its peak in the '70s, didn't want any concert footage posted online, Coussens said. "Everybody understood they didn't want to see stuff on social media. That's the first time we've encountered that."
At Augustana over the years, the theater department has had to take away people's cameras when they try to shoot during a show, he said. "When cameras took better pictures than phones, we had some distracting behaviors," Coussens said. "I remember the days in the theater when they asked for pagers to be left at the door."
Of today's phone use, "It's a different world. I don't think it can be stopped," Coussens said.
Stephani Nagle, director of marketing and relations at the TaxSlayer Center, said: "Unfortunately, our policy always varies by the artist. We as a building do not have a standard policy on cell phones.
"We have had very few complaints, if any. If we were to get a complaint, we would refer to whatever policy was put into place for that event based on the artist's request. From what I recall with Steely Dan, fans were requested to not use their phones as cameras and video recorders during the show. If our staff observed it, we were told to politely ask them to stop."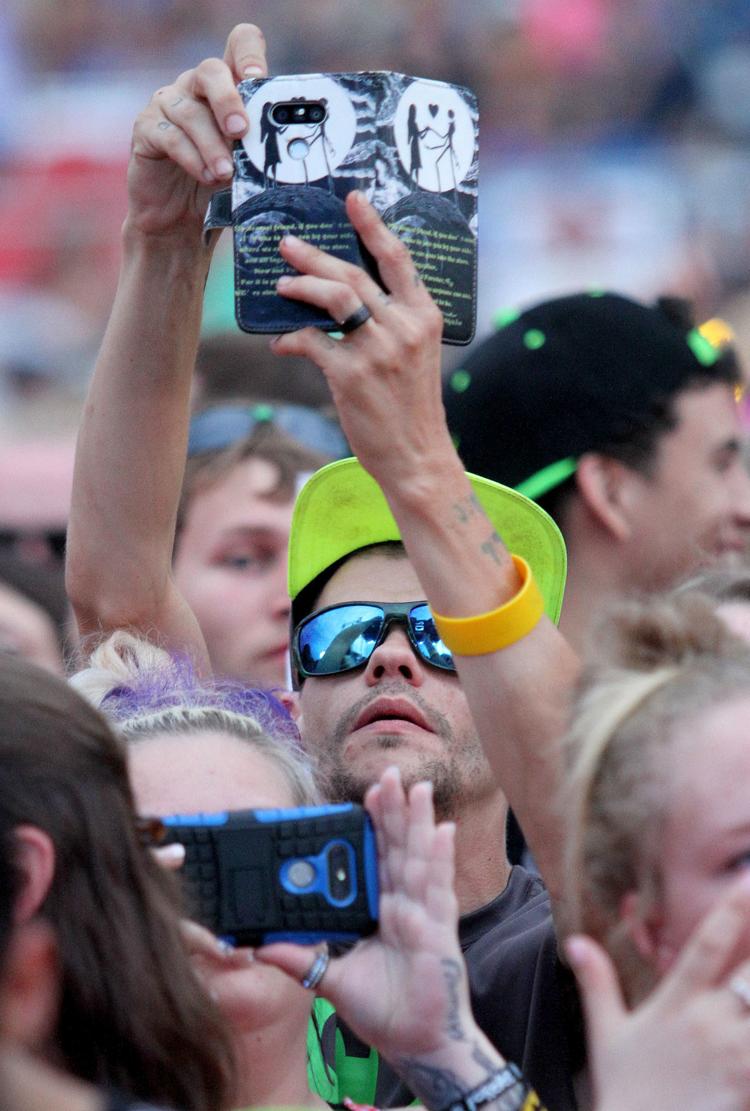 Heather Brummel, of Davenport's Adler Theatre, said many tours don't authorize flash photography or videography, yet permit patrons to use phones for photography purposes, only from their seat.
"Each tour is different in how, or even if, a pre-show recorded/live announcement is made regarding mobile devices," she said. "If a show program is distributed, usually there will be a reference to the use of cameras and cell phones included in the details about the performance."
A bad date at "Bad Dates"
Lora Adams — a veteran area director, actress, and co-founder of the 3-year-old Black Box Theatre in Moline — said she's been pretty lucky at the intimate, 60-seat Black Box. However, years ago she had a terrible experience at New Ground Theatre's production of "Bad Dates" at Davenport Junior Theatre, in which Adams played the lead.
During one matinee performance, a woman's phone rang and she took the call and talked loudly from her seat, Adams said. "Not long after, it happened again, only this time she got up, talking the whole way out into the lobby. Apparently, she was told to turn her phone off if she wanted to go back into the theater."
The patron started screaming at director Chris Jansen, and when her phone rang again after intermission, she went outside to take the call. The patron was then locked out of the theater, Adams said.
"Her excuse was that she was a real estate agent and she had to talk to her client, regardless of the fact there was a play going on."
Norm Bower, of Davenport, was at that same production. During one call, the woman "talked as she bumped a half dozen patrons while going out to the lobby. It was shocking," he recalled. "I saw her in the parking lot later and said directly to her — please don't ever go out in public again."
Bower was also at a Chris Botti concert at the Adler a few years back, when a patron near him kept texting and "his flashing phone was really irritating and distracting," he said. "After 30 minutes, I asked him to stop, out of respect for all those around him. He and his girlfriend got up and left. Those who remained applauded."
You have free articles remaining.
Concerts shouldn't be "viewed through a tiny phone"
Kate Dale, entertainment director at River Music Experience, Davenport, said it's rare to have a problem at the Redstone Room.
"Phones are just so present in everyone's lives," she said. "I think society has just gotten so used to it. Personally, I hate it, though. I mean, I'll take a photo or two at a show from time to time, but it's the people that are filming every song, or holding their phone in the air constantly that drives me mad."
She went to see the indie rock band Alt-J in St. Louis last year for a friend's birthday, in the beautiful Peabody Opera House. "We had balcony seats and were among some of the only people standing and dancing to the music, and of course the person sitting behind us asked us to sit down. We were annoyed but, of course, obliged and sat down, only for her to hold her phone over our heads the entire rest of the concert filming the show.
"Like, are you really going to sit at home and re-watch those again and again, after you just wasted your ticket and time to look through a phone screen? … Live music concerts should be about the experience being there with the band, not viewed through a tiny phone the entire time."
Perhaps no performance setting is quite as hushed or formal as a classical-music concert.
Brian Baxter, executive director of the Quad City Symphony Orchestra, recalled that at a performance two seasons ago, an audience member's phone went off "during a particularly tender moment toward the end of a work entitled The 'Black Gondola' and the ring tone persisted quite loudly for an extended period of time at the end of the work.
"Because it affected the recording of the work, which are re-broadcast on WVIK (FM 90.3), and since the piece was relatively short, we were able to perform it again the second time without ringtone interruption," he wrote.
Of such incidents, "We handle them with grace and kindness because the reality is that cell phones are a major part of our existence and we must work with them," Baxter said. "We do our best to unplug and ask our audience to unplug as we enjoy the music."
Eric Landuyt, board member for Moline's Playcrafters Barn Theatre, said if patrons must take a call during a show they leave the building.
"We also tell them that using their phones to record any portion of the performance is forbidden by law," he said. "Our patrons are usually pretty good about following these rules, so it's pretty rare that a phone goes off during a show. If one does, the patron is usually quick to silence it themselves without intervention from our house manager or ushers.
"We did have one incident during a show this past summer where a patron's phone rang and she left her seat to answer it but stood in the back of the house talking loud enough for most of the audience to hear," Landuyt said. "Our house manager did approach her and tell her to leave the auditorium if she wanted to continue the call, and while the patron was a bit miffed, she did comply. That incident is the only one of its kind any of us on the board can recall in the last several years."
Music Guild performer Hillary Erb said they'd had to stop audience members from recording shows at the Moline theater in Prospect Park. "I have had to go and ask them to stop, delete the recording and not do it again, or they will be asked to leave," she said, noting the phone's light or screen also can be distracting for performers and audience alike.
"It has been getting worse as everyone has a smartphone," Erb said.
But Mike Schulz, a frequent actor with QC Theatre Workshop and theater critic, said phone use during performances was less frequent than it was in recent years. "I think things have gotten way better than they were a decade ago ... by now most everyone seems pretty well-conditioned to turn off their phones at performances. I only rarely hear phones or see them light up."
A tough hill to climb in Geneseo
Jennifer Kingry, a veteran lighting designer and director at Richmond Hill Players in Geneseo, said nearly everyone who's worn a headset while crewing a show with her "has heard me mutter imprecations against 'some idiot who will not turn their phone off'."
At least once, after delaying a show start to give the culprit plenty of time, "I finally pulled the volume down on the lead-in music and called out, 'We're not starting until the phones are put away!'" she said. "We have a semi-serious standing joke at RHP that I should get a laser pointer or a really strong LED flashlight so I can point out the offenders in the house. I believe that few in the audience ever intend to disturb others or be deliberately rude; I think they simply are oblivious as to how disruptive a phone or other electronic device can be."
"Richmond Hill is particularly vulnerable in this regard, because we have a small, intimate house with seats that are extremely close to the stage, and because our seating is in-the-round. The sound of a phone ringing or an alarm going off is heard everywhere in our theater. And texting is equally disruptive."
At one RHP production, an alarm went off on a phone. Its owner was on the south side of the house, which meant if she wanted to leave to take the call, she would have to walk across the stage to reach the exits. "However, I don't think she was familiar with our theater, which led her to try a more direct route," Kingry said.
"Immediately digging in her purse for her phone, she stood up as her husband swung his legs clear to let her reach the aisle. So far, so good. I figured she wanted to stand in the aisle to silence her phone. Nope. She came down the steps to the stage floor, then looked for the nearest door, opened it and went out.
"Unfortunately, this was a stage door, which led to our backstage. So the first thing this poor woman encountered just beyond the door was the black curtains hung to block light behind stage entrances. I knew an actress due to enter through that same door in about half a page, so I tried to alert crew members over the headset of our backstage intruder, but the crew was actually downstairs, tidying up after intermission.
"Luckily, as the lady with the phone batted her way through the black curtains, she was met by the waiting actress who was a real pro and guided the woman around the corner of the dim backstage area to the stairs leading down to our green room.
"If people are going to carry a computer/telephone/alarm clock in their pockets, chances are it's going to make noise when you don't want it to."
To be safe Quad-City venues advise, in the immortal "Book of Mormon" words, "Turn It Off."
Bryan Adams lights
Cell phone lights at Twenty One Pilots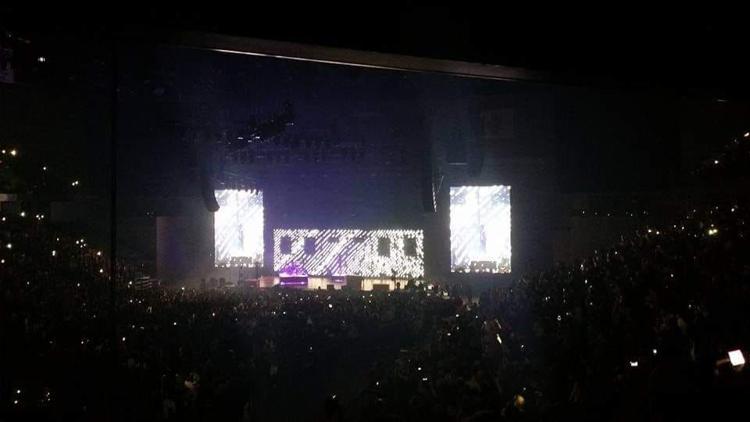 Crowd captures Tesla show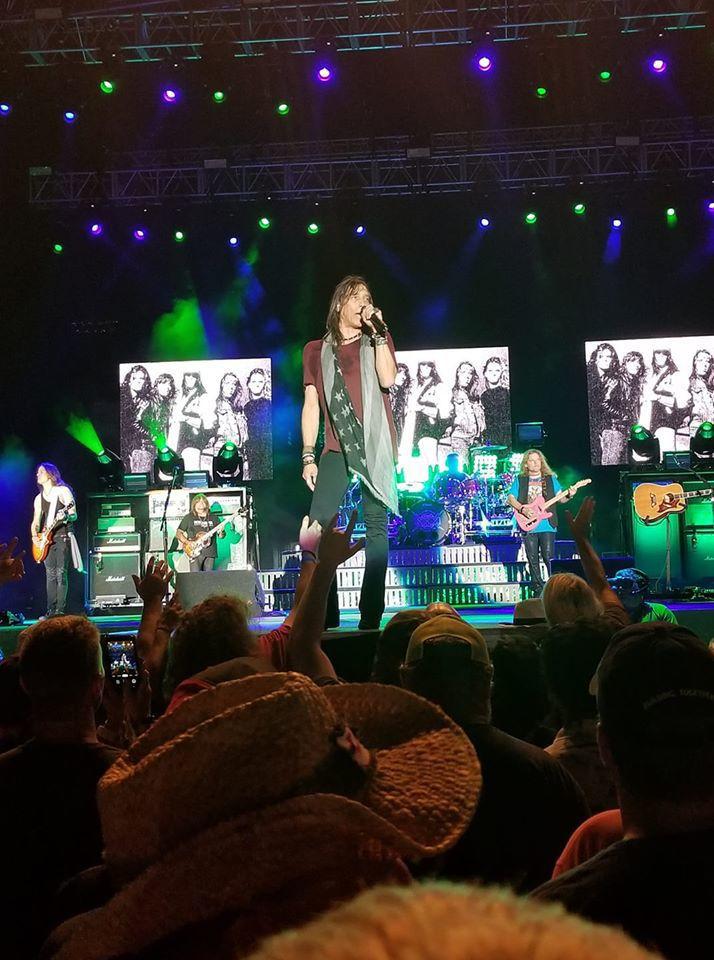 Cell phone lights at Pentatonix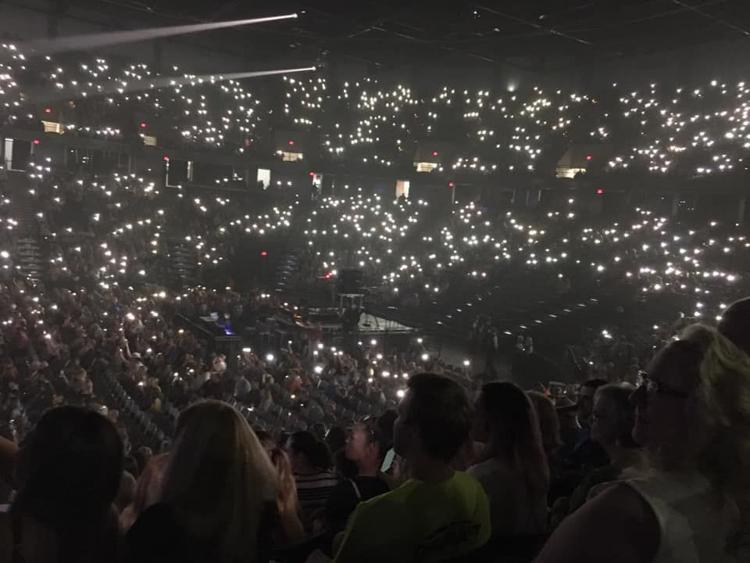 012420-qc-nws-cellphoneuse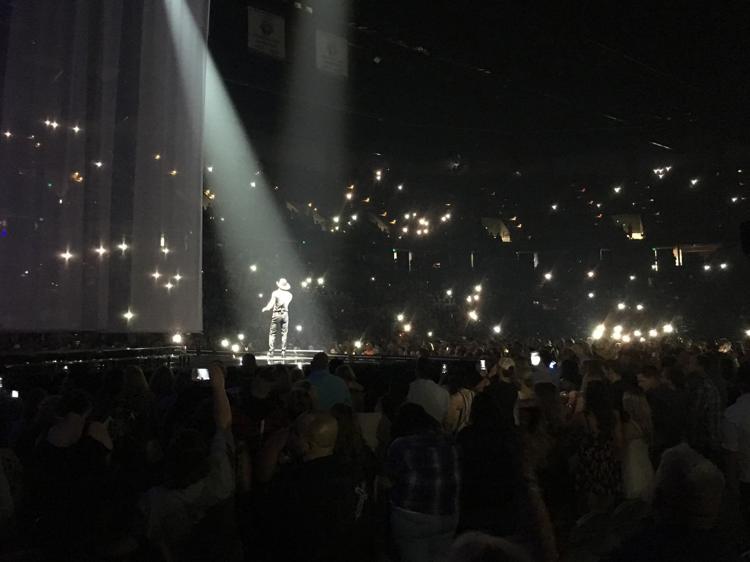 012420-qc-nws-cellphoneuse2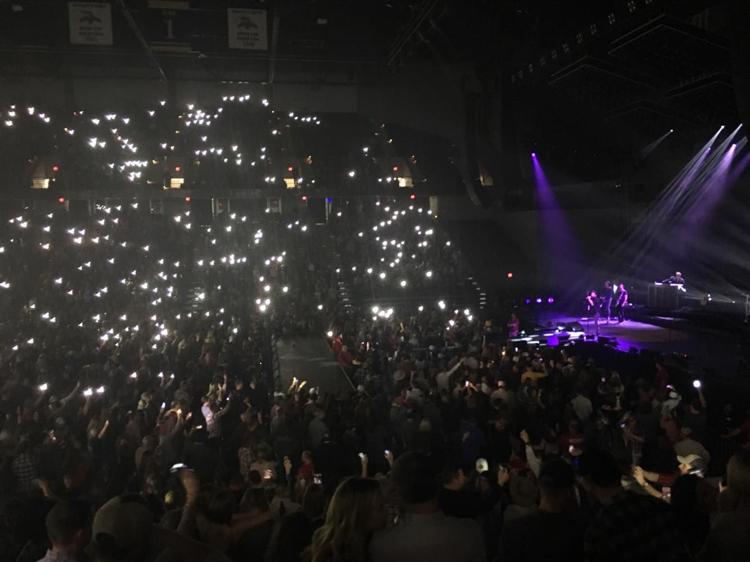 012420-qc-nws-cellphoneuse3

012420-qc-nws-cellphoneuse4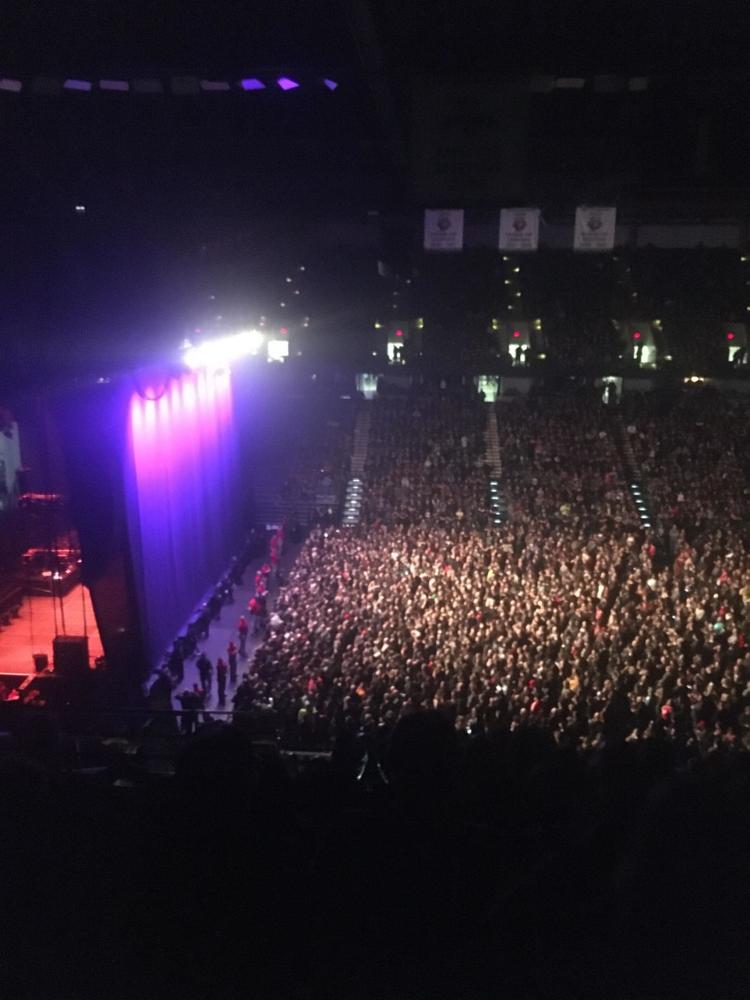 012420-qc-nws-cellphoneuse5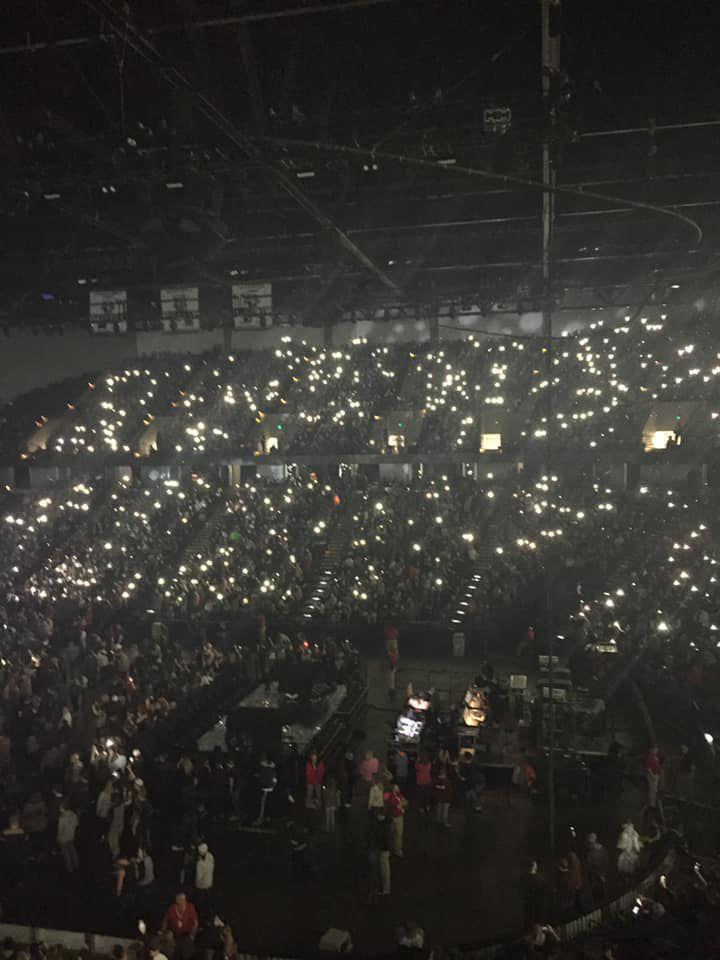 Cell phone lights at Brett Eldredge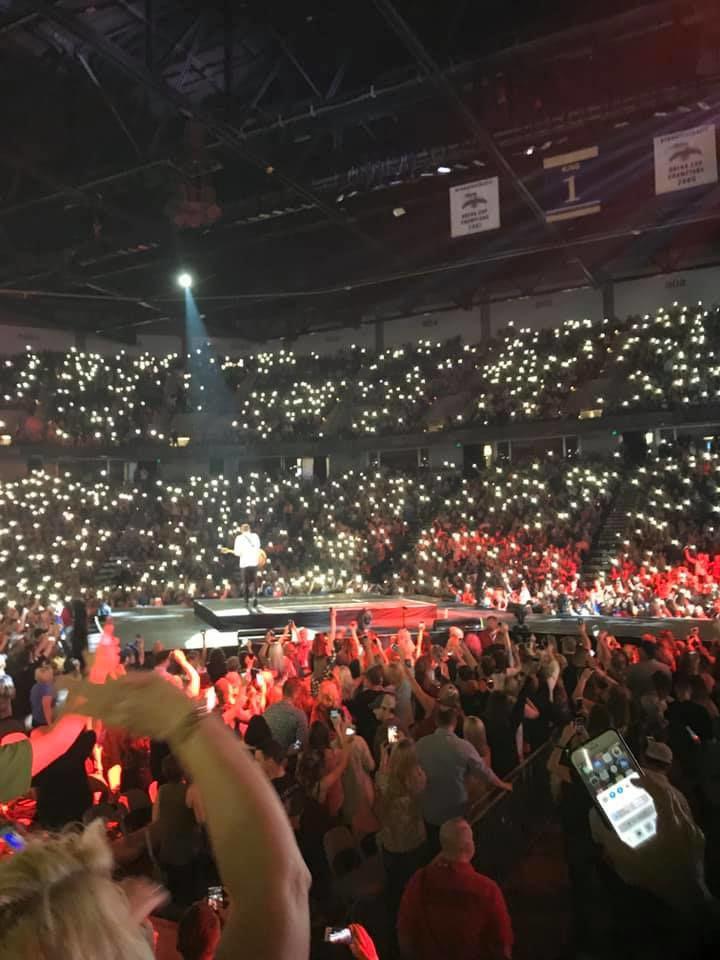 Breaking Benjamin