50 things that say Quad-Cities
Here's a look at 50 things that make the Quad-Cities a special place to live. 
Editor's note: Originally published in Sept. 2014.
Bread-slicing machine invented in Davenport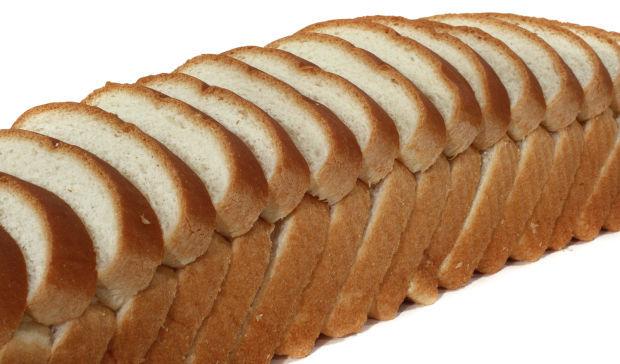 If Davenport ever has a slogan for sweatshirts, it should say: "Davenport, The Home Of Sliced Bread." It was here that machine-sliced bread was invented. It ranks as one of the most resourceful inventions of all time.
If you spread jelly on your breakfast toast, thank Otto Frederick Rohwedder. The same if you have a cheese sandwich. Rohwedder invented the commercial electric bread slicer. Before him, bread came to the kitchen in brick-size loaves. It was sliced by hand, an invitation to cut fingers. A jeweler by trade, Rohwedder loved to tinker and dreamed of making a machine that would slice bread.
Eighty-six years ago, he perfected a bread slicer that was 5 feet long and 3 feet high. It was clumsy looking, but sliced a clunky loaf as slick as a whistle. Grocers in the Tri-Cities (before becoming the Quads) were skeptical because it was noisy and rattled cans on the shelves. Rohwedder traveled the Midwest, promoting his slicer. In Chillicothe, Mo., he convinced a baker to try his machine. It worked like a charm, slicing bread under the name of Kleen Maid.
Rohwedder's invention took off. Blades for his first slicer were made by Hansaloy Co. of Davenport, that still makes blades for bread slicers throughout the world. Rohwedder died in 1960 in a Michigan rest home. He is venerated in the Baking Hall of Fame.
Ambrose Hall
It's hard to miss St. Ambrose University's majestic Ambrose Hall when driving along Locust Street in Davenport.
However, if the man who dreamed up the building had gone with his first instinct, it would have been built on the corner of 8th and Ripley streets across the street from what is now Palmer College of Chiropractic.
"Bishop Henry Cosgrove hoped to build an expandable building that would serve a growing number of students and fulfill his predecessor's dreams," said the Rev. George McDaniel, professor emeritus of history at St. Ambrose.
Cosgrove eventually changed his tune and settled on the Locust Street location and hired a French designer to create the four-story brick building that included a mansard roof, dormer windows, central tower and a wrought iron staircase up to the main floor.
The building at 518 Locust St. remains the cornerstone of the university today and is prominently featured in the school's logo.
The university, founded in 1882 by Bishop John McMullen, built Ambrose Hall in stages between 1885 and 1912. It remained the only building on campus until 1922, when Davis Hall was built.
The university earlier this year completed a $5.65 million exterior restoration project at Ambrose Hall that included the removal of the false mansard roofing. The central tower was returned to the way it looked in 1885, which included a bell that will be rung on special occasions. 
A clock was added to the central tower, a feature that was part of the original 1885 blueprints but had never been installed.
Today, the 97,000-square-foot building features 11 classrooms; administration, staff and faculty offices; the Beehive Lounge; a coffee shop and a number of student services offices.
"Buildings are living things," McDaniel said. "They grow and change. Over the decades, Ambrose Hall has grown and been changed to meet the needs of the students and the faculty and staff who serve them."
Rock Island Arsenal plays critical role in U.S. defense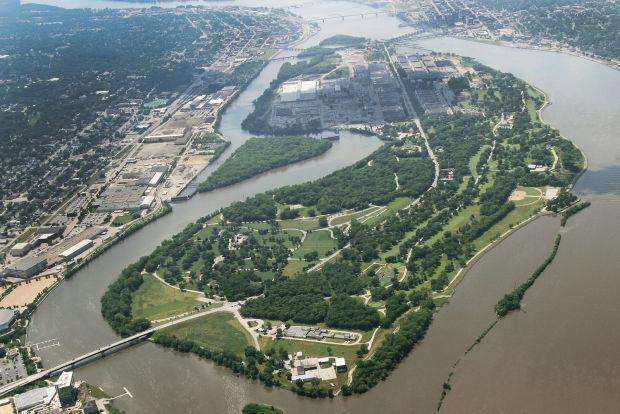 It hosts a lot of our history, and it fuels a big part of the Quad-City economy.
The Rock Island Arsenal is 152 years old, and since the Civil War it has been a workhorse in the defense of the United States.
Reserved as a military site since 1809, the island was created as a national arsenal in 1862 with the signature of President Abraham Lincoln.
Since then, through the nation's wars, the Arsenal has been at work.
It housed Confederate POWs during the Civil War; it made infantry equipment during the Spanish-American War; it produced the Model 1903 Springfield rifle during World War I; nearly 19,000 Quad-Citians worked on the island, pumping out tens of thousands of .30 caliber machine guns, recoil mechanisms for artillery and myriad other war goods during World War II. And through Korea, Vietnam and the Gulf Wars, the Arsenal also played its part.
With the conflicts in Iraq and Afghanistan ending, the Arsenal is in a period of transition.
There still are thousands of civilians — and hundreds of uniformed military — working on the island. But there are concerns about future funding levels.
Still, the Arsenal is a significant part of the area's economic development strategy, and it will continue to be, area leaders say.
"It's one of the leading employers and has a $1.7 billion impact on our economy. It's a big driver of our region's economic growth," said Paul Rumler, executive vice president of the Quad-Cities Chamber of Commerce.
Rock Island's Boetje's puts bite in nation's mustard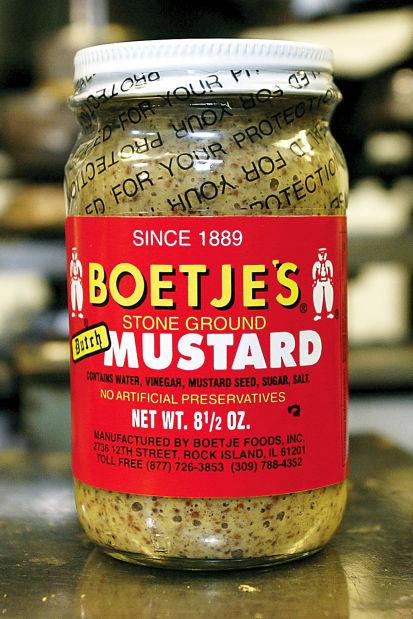 When Fred Boetje began selling his Stone Ground Dutch Mustard door-to-door in 1889, little did he know how popular the condiment would become.
Boetje, a German immigrant, thought American foods were too bland. So he began mixing up the spicy concoction in his garage in Rock Island not far from where Boetje's is manufactured today.
He filled a wooden bucket with his mustard and sold it for a nickel to anyone who had a jar.
The mustard became so popular that Boetje started a business to manufacture and distribute the product. Today, it is sold in 30 states.
Boetje's is a mixture of vinegar, water, salt and ground mustard seed, which gives the condiment its bite.
The mustard won a gold medal in 2008 at the World Wide Mustard Competition and has been in the top three ever since, according to Andy Burnham, director of sales and marketing at Boetje's Foods.
The condiment is a favorite on steaks, sandwiches, hamburgers and in marinating.
No Boetje has been involved in the business since the 1960s when Richard "Dick" Hall purchased the company. When Hall died in 1970, his family sold it to Leon Wernentin. Robert and Dorothy Kropp bought it from Wernentin in 1983.
The company mixes 18,000 jars of mustard a week and has been using the original assembly line since 1958, Burnham said.
"I hope the people of the Quad-Cities realize there's a national treasure in the mustard world in their backyard," said Barry Levenson, curator of the National Mustard Museum.
Deere headquarters keeps company firmly rooted in Q-C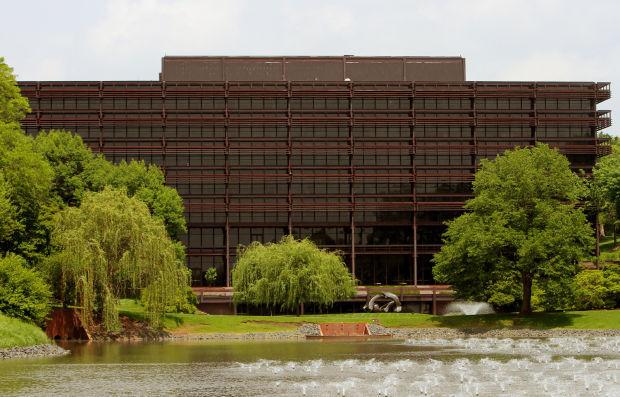 In June, the John Deere World Headquarters in Moline quietly turned 50, a milestone for the architectural gem that has provided a workplace for generations of Deere & Co. employees.
Constructed between 1961-1964, the new headquarters was the vision of then Deere chairman William Hewitt, who wanted a building that would honor the company's Midwestern roots while setting the tone for the global company Deere would evolve into.
Though under pressure in the 1950s to move operations to Chicago, New York or San Francisco, Hewitt set out to build a new and distinctive building in Deere's hometown. To accomplish the task, he chose Finnish-American architect Eero Saarinen to design the building.
John Deere, a Vermont blacksmith and inventor, had moved his growing plow business from Grand Detour, Ill., in 1848 to take advantage of Moline's abundant water supply and transportation.
The building originally known as the Deere Administrative Center was sited on 1,200 acres in the Rock River valley. The final design called for the center to appear to emerge as part of the landscape.
Made of Cor-Ten steel, the headquarters now is made up of three structures: the original East Office Building and the connecting display floor and auditorium, and the West Office Building, which contains a plant-filled atrium, that was built in 1978. The steel exterior requires no paint and creates its own protective rust-colored coating as it ages.
First rail bridge spanned Mississippi, united nation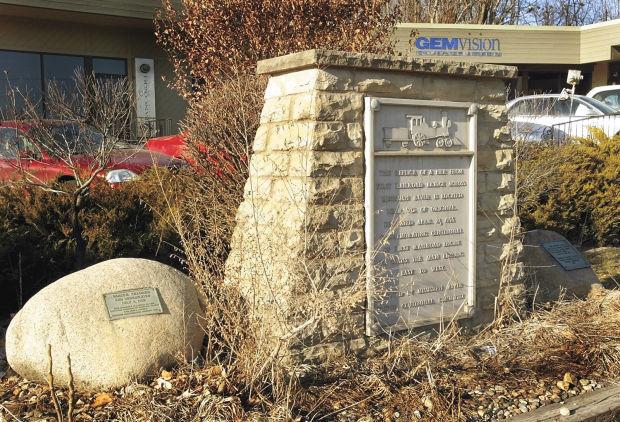 On April 21, 1856, a locomotive steamed across a bridge spanning the Mississippi River between Rock Island and Davenport, ushering in transportation history.
The event marked the opening of the first railroad bridge across the Mississippi. Church bells rang, and spectators cheered.
In addition to opening up the West, completion of the 1,551-foot oak and white pine structure signaled a shift in the nation's transportation system from water to rail.
The achievement came about through the efforts of Henry Farnam, the builder of the Chicago and Rock Island Railroad.  Farnam figured the Chicago and Rock Island had the advantage over competitors seeking to cross the Mississippi. It was the shortest route between Chicago and the river. It also passed through a gentle valley free of hills and other barriers. He was hired to build the bridge.
Just two weeks after the bridge opened to rail traffic, the steamboat Effie Afton struck a bridge pier, setting off a fire that heavily damaged the bridge. Future president Abraham Lincoln, then a lawyer, successfully helped defend the railroad in a lawsuit filed by the steamboat's owners. They claimed the bridge was a hazard to navigation.
The bridge was repaired, with replacements built in 1866, 1872 and 1896.The 1896 structure still operates as the Government Bridge.
Buffalo Bill Museum opens door to regional history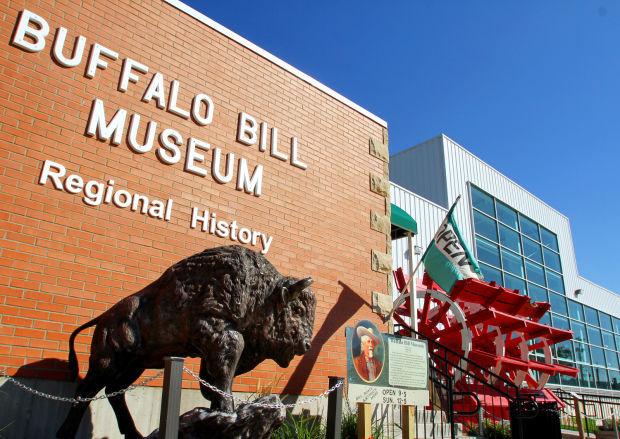 Tucked between LeClaire's historic downtown and the Mississippi River, the Buffalo Bill Museum and River Pilots' Pier illustrates regional history of life on the river and the frontier.
Depending on the day, museum visitors might even have the chance to reminisce with William Frederick "Buffalo Bill" Cody and his wife, Louisa — or rather, their impersonators.
While LeClaire attracts tourists as the birthplace of Buffalo Bill, the riverfront museum explores much more than the life of the country's "first superstar," museum director Bob Schiffke said.
History buffs can envision the journeys of LeClaire's riverboat pilots who navigated the Rock Island Rapids along the river's narrow twisting channel before the lock and dam system was built in the 1930s. Others may head straight to the Lone Star sternwheeler that sits in dry dock.
The museum has seen more than 16,000 visitors so far this year, with 50 percent of them from out of state.
"Being right on the interstate (80) helps, but there's something here for everyone," said Schiffke, noting that Antoine LeClaire founded the town in 1834.
The museum's most recent 1,400-square-foot expansion added an archival workroom, increased exhibit space and a hands-on learning room.
Established in 1957 by the LeClaire Women's Club, the museum has been located at 199 N. Front St., since 1971.
Lagomarcino's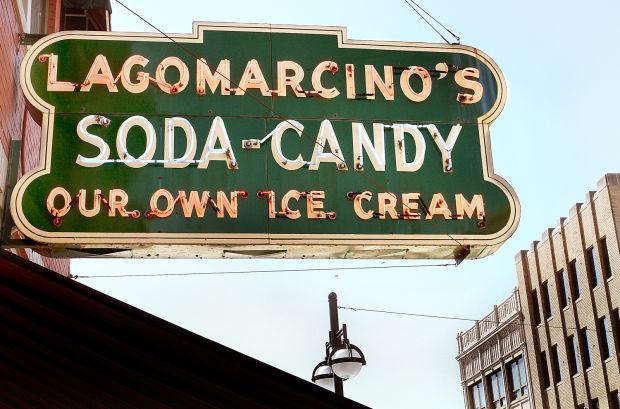 Always, it's chocolate — in some delicious shape or another — when the Lagomarcino name is mentioned. It could be chocolate-covered cherries, or chocolate Easter eggs that are the size of footballs, or gooey rich chocolate sundaes.
Two Lagomarcino sweet shops in the Quad-Cities compete for calories ... neither one is sweeter than the other. The Moline store is the senior place, where it began in 1908. The newer one is in the Village of East Davenport.
The Lagomarcino stores warm the heart; they are such honored classics  that they received the coveted James Beard Foundation Award — the Oscar of the food industry. The nomination for the Beard award noted, "A spectacular hot fudge sauce served in two-ounce glass pitchers; the recipe, guarded as closely as any state secret, is such a locally revered commodity that is merits historic landmark status."
The legacy began when Angelo and Luigia Lagomarcino left the hills outside Genoa, Italy, to open an ice cream parlor and candy kitchen at 1422 5th Ave., Moline. Step into the place today and it looks much the same as in 1908. 
Chocolate runs in the blood of family members. Three of the Lagomarcino offspring — Tom Jr., Beth and Lisa — returned to the business after college and careers in other fields. It is a unanimous feeling: "This is where we belong."
Hero Street in Silvis honors those who served their country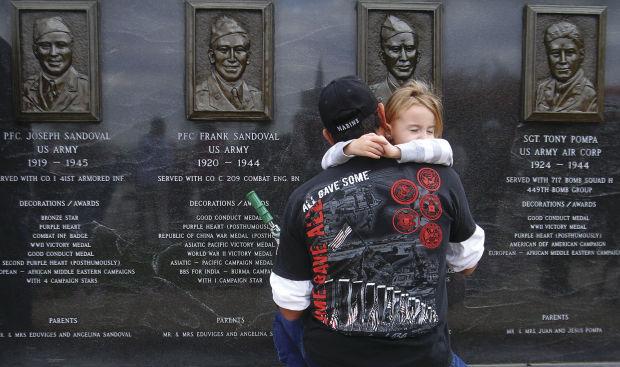 Telegrams offer a glimpse into the lives of those who lived on what is now Hero Street.
U.S. Army Staff Sgt. Claro Soliz, on a visit to his Silvis home from fighting in Europe during World War II, wrote fellow soldier Army Pfc. Frank Sandoval, who was in Burma.
"I saw your mom. The street's unpaved. It's winter time and you can hardly walk," Soliz wrote.
Both men were killed in action. Both lived on what was then known as 2nd Street.
"It may have been mud and ruts, but to me it's the best street in the world," said Frank's brother Tanilo Sandoval, who now lives in East Moline.
The block-and-a-half-long street sent more than 100 of its residents into the U.S. armed forces, including eight who were killed in action. They are Claro Soliz, Frank Sandoval, Joseph Gomez, Johnny Munos, Joe Sandoval, Peter Masias, Tony Pompa and William Sandoval.
In 1969, by decree of then-Silvis Mayor Joe Terronez, 2nd Street was renamed "Hero Street."
Two of the eight pictured on the Hero Street memorial are Tanilo Sandoval's older brothers, including Joe Sandoval. William Sandoval was not a relation.
"Mother had it rough, getting all those telegrams," he said.
A Moline couple, Tammy and Kelly Rundle, through their Fourth Wall Films, recently partnered with WQPT on a 30-minute documentary that aims to tell a portion of the Hero Street story through the wartime letters soldier wrote home. Kelly Rundle said the letters lay out an "arc" of emotions and experience in war.
Hero Street also has been the subject of several books, including "Hero Street, U.S.A." by Marc Wilson and "The Ghosts of Hero Street" by Carlos Harrison.
Floreciente neighorhood continues to flourish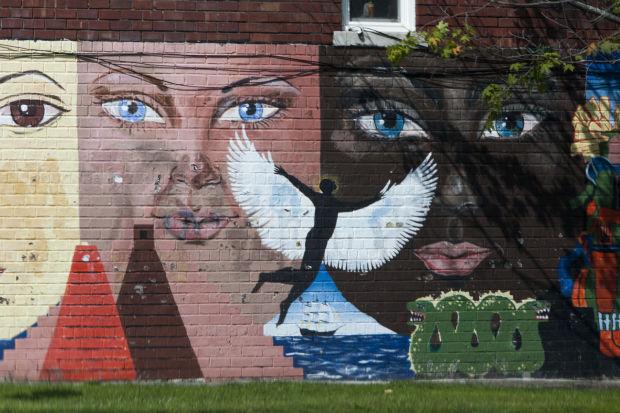 The English translation of "Floreciente" seems like a perfect description of one of Moline's oldest neighborhoods.
Floreciente stretches below the bluff along the Mississippi River and 6th Avenue, 1st Street at the Rock Island boundary, and 12th Street bordering Moline Centre.
A predominately Hispanic area, the neighborhood features a number of Hispanic grocery stores and restaurants, St. Mary's Catholic Church, a teen center run by the Boys and Girls Club of the Mississippi Valley, a Head Start Center, and Community Health Care.
McCandless Park sits on the southwesternmost corner of the neighborhood.
Scattered throughout the neighborhood are colorful murals depicting and celebrating Hispanic and other cultures in the community.
One of those murals stretches across a 65-foot wall of a two-story brick building at 4th Avenue and 5th Street.
Stella Schneekloth, a member of the Palomares Social Justice Center located in the neighborhood, said it's the people who make Floreciente special.
"It's the people that have so much heritage and the diversity that's in the neighborhood," she said. "It's the organizations that have invested their time, to provide services, and it brings people in and out so that they can go and purchase foods from the restaurants and from some of the smaller stores."
Village of East Davenport adds to Q-C ambience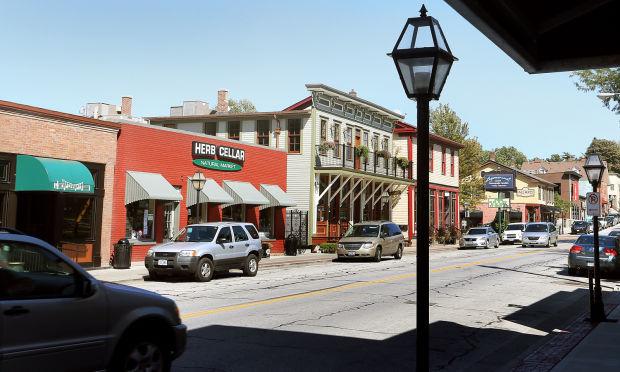 It was 1851 when the Village of East Davenport was founded as a logging community.
The roots of the village were known as early as the 1840s by men who worked the Mississippi River, naming the long river rapids "Stubbs Eddy" after a man who lived in a cave in a mound near the river (now Mound Street). 
It was located at the foot of the 18-mile-long Upper Rapids of the river, now controlled by the federal lock-and-dam system, according to the website, villageofeastdavenport.com.
There are nearly 40 business establishments in the East Village offering art, entertainment, food, drinks, health and beauty services, and much more.
The Lagomarcino family looks on the East Village as a good fit for their business, Lagomarcino's Confectionery & Cafe co-owner Tom Lagomarcino said.
"It's like a small town within a larger city," he said, noting that the Davenport backdrop envelops the area.
The East Village was the location of Camp McClellan during the Civil War. It was also the site of a prison, Camp Kearney, where 177 Sioux Indians were held after being taken into custody in Minnesota. 
In 1980, the Village of East Davenport was listed as a historic district in the National Registry of Historic Places.
Dred Scott case has roots on Davenport riverfront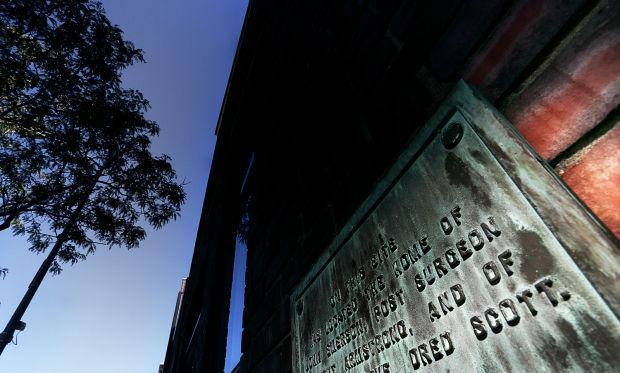 Dred Scott, made famous by the U.S. Supreme Court's decision that as a slave he could not sue for his freedom in federal court, lived for a time in Davenport. A tarnished plaque at 217 E. 2nd St. marks the site.
Scott's unsuccessfully challenge of state slavery laws helped push the nation toward the Civil War.
Born into slavery in 1799 in Virginia, Scott was sold in 1830 in St. Louis to Dr. John Emerson, an Army surgeon who eventually did a tour of duty at Fort Armstrong, now the tip of Arsenal Island. Emerson owned land near the Bettendorf-Davenport border, which at the time was part of the Wisconsin Territory, where slavery was prohibited.
Scott and his wife, Harriett, returned to Missouri in 1842 with Emerson, who died the following year. After being refused their freedom by Emerson's widow, the couple filed suit in 1846 in St. Louis Circuit Court claiming they were legally free because their owner had taken them to non-slave territories of Wisconsin and Illinois. They won in Circuit Court, but the case was appealed to the Missouri Supreme Court, where it was overturned.
In 1857, the U.S. Supreme Court ruled that the Scotts still were slaves.
Scott was given his freedom that year by Emerson's widow. He died in 1858 of tuberculosis.
Reminders of Civil War prominent in Q-C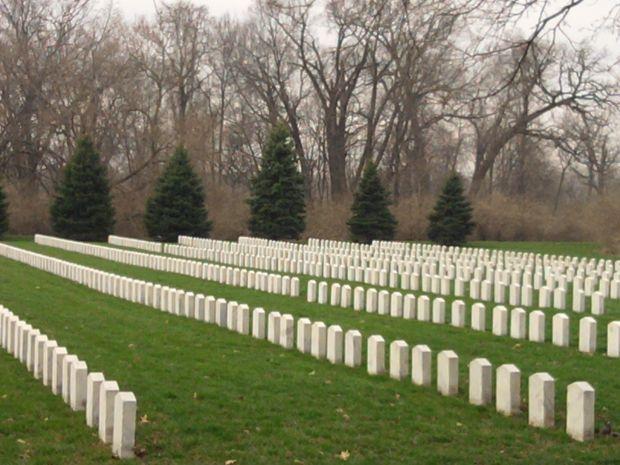 Although no actual battles were fought within about 100 miles, few communities in the upper Midwest had as large an impact on the Civil War as the Quad-Cities.
And fewer still have as many visible reminders of perhaps the watershed episode in American history.
There is the Confederate Cemetery on Arsenal Island, where the remains of 1,964 rebel prisoners and 125 Union guards reside.
There is the soldiers monument on Main Street near Davenport Central High School, erected in 1881 to commemorate the contributions of Scott County men who defended the Union.
There is the monument in front of the Rock Island County Courthouse, which bears the names of local men who died in the war. Included is General John Buford, a Rock Island resident who was among the heroes of Gettysburg.
A plaque in front of Davenport's Annie Wittenmyer Home commemorates the site of Camp Kinsman, which later became the Iowa Soldiers Orphans Home.
At one time during the war, there were six Union army camps in Davenport. The largest and most prominent was Camp McClellan, which stretched up the hill from what is now the Village of East Davenport. Ideally located at the confluence of the Mississippi River and the only railroad bridge across it, the camp became a major launching point for the western theater of the war.
The prisoner of war camp on Arsenal Island, built late in 1863, once housed as many as 12,400 captured rebels and was occasionally referred to as "the Andersonville of the North.''
Channel Cat water taxis — an idea that took off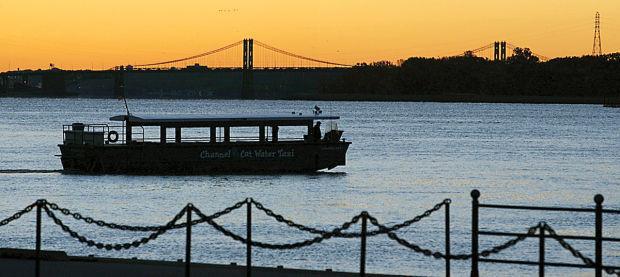 When the idea was born almost 20 years ago for a Mississippi River water taxi, the motive was more practical than playful.
"We actually experimented with commuters," said Kathy Wine, executive director of River Action, which launched the first Channel Cat in the Quad-Cities in 1995. "In the beginning, the boat could accommodate 20 bikes.
"We found the numbers weren't there for commuting, and we kept it recreational."
The result: Three Channel Cat water taxis, running recreational users between the Ben Butterworth Parkway in Moline, the Village of East Davenport Landing, Isle of Capri in Bettendorf and the John Deere Commons Landing behind the iWireless Center in Moline. The daily routes are run from Memorial Day to Labor Day, and the boats continue to offer weekend rides after the regular season, weather permitting.
Though the boats' operations were handed over to MetroLink in 1999, Wine has maintained an interest and a role.
The latest goal for the River Vision Water Taxi Committee, headed by Wine, is to add a Davenport-to-Rock Island leg for the Channel Cats. When the Rhythm City Casino vacates the Davenport riverfront, Wine said, docking could be added, and the boats could taxi between LeClaire Park and Schwiebert Park in Rock Island. Schwiebert already has docks, and both locations offer easy access to the two downtowns.
Ridership will dictate whether another Channel Cat is added. All three boats maintain a 48-passenger capacity. That maximum payload is not likely to change, Wine said, given that rules would require more than a captain and a single deckhand if the boats were any larger.
In recent years, ridership numbers have hovered around 34,000 annually, according to MetroLink. The first season, with one boat, drew 5,600 passengers.
John Deere Classic flourishes in small market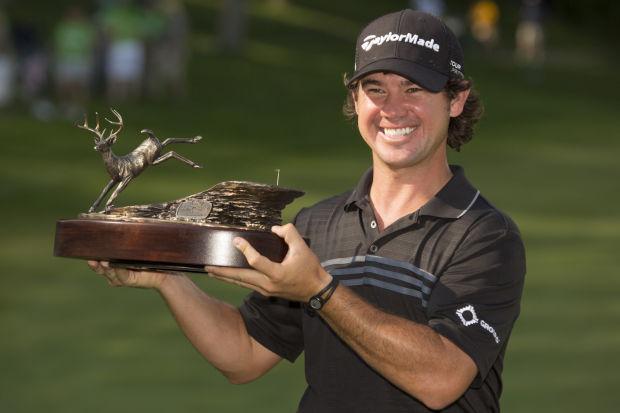 The golf tournament has held various names and been contested on three different courses in the Quad-Cities over the past 48 years.
Even with a less than ideal date on the schedule, a week before the British Open, and played in one of the PGA Tour's smallest markets, the John Deere Classic has continued to thrive.
The tournament has had many names — the Quad-Cities Open, Ed McMahon Jaycees, Miller High Life QCO, Hardee's Golf Classic and Quad-City Classic — but John Deere has been the title sponsor since 1999. 
Crow Valley Country Club, Oakwood Country Club and TPC Deere Run have hosted the event, one that had a purse exceeding $4.5 million this year.
Besides attracting some of the game's most recognizable players such as Tiger Woods, Michelle Wie, John Daly, Zach Johnson, Steve Stricker and Jordan Spieth, the tournament has raised more money for charity per capita than any other stop on Tour with its Birdies for Charity program.
The 2013 tournament raised $6.3 million for 467 area charities. The week-long event brings in approximately $25 million to the local economy.
"It really is one of the few community events left on our Tour," Spieth said. "The people just rally behind this event and are so gracious."
Tournament director Clair Peterson has embraced the unfavorable date, adding a chartered flight in 2008 that takes players and their families directly from Moline to Manchester, England, for the British Open.
"We have the easiest, most hassle-free way to get there," Peterson said. "It has been a game changer."
Whitey's Ice Cream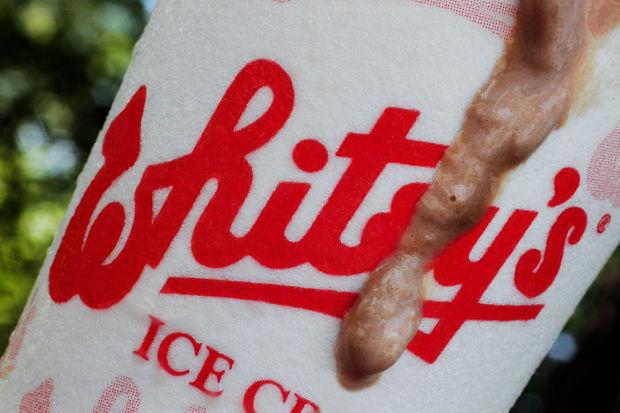 Like a hit song in July being labeled the soundtrack of summer, Whitey's Ice Cream is the Quad-City taste of summer.
Except it's also the taste of fall, winter and spring ... not to mention that the Moline-based company's ice-cold treats have fans all over the U.S.
What began with one store opened in 1933 by Chester "Whitey" Lindgren has expanded to 11, nine in the Quad-Cities. Since 1988, Whitey's availability has grown with its pre-packaged ice cream sold in numerous grocery stores around Iowa and Illinois. 
Much of that growth has occurred under the co-ownership of brothers Jon and Jeff Tunberg, whose father, Bob, purchased Whitey's from Lindgren in 1953.
"Father probably would have been happy to have one store all his life," Jeff said. "We've followed his way of doing things: Do it right the first time, have a clean environment, friendly employees and give back to the community. And he didn't leave his faith in church just on Sundays."
Asked why Whitey's is still a Quad-City icon in its 81st year, Jon said, "Well, we've always tried to maintain a level of excellence. Over the course of time, the people of the Quad-Cities have embraced us."
So have others. Whitey's has more than 40,000 Facebook friends, and people can order its products nationwide via the whiteysicecream.com website. In addition, Whitey's won acclaim last month in an international travel magazine and soon will be featured on a nationally syndicated TV show.
WOC radio legacy includes Ronald Reagan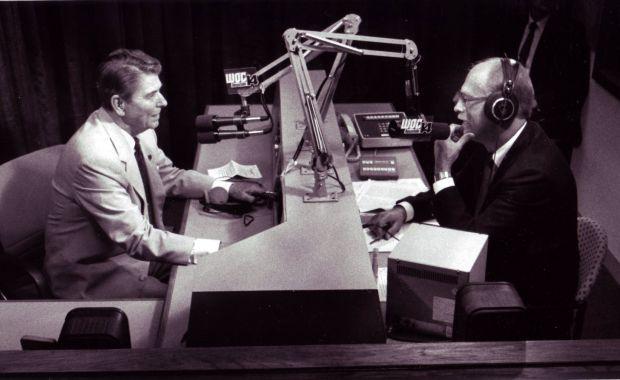 Like many other news-talk radio stations across the country, WOC (1420 AM) supplies its listeners with politically charged opinions from the likes of Rush Limbaugh and Sean Hannity.
But the Davenport-based station has two claims to fame that the rest don't: It's the second-oldest radio station in the country (it signed on after an AM station in Pittsburgh), and its list of former employees includes Ronald Reagan.
The same man who brought chiropractic innovations to the Quad-Cities also brought broadcasting here.
"It was strictly because of B.J. Palmer. He was a visionary when it came to that," said local radio veteran Dan Kennedy, WOC's program director.
In fact, WOC was an abbreviation for "Wonders of Chiropractic." Its 1922 sign-on also made it the oldest radio station west of the Mississippi River.
WOC has had hundreds of employees through the years, but none as successful as Reagan, the 40th president of the United States, who worked at the Davenport station for about two years.
"In December of 1932 he came over from Eureka College looking for a job. They hired him on a temporary basis," Kennedy said. "And then WOC purchased WHO in Des Moines, and he transferred over there."
While Reagan was famously known for re-creating Chicago Cubs games on WHO, Kennedy said he pieced together play-by-play for Iowa Hawkeyes football games through telegraph signals, Kennedy said.
"When you think about how far broadcasting's come, and you're the second-oldest radio station in the country — and you have somebody like Ronald Reagan, who started his career at WOC," Kennedy said, "it's pretty neat."
Times helped bring newspapers into computer age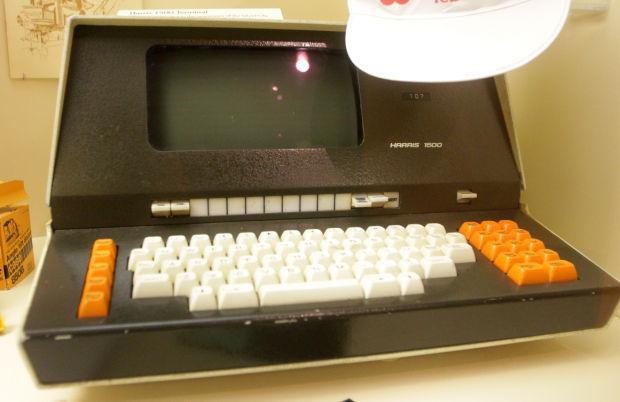 In 1973 the Quad-City Times became the first newspaper in the world to be produced by computer, thanks in large part to the Harris 1500 VDT now displayed in the Putnam Museum.
Before the advent of this video display terminal — a device with a keyboard and cathode-ray screen — reporters typed stories on paper. In the editing process, parts of stories would be retyped. Then they would be hand-carried to the composing room where they would be typed a third time, and big machines called Linotypes would spit out the words in hot lead lines.
With the Harris system — developed by space engineers at Harris Intertype Corp. near Cape Canaveral, Fla., using technology that put man on the moon — all the extra typing went away.
"Soon, visitors poured in from around the world," Dan Hayes, vice president for corporate communications for Lee Enterprises and former editor  of the Times, recalled.
"Publishers, editors and business reporters peered over our shoulders, taking pictures and asking questions, sometimes through interpreters. One of the national networks even began a nightly newscast with this bold development in Davenport, Iowa."
The system had its downside in the early going.
"On municipal election night in 1973, EVERY unprocessed story disappeared – not once, not twice, but SEVEN times," Hayes said. "Reporters had to write their stories over and over. In that early system, all stories were held in 512 kilobytes of memory. Today, the cheapest iPhone can hold 16,000 times as much."
Adler Theatre has entertained Quad-Citians for generations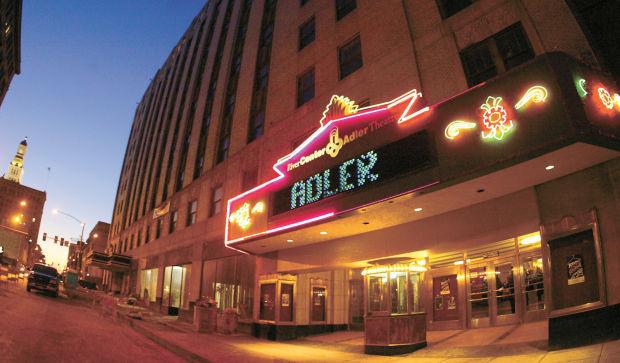 From the great-grandparents who remember its days as a movie house to the kids who applaud live shows there, generations of Quad-Citians have enjoyed a show at the Adler Theatre in Davenport.
"It's just had a long history here in the Quad-Cities," said Rick Palmer, executive director of the RiverCenter and the Adler Theatre.
The Adler, which began its life as the RKO Orpheum, is going into its 83rd year of entertaining all ages in the Quad-City area.
"The local citizens, many of them grew up with the theater and have spent some great times there and treasure it as an asset for the community," Palmer said.
The 2,400-seat art deco theater is listed on the National Register of Historic Places.
When it opened in 1931, it was considered the largest movie house in Iowa. But the last regularly scheduled movie flickered there in 1973, falling victim to the idea of the suburban and multiplex cinemas.
After restoration in 1985 and '86, the theater was renamed for E.P. Adler and his son Phillip D. Adler, former newspaper publishers and leaders of Lee Enterprises, parent company of the Quad-City Times.
A $9 million renovation was completed in 2006, expanding the depth of the stage and adding a loading dock and new dressing rooms. It allowed the theater to bring in larger, touring musicals for its popular Broadway at the Adler series.
Besides Broadway at the Adler, performances of the Quad-City Symphony Orchestra and Ballet Quad-Cities, the theater has also hosted concerts by the likes of Jerry Seinfeld, James Taylor, Loretta Lynn, B.B. King and Willie Nelson.
Thousands feast on music, food at Riverfront Pops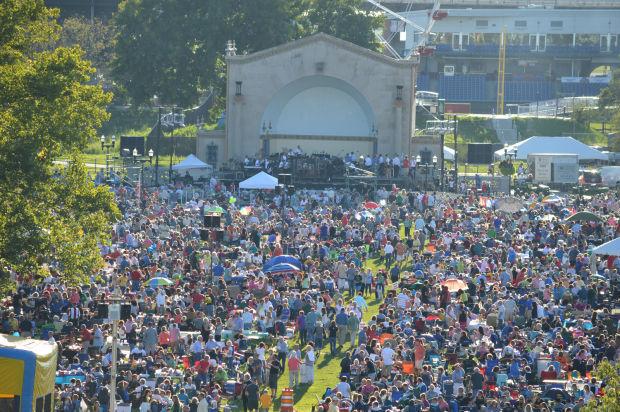 With Davenport's LeClaire Park on the banks of the Mississippi River as its venue, the Quad-City Symphony Orchestra's Riverfront Pops concert has entertained tens of thousands of music lovers since the inaugural event in 1983.
Since that first concert featuring Moline native and internationally acclaimed jazz drummer Louis Bellson, the event has become a September Quad-City tradition. 
People arrive early to mark their spots for family and friends. For some, it's enough to bring a simple picnic, a couple of lawn chairs and maybe some beer. For others the holiday feast is on with candlelit tables filled with the finest food and wine.
On the river, hundreds of boaters drop anchor in the light of the Centennial Bridge to enjoy the spectacle that traditionally ends with Tchaikovsky's "1812 Overture" coupled with a grand fireworks display. 
The music has run the gamut, from classical symphony pieces to songs from the opera, American stage, Hollywood films, rock 'n' roll, and pop. 
Music from Bernstein's "West Side Story," Wagner's "Lohengrin," Andrew Lloyd Webber's "Jesus Christ Superstar," to Meredith Willson's "Music Man," have entertained the masses in the park. Guest artists have given fans the music of Judy Garland, Rodgers and Hammerstein, The Beatles, and Michael Jackson.
This year, it was the music of Elton John that drew upwards of 10,000 to the riverfront on Sept. 6.
Mississippi River Tug Fest sharpens Illinois-Iowa rivalry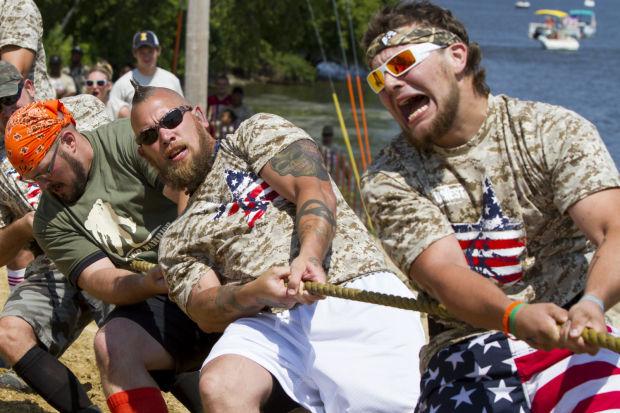 Every summer, a portion of the Mississippi River that separates LeClaire, Iowa, and Port Byron, Ill., is closed to barge traffic as thousands flock to the cities' respective riverfronts for the river's only tug-of-war battle across the water.
At Tug Fest, each state fields 10 3,600-pound teams of 20 men and one team of 25 women, and all grip the 2,400-foot-long, 680-pound rope for the three-minute contests.
While the tugging stops before the losing side falls into the water, winners earn the bragging rights for a full year.
After this year's 28th annual competition, which Port Byron won 9-2, Illinois leads the series 17-11.
"The rivalry only happens that week," Tammy Knapp, president of the Port Byron Tug Fest, said. "Otherwise, everyone gets along just fine."
When spectators aren't cheering on the tuggers, eventgoers on both sides of the river enjoy carnival rides, food and drinks, carnival rides and other activities.
Many competitors suffer bruising, broken ribs and blisters, all common casualties in the one-of-a-kind event, said Iowa tug master Annie Schwake.
"It's the hardest three minutes of your entire life," said Schwake, adding her hands are just now peeling from the tug that happened nearly one month ago.
"You get battered and bruised, but that's just temporary. They heal."
Watchtower Lodge showcases CCC work program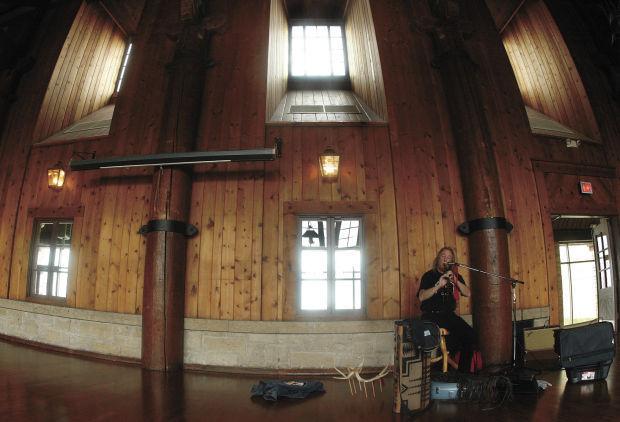 Perched above the Rock River at Black Hawk State Historic Site, the Watchtower Lodge stands as a testament to man's ingenuity, craftsmanship and endurance. 
Located in the sprawling 208-acre park in south Rock Island, the lodge was built as a project of the Civilian Conservation Corps, or CCC, a Depression-era government work program under President Franklin Roosevelt. Built entirely from limestone and timber, the lodge's construction kept a crew of 200 men busy from 1933-35.
"They just don't get construction like this anymore," said Nancie Parkhurst, the historic site's coordinator.
Camp Black Hawk, as it was known, was built by World War I veterans. Over 18 months, they built the lodge, six miles of hiking trails, trail structures, parking lots and two picnic shelters as well as planted thousands of trees and wildflowers. The workers were paid $1 a day and received clothing and room and board.
About six years ago, the Black Hawk staff got more insight into the lodge's history when it discovered the National Archives had actual photographs of the CCC project. Parkhurst said the historic site obtained copies and created a CCC display in the refectory of the lodge. "It's amazing how they quarried the stone, cut down the trees, hand-carved the beams and how they set those big stones in place to make stairs."
Today, the lodge's large Black Hawk Room is a popular facility for weddings and receptions as well as class reunions and anniversary parties. It also hosts classes and education programs including school groups, who visit the Hauberg Indian Museum to learn of the Sauk and Meskwaki (Fox) Indians who occupied the ground.
Kone Tower still in the elevator business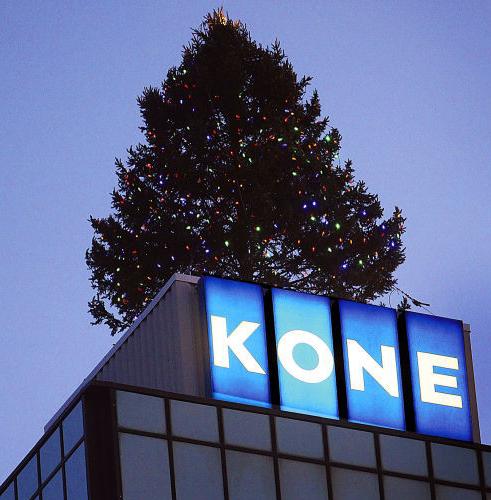 The Kone Tower in downtown Moline is more than50 years old.
But it has no plans to retire.
Patrick O'Connell, director of marketing and communications for Kone Elevators & Escalators, based in Lisle, Ill., said the iconic tower was built in 1966 upstream from the Interstate-74 bridge. It continues to be used as a major tool to test elevator systems.
"We have a big modernization business, where we upgrade and renovate elevators, to make them more efficient," he said. "It is the testing of that equipment in modernizing elevators."
The 200-foot tower has three elevator hoist ways, or shafts, that will accommodate three different elevators beside each other for testing and renovating elevators.
"We are testing for ride comfort, adequacy of how it stops, doors ... all that is especially important with modernizations," O'Connell said.
The company was founded in 1892 as Moline Elevator Co. It relocated for several years in Quincy, Ill., before returning to Moline in 1912 as the Montgomery Elevator Co. It was sold to Kone in December 1994.
Financial District Properties, which built and owns the nearby Kone Centre, now owns Kone Tower. Kone Corp. occupies 3½ floors of the nine-story Kone Centre.
Generations of Quad-Citians identify the tower with a lighted, live Christmas tree that annually was hoisted to the top of the tower.
"We do not do that at the tower any more," O'Connell said. "Now, we have it on top of Kone Centre. Now, we have a 4-story artificial tree. For many years, it was a real tree, about 20 feet tall. Now, we have about doubled the height of the tree."
Wharton's history extends beyond game-winning baskets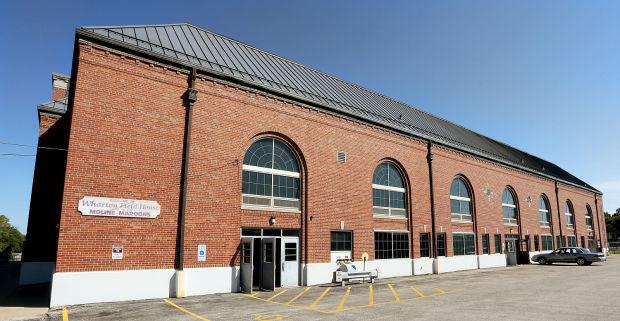 Memories of buzzer-beating baskets tell only part of the story of what Moline's venerable Wharton Field House has meant to the Quad-Cities.
Built at a cost of $175,000, the facility opened on Dec. 21, 1928, with a basketball doubleheader that began with a Moline High School game against Kewanee that preceded the University of Iowa beating Marquette, 38-15.
Initially known as the Moline Field House, it was renamed in 1941 to honor T.F. Wharton, a longtime secretary-treasurer of Deere & Co. and Moline Board of Education president who led a volunteer effort to sell bonds which funded the facility.
Over the years, Barry Goldwater, Ted Kennedy and Richard Nixon pushed their political beliefs while Gene Autry, Harry Belafonte, Johnny Cash, Bill Haley and the Comets, DJ Jazzy Jeff and Will Smith entertained generations of Quad-City residents there.
Pro wrestling and boxing matches, CBA basketball games, farm shows, circuses and flower and garden shows once annually brought thousands through the doors of a 5,700-seat facility that still hosts Moline prep games and once housed an NBA team.
The Tri-City Blackhawks, a predecessor of today's Atlanta Hawks, called Wharton Field House home while competing in the fledgling NBA. A young Red Auerbach was its coach in 1949-50, the fourth season of the team's five-year existence before it relocated to Milwaukee.
Government Bridge draws our communities together
If there's a greater workhorse in the Quad-City economy than the Government Bridge, it would be hard to find.
Thousands of people drive over its first deck each day to go to work at the Rock Island Arsenal.
Its swing span opens the door to more than 15 million tons of commodities a year.
Then, there's its second deck, which carries rumbling freight trains in both directions, as it's done for more than a century.
The Government Bridge (or the Arsenal bridge, as some call it) is a signature sight of the Quad-Cities, and it not only plays a role in our economy. A local historian says, to him, it's what really brought the area together in the first place.
"It joined the Iowa and Illinois sides together as a metropolitan community rather than individual cities," says George Eaton, command historian for the U.S. Army Sustainment Command, headquartered on Arsenal Island.
The bridge serves the same purpose today, though it has younger brothers up river and down the river that help with the task.
Eaton considers the Government Bridge two spans, actually. The first one, built in 1872, became obsolete, and the 1896 span was built on the same  piers.
Renowned bridge engineer Ralph Modjeski designed the 1896 span, and the work launched his career. What he left behind has remained a vital connection for the Quad-Cities.
Statue links Davenport's past, present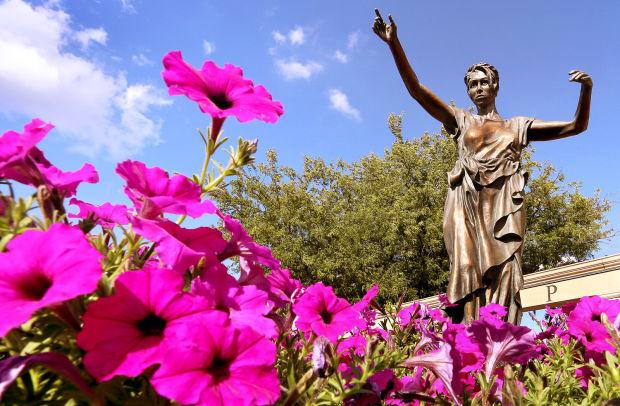 The larger-than-life statue at Davenport's gateway off the Centennial Bridge raised some eyebrows when it was unveiled on Aug. 15, 2006. At a height of 8 feet and with substantial girth, the Lady of Germania stands as a buxom link between Davenport's past and present. 
She replicates a statue that had stood atop a fountain in old Washington Park, a block-square greenspace that is now the Scott County Family Y. The area is where thousands of German immigrants embarked on new lives in the New World in the late 19th century. The German American Heritage Center across the street from Germania is housed in the former Standard Hotel, which once sheltered many of those immigrants.
Funding for the bronze statue came in the form of a $45,000 grant from the Riverboat Development Authority. Germania stands in what is called the Centennial Gateway, a landscaped circular garden with benches. Providing the backdrop is a series of 10 columns with "Davenport" inscribed on a horizontal bar topping them.
Jeff Adams, a sculptor from Mount Morris, Ill., who cast Germania, said he studied three grainy photos of the original statue to get ideas. Then he built on them to come up with his own interpretation of the lady, an ancient symbol that personifies strength, unity and liberty.
Germania's placement, facing the Centennial Bridge, and the arm outstretched in greeting, was deliberate.
"The concept is that she is welcoming the past and pointing to the future," Adams said at the dedication.
Ice Age responsible for our east-west riverfront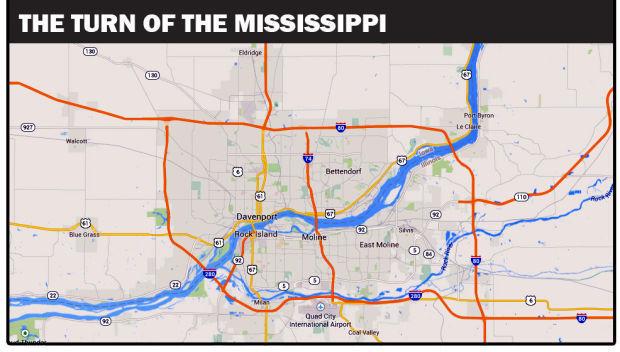 Having the Mississippi River flow through it should be enough of a distinction for any community.
But seeing the Mississippi curve from its north-south flow to travel westward through the Quad-Cities makes it even more intriguing. How did that happen?
Had it not been for the Ice Age, there would be no Mississippi River in the Quad-Cities at all.
It's a complicated occurrence geologists are still studying, and a short story like this one will not do it justice. But Steven Brown, geologist with the Illinois State Geological Survey at the University of Illinois, Urbana-Champaign, assisted greatly with a brief explanation.
The current Mississippi River is made up of segments of old river systems. The "ancestral" Mississippi River flowed through the middle of Illinois, where the present-day Illinois River "makes its dramatic bend southward," Brown said.
"The connection to the Quad-Cities hadn't been made yet," he said.
But as glaciers pushed their way westward across Illinois some 30,000 years ago, they blocked the route of the ancient Mississippi, Brown said. Glacial lakes overrode the old river systems and the water etched through rock that was less resistant, creating the present channel.
"The course of rivers is partly controlled by how resistant and non-resistant rocks are," Brown said.
The east-west flow of the river confounds some tourists, says Joe Taylor, executive director of the Quad-Cities Convention & Visitors Bureau.
"It's a quirk that locals appreciate and know how to navigate," Taylor said.
But out-of-town visitors?
"When we give directions, we make sure we say left and right, not north and south," Taylor laughed. 
Quad-Cities claims two pizza inventions
One invented the "taco pizza" and one gave the Quad-Cities a style all its own.
Many would say our taste buds are fortunate to have Harris Pizza and Happy Joe's right here, cooking up recipes that haven't changed in years.
"Here's what's different about Harris Pizza in 50 years — nothing," said its president, Kathaleen Harris Mosley, of the business begun by her parents, Leonard and Mary Harris.
The malt crust, thin layer of slightly spicy sauce and pork sausage under a heavy layer of cheese and scissor-cut in strips was a style invented by her mother.
"She had probably never seen a pizza before," Mosley said.
There was hardly any competition around in 1960 when her parents opened their first Harris Pizza at 3903 14th Ave., Rock Island.
Now the "Quad-Cities style" her mother invented has been copied elsewhere in the country, even in Chicago, which already has its deep-dish style.
But one pizza invention wasn't enough for the Quad-Cities. There had to be two.
Joe Whitty took a chance crumbling up taco chips and spreading them over pizza at his Happy Joe's location at 1414 W. Locust St., Davenport in 1974, two years after he started his pizza chain. He threw in tomatoes, lettuce and refried beans and spiced up the meat just enough.
"Now everybody is trying to sell taco pizza," the 77-year-old Whitty said. "In 1974, people thought I was crazy when I came up with it."
At two of every 10 pizzas Happy Joe's sells, the taco pizza is by far the company's biggest seller.
Longview Park lions have changed through the years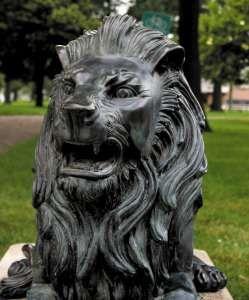 The lions of Longview Park in Rock Island have been a favorite of Quad-City children for decades. 
The bronze lions at Longview Park are new. Donated by the Friends of Longview Park, they were dedicated on July 18, 2008, during the celebration of the park's centennial.
The previous lions were hollow and formed from a soft-tin/lead alloy. During the mid-1940s the lions were pushed from their pedestals by vandals and sustained major damage. The local Lions Club filled them with concrete which added to their weight, but also caused corrosion. The city repaired and painted the lions over the years. Cracks and patches were evident with closer inspection.
The origin of the original Longview lions is a mystery. One legend is that the lions were a gift from lumber baron Frederick Weyerhaeuser and that they once were located at Rock Island's Spencer Square. Old photographs of the Spencer Square lions show that the pose differed from the Longview lions.
Another story was that the lions were moved to the park from the garden of former Rock Island mayor and hotelier, Ben Harper. The Harper lions were made from crockery, a ceramic material, unlike the Longview lions.
Longview Park was dedicated on July 10, 1908. About 15,000 people attended the dedication. The property was donated by Bailey Davenport.
Living Lands & Waters a testament to Pregracke's river passion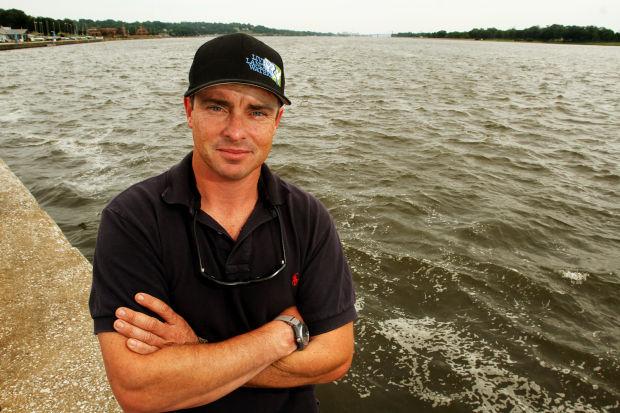 The Quad-Cities' beloved river rat, Chad Pregracke, is a co-icon to his own creations.
The 39-year-old's name is synonymous with Living Lands & Waters and Xstream Cleanups — both offspring of his high-energy river-cleaning efforts. Living Lands is the organization Pregracke founded in 1998. Based in East Moline, the nonprofit employs 12 full-time staffers, including a barge crew that travels up to nine months each year, hosting cleanups, workshops, tree plantings and other conservation initiatives.
Billed as the only "industrial strength" river cleanup organization like it in the world, Living Lands & Waters makes up for in volunteers what it lacks in full-time staff. In just four years of hosting the Great Mississippi River Cleanup, 7,056 volunteers have hauled more than 400,000 pounds of junk out of the river.
Last year, he was named CNN Hero of the Year, and the title carried with it a $250,000 prize. But Pregracke gave away $90,000 of it — $10,000 each to the other nine Hero nominees. In a recent twist on the story, Living Lands & Waters sponsor Anheuser-Busch replaced the gift in June, handing over a check for $90,000.
Asked what his greatest accomplishment has been over 16 years as the rivers' garbageman: "It's a lot of small accomplishments, but probably the biggest is hearing thousands of people tell us what a difference they have seen because of the work we do."
Olde Towne Moline reflects cultural history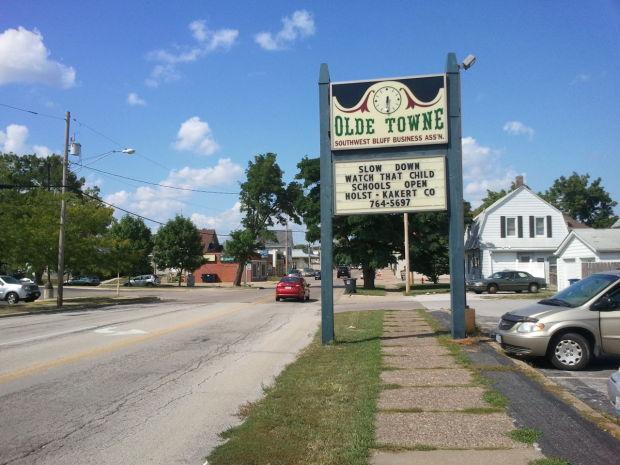 More than a century ago, there were no specific plans to create a Belgian-based business district in Moline despite the influx of immigrants who settled in the community.
But that is what happened in what now is known as the Olde Towne neighborhood along 7th Street.
Dave Coopman, a board member of the neighborhood's Center for Belgian Culture, said as immigrants left the old country for a better life in America, many were drawn to Moline.
"One reason they came here was John Deere, and another was the lumber industry. All these men had trades," he said.
As the early wave of immigrants became established, they were able to offer their countrymen assistance in putting down roots.
Kevin DeRoo's father, Eugene, started DeRoo Funeral Home in 1936. It has been at 7th Street and 16th Avenue for many years.
Coopman and Kevin DeRoo remember the 1950s and 1960s when the neighborhood had two grocery stores, a drugstore, dry goods store, shoe store, a confectionary, jewelry store, and restaurants and taverns.
Today, a majority of the storefronts are filled: bars, restaurants, Olde Towne Bakery and a soon-to-open restaurant called Chicago Style Pizza. One notable loss has been the Belgian Village Inn, which closed earlier this year. It was a popular, cross-cultural drawing card.
"I am very optimistic" for the area's future, said Celie Donohue, curator of the Center for Belgian Culture museum.
John Looney house offers bit of notorious history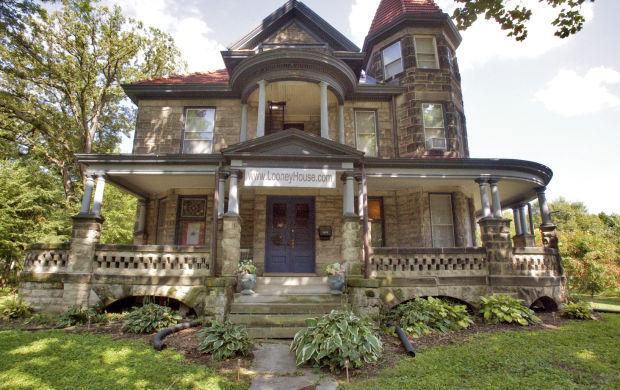 John Looney's notorious, bloody past undoubtedly qualifies him for the title of the Quad-City's most famous gangster.
But his historic house also carries with it a sense of his personality almost a century after he lived there.
Born in 1865, Looney moved from Ottawa, Ill., to Rock Island when he was 18. Eventually, he became a lawyer and a family man with his wife, two daughters and a son living in his brick, Queen Anne-style mansion at 1635 20th St.
Some called him a man of contradictions, balancing his seemingly peaceful family life with a life of crime just a short distance away in his mansion.
 "His duel life is fascinating," said Linda Anderson, president of the Rock Island Preservation Society. "His family were friends with people in the neighborhood. His kids went to Catholic schools. He was able to compartmentalize his life. It was a time of real gangsters in the city of Rock Island."
Highland Park Historic District, where the house is located, also contains the former home of Frank Kelly, who was Looney's law partner. Looney  had a nearby base of operations, known as Looney's Roost, a small stucco bungalow at 2012 16th Ave. It housed his scandalous newspaper, the Rock Island News. It purportedly also was where he operated some of his other criminal activities.
Anderson said the main Looney house had been converted into apartments over the years. Today, it is being renovated back into a single-family home.
Low truck-eating bridge snares semitrailers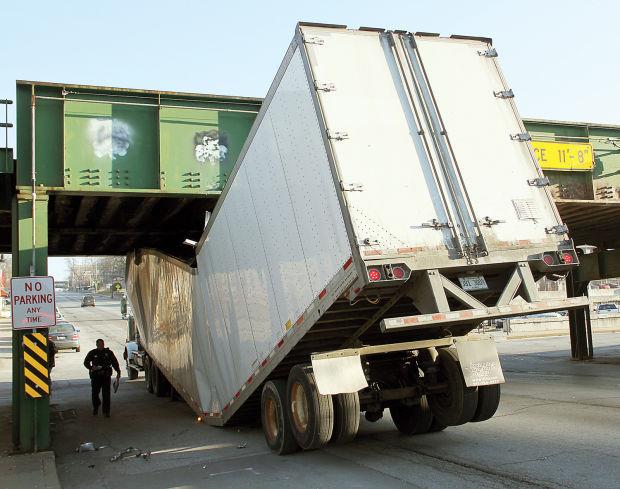 The low railroad bridge that crosses Harrison and Brady streets at 5th Street in Davenport has long been notorious for snagging semitrailers in its grip.
Scenes of stunned drivers staring at the crushed hulks of their trailers, their cargo littering the roadway, were common over the years until the Iowa Department of Transportation installed a height detection system with electric warning signs on Harrison Street in 2001.
"The bridge at Harrison and 5th streets still gets hit, but at a much lesser rate," Doug Rick, area engineer for the DOT, said of the detection system. "At one time I think our study showed the bridge at Harrison Street getting hit once a month on average."
There have been five accidents to date in 2014.
Gary Statz, traffic engineer for Davenport, said the DOT rerouted U.S. 61 on paper in 2010, though the last of the signs was not installed until October 2011.
Retired Davenport Police Capt. David Struckman said he covered many of the crashes. One memory he has is the jolt that reverberated throughout the old police station when a truck hit the bridge. Back then, the station was located in the old Schwind-Boedker automobile dealership, adjacent to the bridge.
"I remember one Friday night a guy came down Harrison and the impact ripped the trailer off so that only the front portion of it was just caught to the rig and was still being dragged down the street," Struckman said. The swaying trailer struck several cars before police got it stopped, he added. 
Quad-Cities produces world-class fighters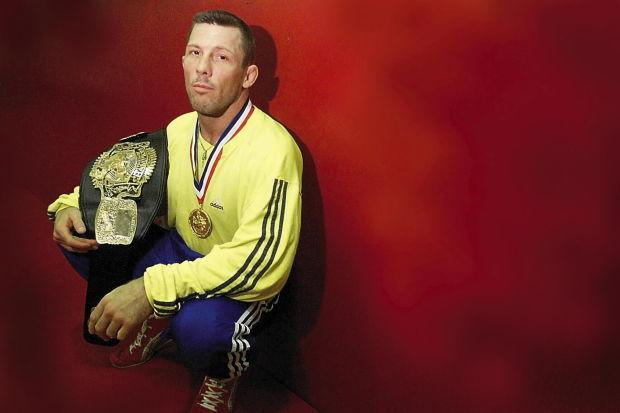 You don't mess with the Quad-Cities.
Not in the ring. And certainly not in the octagon.
Pat Miletich rose to stardom in the early days of mixed martial arts, becoming the UFC's first welterweight champion in 1998. Along with manager/promoter Monte Cox, the Bettendorf duo put the Quad-Cities at the forefront of the MMA mainstream movement in the early 2000s.
The best in the world came to train with Miletich at his Bettendorf gym, including former UFC titleholders Matt Hughes, Tim Sylvia and Jens Pulver.
"When you're involved in it, you don't realize it," Miletich told the Times in 2010. "But when I look back I realize we had a room full of guys who were world-ranked or world champion fighters. That's the scariest room ever assembled on the planet."
Miletich, who sold his gym in 2010, was inducted as the 12th member of the UFC Hall of Fame in July. Meanwhile, the Quad-Cities remains an MMA hotbed and is back in the spotlight with the re-emergence of Bettendorf native and Miletich pupil Robbie Lawler, the UFC's top welterweight contender.
The Quad-Cities' reputation as a fight town extends to the ring. Davenport's Michael Nunn became Iowa's first pro boxing world champion in 1988. The middleweight southpaw took it farther than the Q-C boxers who came before him, such as three-time Golden Gloves champion Lonnie Horn, and paved the way for those to follow, such as former contender Antwun Echols.
'World's Largest Truckstop' has something for everyone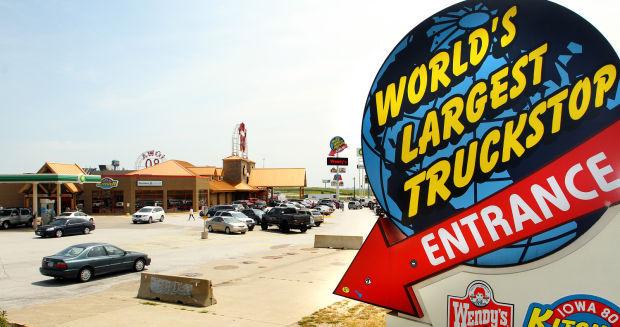 The Iowa 80 Truckstop in Walcott is a favorite destination not only for truck drivers but for anyone who wants to roll out to a wealth of shopping, dining and sight-seeing opportunities. The iconic truck stop, which is celebrating its 50th year, is open 24 hours, 365 days per year.
The late Bill Moon, founder and owner, began the operation in 1964 — before Interstate 80 was completed.
The truckstop, still owned by the Moon family, includes the Iowa 80 Kitchen restaurant along with a gift shop, "Super Truck Showroom," chiropractor and dentist offices, barber shop, workout room, laundry facilities, small movie theater, TV lounge for truck drivers, private showers, food court, convenience store, fuel center, truck service center and truck wash.
"The facility also has a pet wash, so if you're traveling with your furry friend, you can use the self-serve wash," says Heather DeBaillie, marketing manager.
The truckstop serves more than 2 million cups of coffee annually, and, over the years, has cracked more than 18 million eggs to serve customers. Visitors, incidentally, go through 55 miles of toilet paper per month.
It also is home to the annual three-day Truckers Jamboree on the second Thursday, Friday and Saturday in July.
"People come from all over the country and Canada to display their trucks," DeBaillie said. "It's just one big celebration of trucking."
Historic Hotel Blackhawk sparks downtown renaissance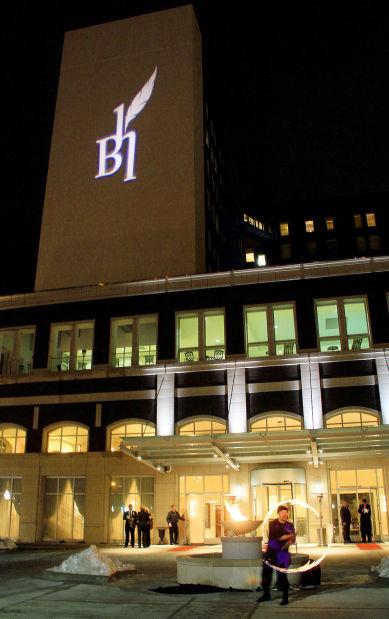 Nothing has known good times and bad knocks like the Hotel Blackhawk. The old girl, tilting on the edge of being 100, is a wonder of survival.
Once, she was so down and out she was sold for a dollar. During foreclosure, she was down to one guest — the caretaker. She's been broke, battered and burned. But look at her now! The Blackhawk is one of the most elegant rendezvous in the Midwest. Step into that shiny marble lobby, with its cushy sofas and Oriental rugs, and you'll question, "Is this Davenport?" It's so posh you think you're in some fashionable New York City plaza.
It wasn't always that way. It opened in triumph in 1915 and within five years of its opening, four floors were added. Happy days were here again, with the balcony covered to lure bigger events to the Gold Room. It was the "in place" for parties like the Crystal Ball, the biggest society event of the year.
This was not to last. Business slowly limped. In 1971, a petition for foreclosure on a loan was followed by a failed plan to convert the once-luxury hotel into low-rent housing. Still, the hotel went its way, spruced up and hosting notables like actor Cary Grant, who died after being felled by a stroke the night he was to stay in the Blackhawk. In 2006, a meth fire in a room brought closure to the place.
Still, nothing would hold down the Blackhawk. Restoration St. Louis, headed by Amrit and Amy Gill, engineered a $40 million renovation to show it could be first class. It was the trigger that rejuvenated downtown Davenport.
Palmers made Davenport the center of chiropractic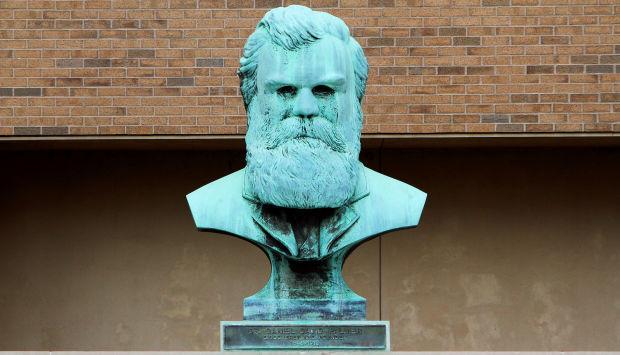 It's possible D.D. Palmer had no idea about the consequences after he decided the healing power of the human body came through its nervous system.
Palmer made the first chiropractic adjustments in downtown Davenport in 1895 and established the Palmer School for the Cure a few blocks up the street. 
"He was doing something that no one else understood," said Dr. Alana Callender, the historian at what is now Palmer College of Chiropractic in Davenport.
Palmer's son, Dr. B.J. Palmer, was most concerned about keeping the practice of chiropractic alive and saw the college through what the historian termed "the fighting stage."
In the early 20th century, he and his wife Mabel traveled the world to talk about chiropractic. He also owned radio station WOC-AM in Davenport and would broadcast chiropractic information to nighttime listeners, some as far away as New York.
Dr. David Palmer, the son of B.J., brought the school into the mainstream. He changed the institution's formal name to what it is today and secured professional accreditation.
"We had the right men for the time, three different times," Callender said. 
"The entire chiropractic profession sees Davenport as its home," she added. There are 27,000 chiropractors who are Palmer graduates currently working in the world, and about 550 who practice in the Quad-City region.
The Palmers made the city as well-known throughout health care as Deere & Co. made tractors famous in farming, Callender said.
Colorful calendar greets visitors in RI's Longview Park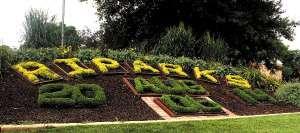 Generations of Quad-City residents have been photographed on birthdays, anniversaries, graduations and other special events in front of the calendar bed in Rock Island's Longview Park.
The man credited with creating the colorful attraction was legally blind.
Emil Wenninger, former head gardener for the parks department, created the calendar bed in 1971. He lost most of his sight due to childhood illnesses by the time he was 4 years old. He grew up in St. Vincent's Orphanage, Davenport, and was known for his sense of humor, including playing classical music on the piano with his nose. He and his wife also operated Dari-Delight, an ice cream and confectionery, on 11th Street in Rock Island.
The calendar bed is in place from about Mother's Day in May sometime until the first week in October. Marc DeMarlie, chief horticulturalist for the parks and recreation department, and volunteers maintain the calendar.
The date is changed every morning between 7-7:30 a.m. Letters and numbers are made from Alternanthera, easily sculpted, leafy plants commonly called Alts or Joseph's Coat.
DeMarlie said people also use the calendar bed as a bit of a clock. "One thing that people mention more often than others is that they drive by it every day and can tell if they are running late to work," he said.
"People who used to live here always ask if the calendar is still being put up and that it is one of the things they remember most while living here," DeMarlie said.
Bix's style of jazz still lingers for fans worldwide
Jazz drummer and bandleader Josh Duffee says he feels at ease anywhere he's played on the planet.
"Anywhere I go around the world, when I tell them I'm from Davenport, Iowa, they say, 'That's the home of Bix Beiderbecke,'" said Duffee, a member of the board of directors of the Bix Beiderbecke Memorial Society. "He's known more around the world than he was in the '20s. His popularity, his sound is worldwide."
The music of Beiderbecke (1903-1931) has been celebrated for 43 years through the Bix Beiderbecke Memorial Jazz Festival the first weekend of August. Players and fans come from across the country and around the world to celebrate the cornet player.
"His greatest contribution was really inventing jazz improvisation on the cornet, and being a free spirit and just being able to learn by his ear," Duffee said.
Bix's music first gained the attention of jazz fans while he was a member of Frankie "Tram" Trumbauer's band, which played extended gigs in St. Louis and recorded the album "Singin' the Blues."
"People from the '30s and '40s and '50s up to today still identify that as one of the iconic jazz recordings," Duffee said. "You can hear Bix and Tram going back and forth, talking to one another musically."
Duffee said Bix's sound is often compared to Louis Armstrong for its creativity and groundbreaking way of approaching music.
Duffee said Bix's music deserves repeated listening, because new elements are discovered every time.
He also said jazz musicians can readily answer the question, "What was the first Bix album you ever heard?"
"He had that big of an impact on jazz musicians in particular," Duffee said.
Stadium provides a view unlike anything in baseball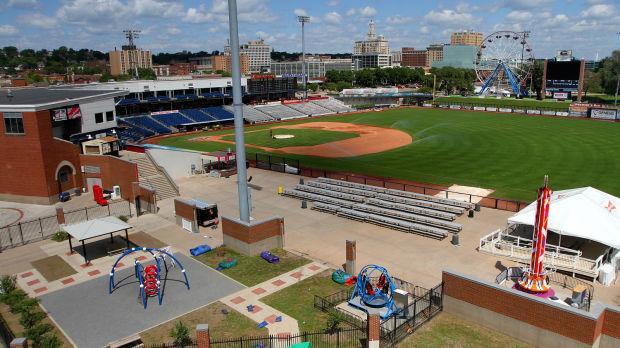 No view in baseball is like the view shared by generations of Quad-Cities families, watching minor-league players chasing big-league dreams on a summer night on the banks of the Mississippi.
The Midwest League stadium in Davenport is an iconic structure, its entry arches welcoming more than 200,000 fans each year and its stairway leading to a vista which led the facility to being selected as the "best minor-league ballpark in America'' in 2013 by 10Best.com.
Known since 2007 as Modern Woodmen Park, the bricks and mortar at the foot of Gaines Street first opened as Municipal Stadium in 1931 and was rechristened 40 years later as John O'Donnell Stadium to honor the long-time sports editor of the Davenport Times-Democrat.
"There's nothing else in baseball like Modern Woodmen Park,'' Quad-Cities River Bandits owner Dave Heller said. "It's a special place.''
Hall of famer Jim Bunning pitched there for the Quad-Cities Tigers in 1951, World Series champ Chuck Tanner cut his managerial teeth there 50 summers ago, and 290 players who played for the home team have reached the big leagues.
There have been makeovers, including upgraded clubhouse and training facilities for players and the addition of suites and group areas permitting year-round use of the facility.
While the river remains a constant, box seats with cup holders, a high-definition video scoreboard and a Ferris wheel standing 110 feet over the playing surface keep the country's oldest minor-league stadium relevant to today's fans.
Ross' Restaurant draws travelers, celebrities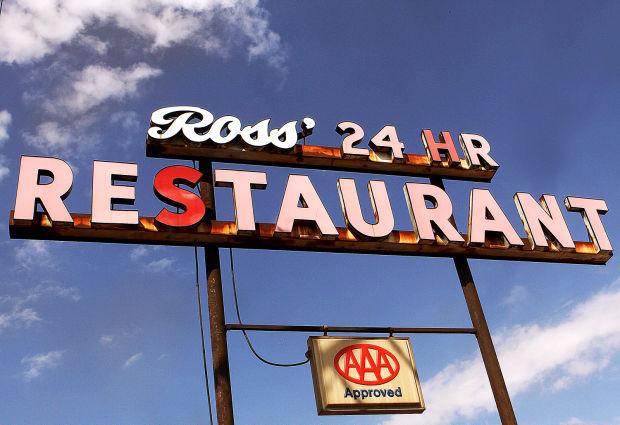 What do Barack Obama, Bill Murray and Bette Midler have in common?
They've all stopped at Ross' Restaurant in Bettendorf, where patrons conquer the culinary climb known as the Magic Mountain, a slice of grilled Texas toast covered in loose ground beef and piled with French fries or hash browns and smothered with cheddar cheese sauce.
Fresh ground beef is delivered to the restaurant six days a week, and onion fans can order their mountains with "snow," or chopped onions.
"While it's simple food, we don't take shortcuts on our ingredients," said Melissa Freidhof-Rodgers, current general manager and granddaughter of Harold Ross, who opened the restaurant in 1938.
Since the internationally-known dish hit the menu in the 1980s, the diner has served up tens of millions of Magic Mountains, Freidhof-Rodgers said.
Adventurous customers can scale a Volcano mountain, which adds a cup of Ross' fire-breathing chili. The jalapeño-infused addition set off Transportation Security Administration alarms in 2011 at the Quad-City International Airport when the family transported the dish to the set of MSNBC's "Rachel Maddow Show."
To make way for a new Interstate 74 Bridge over the Mississippi River, Ross'   vacated its property and have moved to 18th Street and 53th Avenue in Bettendorf.
Artist's legacy continues to bloom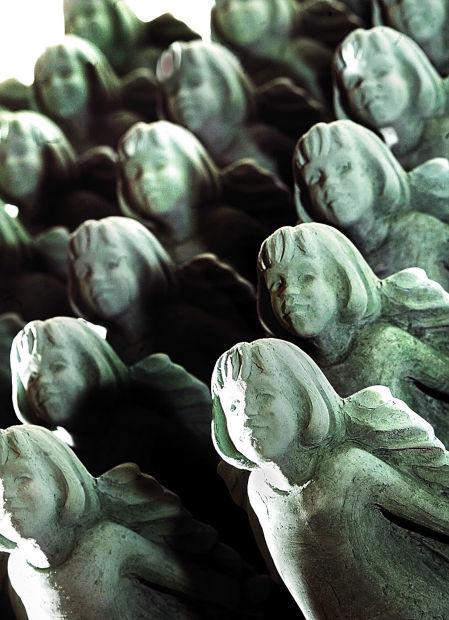 In many a Quad-City home, garden and workplace, Isabel Bloom figurines hold a special place — often serving as reminders of life's milestones and special moments, but also of the legacy of their namesake creator.
Today, Isabel Bloom is a Quad-City institution with four local showrooms, located in the Village of East Davenport and NorthPark Mall in Davenport; downtown Moline; and as of July, one in downtown LeClaire. The signature concrete sculptures are made by skilled artisans at the manufacturing facility on Davenport's Federal Street.
Bloom, who died in 2001, owned and operated her company until 1981 when she sold it to two customers.  A few ownership changes later, today it is owned by three longtime employees: sculptor Donna Young, who trained under Bloom herself, and Cathy Nevins and Bill Barrett. It employs about 75 people.
Born Isabel Scherer in Galveston, Texas, she was raised in Davenport. In the early 1930s, she attended Grant Wood's Stone City Art Colony where she met her future husband and artist John Bloom. He died in 2002.
Young, her protege and friend, said the interest has not faded. "We do continue to gain new customers, and really our current customers are great ambassadors," she said.
At the company more than 30 years now, Young said "I do feel like I'm a steward of the brand. We all do feel like we have an obligation to keep Isabel's name going on and the product going on for the next generation."
Festival of Trees grew from glimmer to glittering holiday gift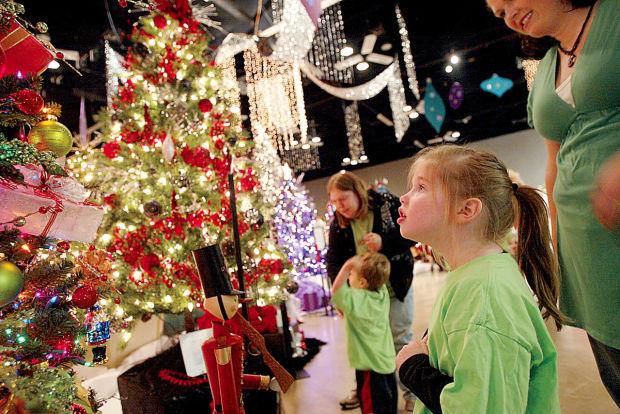 Nothing defines the holidays in the Quad-Cities quite so well as Quad-City Arts Festival of Trees, the annual fundraiser for the not-for-profit arts organization.
Founder Diane Sulg, now of Charlotte, N.C., remembers the festival's beginnings well. "I read about it in Horizon, an arts magazine published at that time," she said. The magazine featured a story about the Atlanta Festival of Trees. Sulg called to learn about the event, and eventually visited Atlanta to see what she could bring to the Quad-Cities.
As the doors opened on the first festival in 1986, Sulg said she wondered whether people would attend. "We had covered most of our costs through sponsorship, but the success of the event depended on attendance," she says. "By the second day, which was the Friday after Thanksgiving, our challenge turned from 'Will they come?' to 'How do we handle these crowds?'"
Festival of Trees has evolved into a glittery spectacle that spans 10 days — including Thanksgiving night — and uses the entire 70,000-square-foot Davenport RiverCenter with several events at other Quad-City locations. There are designer trees, wreathes and room vignettes; multiple special events; the largest helium-balloon parade in the Midwest and more than 100,000 visitors annually.
Planning, organizing and presenting is done by more than 3,500 volunteers, 650 designers, 3,500 CenterStage entertainers, and 150 sponsors. The economic impact at the community is estimated to be $2.5 million.
Five Points intersection well-known for businesses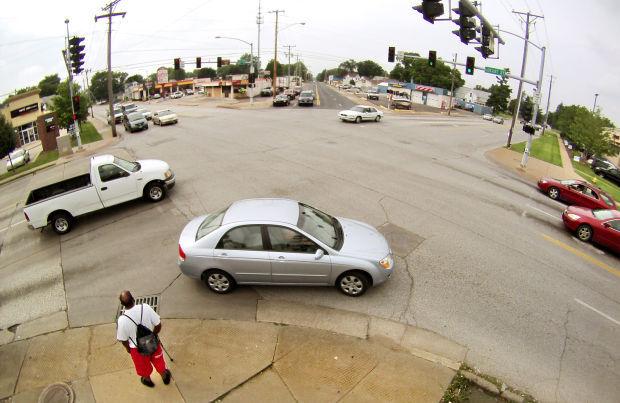 Say Five Points, and people know exactly what you're talking about.
Five Points is the given name of the intersection of Division Street, West Locust Street and Hickory Grove Road in Davenport. It has been called that for more than a century.
According to research supplied by the Richardson-Sloane Special Collections Center at the Davenport Public Library, there was a second Five Points at one time in Davenport. The intersection of Ash, Vine, 6th, Warren and Brown streets below the bluff also was called by the same name. It carried that name until about 1925.
Matt Flynn, Davenport's senior planning manager, said Five Points is both historic and important when it comes to retail.
It has small, independent businesses as well as a variety of chain stores. 
Today, the area includes Dunkin' Donuts, Azteca Mexican Restaurant, Walgreens, CVS, Hardee's, JJ Fish and Chicken and Cost Cutters, among others.
"One thing that is interesting, with the whole Hickory Grove Road alignment, that was a long-established wagon trail that existed long before paved roads," Flynn said. "It probably goes back to when Davenport was a young river town, as a way to get to the state capital.
"You could ask a traffic engineer, 'How do you like Five Points intersection?' It is terrible, but it helps define its character. Some may see it is a bit unusual. But maybe you go through the intersection a little bit more careful because of it."
Credit Island was site of battle in War of 1812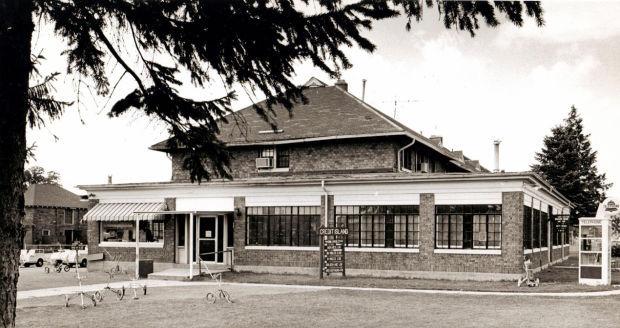 Well-armed American Indians on horseback — as many as 1,200 — were massed on either side of the Mississippi River and on what is now Credit Island. With them were 20 to 30 British soldiers.
Just upstream, 334 American soldiers, led by future president Zachary Taylor, were holed up on what is now Pelican Island.
At some point, the British fired their cannon, and with those shots, Credit Island entered the history books as the site of one of the westernmost — and last — battles of the War of 1812.
The battle — more like several skirmishes — occurred Sept. 4-5 exactly 200 years ago this year.
It is a piece of history that's not widely known in the Quad-Cities, but Matt Flynn, a planner for the city of Davenport, said that the city is planning a bicentennial event on Saturday, Aug. 30, that will help increase awareness.
The battle was part of the British fight for control of the Upper Mississippi and the Indians, allied with the British, were hoping to stop white interlopers from taking their land. 
The name "Credit" comes from the time between 1815 and 1830 when the island was a trading post and Indians bought supplies on credit, paying for them later with furs.
Today the 450-acre island is a city park where a lodge destroyed by fire is being rebuilt. Other amenities include a playground, boat launch, 18-hole disc golf course and a portion of the Mississippi River recreational trail. A regular golf course that frequently flooded has been closed.
It's a grand parade for the Irish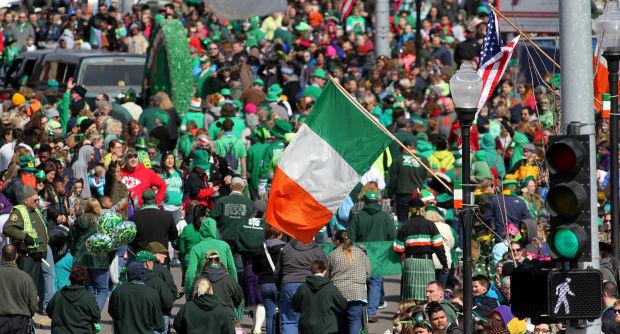 Sleet was buffeting the St. Patrick's Day parade in 1989 so mercilessly that Davenport Mayor Thom Hart called out snowplows to clear the way for marchers. 
In 2012, it was a boiling 83 degrees; even the shamrocks wilted.
Nothing can stop the Irish, who have been having a whee of a time every St. Paddy's Day, or thereabouts, since 1986 with the country's only two-state St. Patrick's Parade. Marchers begin in Rock Island and make their way across the Centennial Bridge and through the streets of Davenport.
March 2015 will bring the 30th edition of the St. Patrick Society's Grand Parade.
The parade attracts thousands who giddily reach for strands of green beads tossed by marchers. John Scally, who was the parade's chief four-leaf-clover for many years, says "Our parade means it's spring, the weather be damned."
The parade has its beginnings in local lore. In the early 1980s, it is said, Dan Reardon and Tom McGinn carried Tim Finnegan's casket along Harrison Street in Davenport, stopping for a nip at each bar along the way. Finnegan was a fictional hod carrier with a love for drink.  
In the fall of 1985, card-carrying Irish began planning, and the next year the society's Grand Parade was launched on a shivering day.
The St. Patrick Society presents the annual Quad-Cities Irish Festival and college scholarships. In a 2011 salute to its heritage, the society placed a bronze sculpture at 2nd and Harrison streets in downtown Davenport. It depicts an immigrant family of three — parents and child — as they leave their homeland.
Quad-City Times Bix 7 brings people home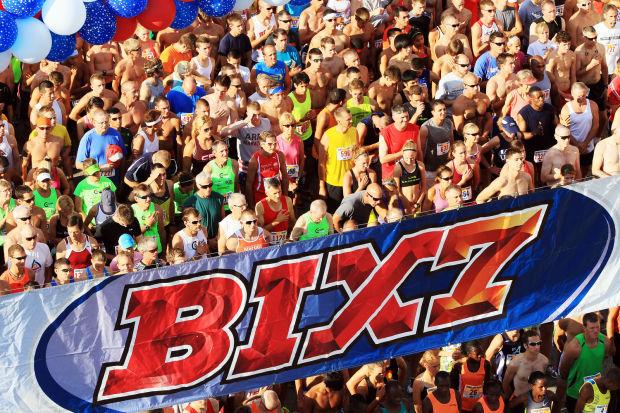 It long ago came to be viewed as an unofficial Quad-Cities holiday, sort of like Black Friday or Super Bowl Sunday.
Bix Saturday is a day around which people build their summers. They schedule family reunions and school reunions and weddings on that weekend because they know people will be flocking home to the Quad-Cities.
It's a fairly amazing development for something that began in 1975 as a fledgling road race with 84 participants.
The Quad-City Times Bix 7 now is the largest non-marathon road race in the Midwest, and it has held that distinction for about a quarter-century, bringing together 15,000-plus runners and close to 50,000 spectators on the final Saturday in July for an event that is thoroughly unique. It's both a world-class athletic competition and a massive party.
Nurtured through the years by a former insurance agent named Ed Froehlich and a loyal corps of volunteers, the Bix 7 has evolved and adjusted with the times to retain its appeal.
People who are in great physical condition — and some who aren't — still show up to run seven miles up and down the hilly streets of Davenport, sweating, huffing, puffing and exulting in being part of a vast community celebration.
"It's become this big family event ...'' said John Hudetz, who laid out the original course back in the 1970s. "It's just kind of a cool thing how it has evolved."
Martha beautified Bettendorf's entrance from the west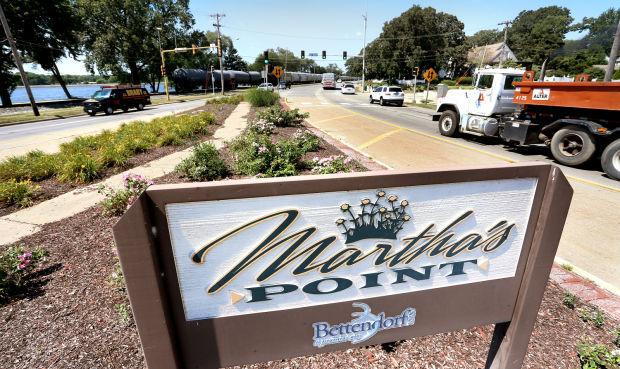 Motorists entering Bettendorf from the west may not notice the rose bushes planted on the small triangular strip of land that separates River Drive and Grant Street, but the name of the person who originally beautified it will mark the spot forever.
Bettendorf resident Martha Zuhn began tending the small plot of land in 1974 after the city reconstructed State and Grant streets into one-way roads.
Zuhn planted 30 rose bushes there with her husband, Herman, in 1978, and even trucked water from her home at 1733 Elmwood Ave., to care for the variety of plants.
In 1980, the city decided to name the island Martha's Point, to honor and recognize Zuhn for maintaining and enhancing the city's entrance.
"She (Zuhn) was a longtime Bettendorf citizen that wasn't very happy with the level of maintenance," Steve Grimes, Bettendorf's Parks and Recreation director, said. "She tried to keep it looking nice in the interest of the city and the city was so impressed that they wanted to honor her. Most people know that it's Martha's Point."
Over the years, the city has added a paved sidewalk and updated the island's sign that reads "Martha's Point." In recent years, a variety of sculptures have marked the area.
Currently, "Swoop," a 24-foot aluminum structure stands at Martha's Point and glows red at night for all to see.
Mississippi Valley Fairgrounds stays busy all year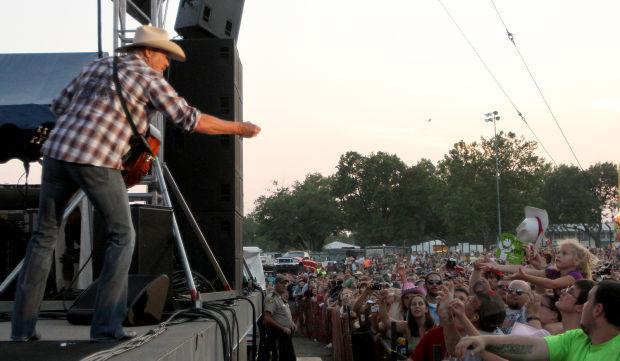 The Mississippi Valley Fairgrounds is considered the place to be for six days in late July and early August, drawing almost 300,000 visitors a year.
But the fair isn't the only attraction on the West Locust Street grounds. The year-round dirt track races, flea markets, political events and private parties draw another 300,000 to the site annually, according to general manager Bob Fox.  
The two towers at the fair entrance and the grandstand that has featured such acts as Eric Clapton, Alan Jackson and Alice Cooper were constructed just before the first fair in 1920 and are still being used today. 
Over the years, the fair has grown from a county event to a must-see regional attraction.
Fox is busy all year, scheduling everything from wedding receptions to trivia events to the "Potty Palooza," which was held on the grounds about five years ago. "It was something I never expected to have. An 18-wheeler with portable restrooms promoting Charmin bathroom tissue."
And, Fox said, people stop by just to have their photo taken with the fiberglass bull that greets visitors at the main entrance. The Hereford came from the former Sirloin Stockade restaurant across the street when it closed in 1982. 
At first, the bull was on wheels, but after many "kidnappings," it was cemented into the ground about 20 years ago. "I had a couple from Wyoming just come in for a photo of the bull," Fox said. "We use it as a marquee to tell people where we are. Just turn at the bull."  
Vander Veer Botanical Park sparks nostalgia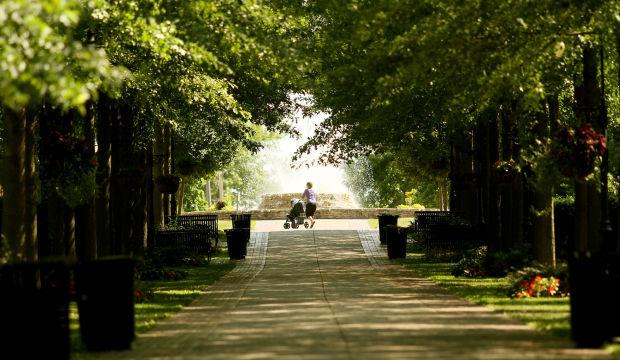 Vander Veer Botanical Park in Davenport  has remained a vibrant legacy in the Quad-Cities for nearly 130 years.  
It's not just the gorgeous roses and hostas, Old World gardens, shady trees and decorative fountains that keep many Quad-Citians coming back again and again.
"There is a special atmosphere and a special feeling of beauty and peace that is a respite in the middle of a busy city," said Natasha Sottos, executive director of Friends of Vander Veer, a nonprofit organization that provides financial support for ongoing restoration and programming efforts at the park.
"I think we have a lot of people who come here for nostalgia and memories."
The city of Davenport bought the 33-acre site, formerly the Scott County fairgrounds, in 1885 for $13,500. The land was modeled after New York City's famed Central Park and was dedicated as Central Park in 1890. The park was later renamed after onetime park board commissioner A.W. Vander Veer, who died in 1911.
Visitors both young and old can take a stroll along the Grand Allee, a brick-paved walkway, that leads to the Stone Fountain. In the winter, ice skaters flock to the park's lagoon.
The Conservatory plays host to several displays each year, including the famous Poinsettia and Lights display and the Easter Lily Show.
In the first half of the 20th century, many young people would hop on the trolley for Sunday dates at the park. Now, the park serves as the backdrop for engagement photos, weddings and other special moments.
"I think it's still a place of romance and special memories for people," Sottos said.