A flat tire, minor sunburn and slight drizzle did not stop two friends this week from officially becoming the first cyclists to pedal the entire length of the Rock River Trail.
Dan Libman, 50, of Oregon, Illinois, and Carl Nelson, 33, of DeKalb, Illinois, completed the 320-mile trek Thursday afternoon on Milan's Big Island, where the Hennepin Canal and Rock River empty into the Mississippi River. A small welcoming party greeted them at the finish line near Hennepin Canal Lock 32 with smoothies and sandwiches as a serendipitous sight unfolded on the horizon.
An upriver-bound tug and barge traveled past the group on the Mississippi, making for a memorable ending to the five-day tour through Wisconsin and Illinois.
"We did it, Dan!" Nelson said as he embraced his buddy.
"This is as beautiful as they said it would be," said Libman, stepping toward the shoreline for a better view of the vessel. "I forgot it (finishing) was actually going to feel like something."
For Nelson — a self-proclaimed casual cyclist — reaching the confluence in one piece marked quite an accomplishment.
"This is the most physical thing I've ever done in my life," he said. "I'm going through that, like, third-life crisis to stay in shape, so this was a good jumpstart to maybe doing some longer routes. Who knows, maybe I'll tag along on RAGBRAI one of these times."
The Register's Annual Great Bicycle Ride Across Iowa, 428 miles in all this year, ends July 28 in Davenport.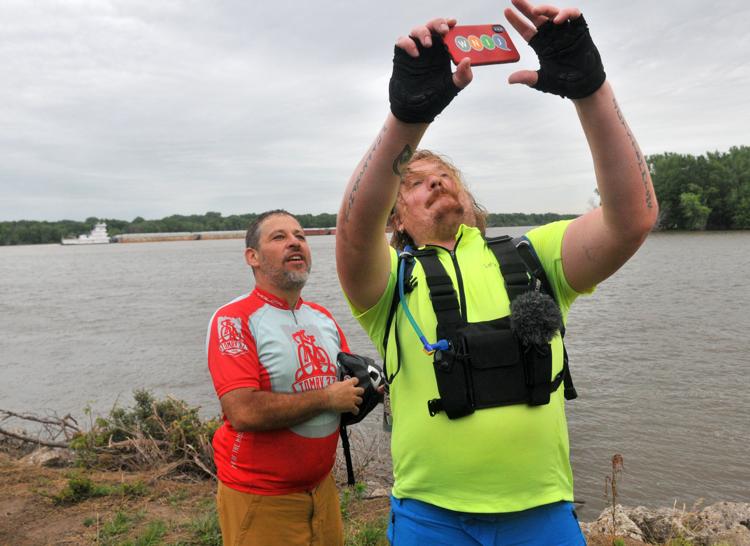 The guys started their journey Sunday near the Horicon Marsh State Wildlife Area in Theresa, Wisconsin, and stopped overnight in Watertown, Wisconsin; Beloit, Wisconsin; Oregon, Illinois; and Prophetstown, Illinois. They stayed at Libman's house in Oregon, slept at a hotel in Prophetstown because of rain and camped in their tents the other three nights.
Libman, a married father of two, is a writer and English instructor at Northern Illinois University in DeKalb. Nelson, also married with two children, works as a host/producer and multimedia specialist at WNIJ, Northern Public Radio, the National Public Radio station based at Northern Illinois University.
At the end of every leg, usually over beers at a neighborhood pub, Nelson produced a seven-minute radio piece with personal commentary and sound bites from interviews he recorded earlier that day. The segments aired the following morning on Northern Public Radio. He also captured photos and videos with a drone that accompanied Libman's daily journal entries at northernpublicradio.org.
Their first and only "malfunction" occurred Wednesday when Libman's rear tire went flat, sidelining the duo for a short while near Prophetstown. As he fixed the flat, Libman recalled wise words he received on his first RAGBRAI from Quad-City cyclist Dean "Bareback" Mathias, who rides without a seat.
"What he (Mathias) said was, 'If you can't figure out how you got the flat, it's gonna happen again, so you gotta figure out what caused it,'" Libman recalled at a brief stop on North Shore Drive in Moline.
Mathias and Ray Morrison of Blue Grass biked Thursday morning from Milan to Osborn, east of Cleveland, and helped Libman and Nelson navigate to the end. Mathias serves as the Rock Island County representative of the Rock River Trail Initiative.
He praised the storytellers for documenting every leg of their trip through the Rock River valley, which often is overshadowed by other tourist attractions in the region, Mathias said.
"They're bringing it to other people," he said, nicknaming them Lewis and Clark. "You're paving the way."
Before they biked to Great River Brewery in Davenport, Mathias awarded Libman and Nelson two patches each for successfully completing the challenge.
They spoke highly of the friendly townspeople they met, diverse terrain they explored and history they learned along the way. They recommended the route to anyone in search of a totally doable adventure.
"We're hoping this trail is clogged with cyclists from here on out," Libman said. "I think they'd have a great time."