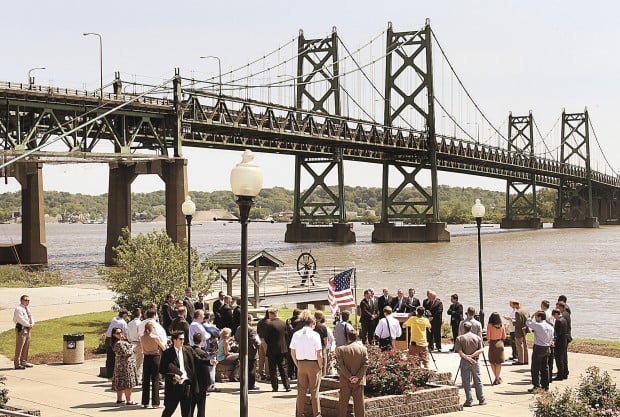 The plans to replace the Interstate-74 bridge got a significant boost Friday, with the state of Illinois doing an about face and announcing it's putting $72 million toward the construction of the span in its long-range plan.
News of the change, initiated by Gov. Pat Quinn, came just hours before U.S. Transportation Secretary Ray LaHood visited the Interstate-74 bridge and urged Congress to pass a bipartisan transportation bill — the only way, he said, a new bridge would be built.
"Pass a bipartisan transportation bill and this bridge gets replaced," LaHood declared while standing in Leach Park in Bettendorf, flanked by Reps. Dave Loebsack, D-Iowa, and Bobby Schilling, R-Ill., as well as Mayors Bob Gallagher Jr. of Bettendorf and Don Welvaert of Moline.
The secretary met with the congressmen and local government officials Friday afternoon before holding a brief news conference, where he also passed judgment on the condition of the bi-state span with no small amount of bluntness.
"This is one of the worst bridges I've ever seen in America," he said. In fact, he said the nation's infrastructure needs are so dire, "America is one big pothole right now. We need a transportation bill."
The prospects and timing of funding for a new I-74 bridge have been in doubt for weeks, as both Iowa and Illinois have readied their long-term transportation plans. Each year, the states draft long-term blueprints.
Iowa has warned Illinois it would likely remove $63 million in construction funding for the span because of doubts about the timing of Illinois' commitment. Illinois has maintained it's committed to the bridge, but in the face of fiscal difficulties, it declined to put construction funding in its 2013-2018 plan. The plan was released last week.
In a letter to Iowa Gov. Terry Branstad, which became public Friday, Quinn said he had instructed the state DOT to change course and invest the $72 million to the project. He said $22 million will come in 2017 and $50 million in 2018.
His letter didn't specify the money would be used for construction, but an Illinois DOT news release Friday afternoon called it a "construction commitment" and a spokesman confirmed it is for the corridor's "center section," a term that means the span itself.
The money's specific purpose is important because Iowa DOT officials have sought a commitment of construction dollars.
"I think there's follow-up from here for us," Iowa DOT Director Paul Trombino said Friday afternoon.
He said the state DOTs plan to discuss the project again before the Iowa Transportation Commission meets in June to approve its long-range plan.
Trombino was in the Quad-Cities for the meeting with LaHood.
Iowa's draft 2012-2017 plan, while no longer including the construction funding, still has $46 million for land acquisition, design costs and I-74-related road work in downtown Bettendorf. Local officials said Friday they're hopeful the construction money will now be included, too.
LaHood, who was in the area for a separate event sponsored by the local bar associations, had been invited to visit the I-74 bridge by the congressmen and local officials.
During a 15-minute news conference after the private meeting, he repeatedly emphasized the need for Congress to come together on a transportation bill. The House last month passed a 90-day extension of current law, while the Senate passed a bipartisan $109 billion plan in March that would last through 2013.
The Obama administration had pushed for its passage, but it was blocked by the Republican-controlled House.
LaHood on Friday urged that a final product look more like the Senate bill. And he said he had spoken with Sens. Dick Durbin, D-Ill., and Tom Harkin, D-Iowa, about the I-74 project. He also said he had spoken with Gov. Quinn.
LaHood had some encouraging news about the bridge's chances for getting federal funding, too. He urged that a final transportation bill include a program that would put aside funding for projects of regional and national significance, something Durbin and local officials have been pushing for. The secretary noted the program was in the Senate bill, but not the House's.
"If it stays in, they pass it, this bridge gets replaced," LaHood said. "It's not that complicated."
He blamed politics for standing in the way of a long-term bill, specifically the House Republicans' inclusion of the Keystone Pipeline in its version. He said it had nothing to do with such projects as the I-74 bridge.
"Take it out, and when they do that, they take politics out of transportation," he said.
Schilling voted for the House extension that included Keystone, and in a letter to conferees, he said it was one of his priorities to create jobs, along with the program for projects of regional and national significance. Both parties have called a transportation bill a jobs creator.
After LaHood made his remarks, Schilling said he would support a transportation bill without Keystone in it, but he would wait to see a final product before committing.
"Politics comes into play from both sides," he added. "At the end of the day, there's going to be something in there every member of Congress does not like."
Loebsack also called for bipartisan cooperation. He said that although he didn't like inclusion of the Keystone project, he voted for the short-term House transportation bill to move the legislation forward.
---
U.S. transportation chief: I-74 one of 'worst bridges' in U.S.
3:19 p.m.: U.S. Transportation Secretary Ray LaHood, in front of what he called one of the "worst bridges I've ever seen in America," said the Interstate-74 span will be replaced only if Congress passes a bipartisan transportation bill.
If it does, he indicated the bridge would be well-positioned for federal funds.
"Pass a bipartisan transportation bill and this bridge gets replaced," LaHood declared, while standing in Leach Park, flanked by Reps. Dave Loebsack, D-Iowa, and Bobby Schilling, R-Ill.
LaHood met with the congressmen, as well as the mayors of Moline and Bettendorf, before going over to the park to take a look at the bridge and then speak to reporters and a crowd of local officials and other onlookers.