Brandon Gaines is having trouble sleeping.
The father of three owns Uptown Vapors near NorthPark Mall and stores at three other locations across the Quad-Cities. He employs 15 people, including his brother. The flavored "juices" used in electronic vaporizers are critical to his business.
"If they take the flavored juice away, my living is gone," Gaines said. "I lay awake at night and think about what I'm going to do next. I think about how the businesses of a lot of other people in town could be destroyed."
Last week, the Food and Drug Administration announced it intends to issue guidance on taking flavored vaping products off the market. Health and Human Services Secretary Alex Azar made the proposal public during a press conference with President Donald Trump, and added the process could take weeks or months.
The FDA said details on a policy that aims to remove unauthorized, flavored e-cigarette products from the market would be released "soon."
As the number of vaping-related illnesses in the U.S. soars past 500, health officials are scrambling to respond. Most of the people stricken with illnesses vaped THC — the principal psychoactive in cannabis — rather than nicotine, but there is no one common thread between all of the illnesses.
The Quad-City Times spoke with eight nicotine vape store owners and two store managers. All of them said the largest percentage of their business is former cigarette smokers who turned to vaping because they viewed it as slightly safer and "cleaner." Health officials and educators, meanwhile, are grappling with the trend as both an alternative to cigarettes and a product that's become disturbingly popular with kids.
Cigarettes and vaping
Locally, Gaines isn't the only vape retailer with troubled sleep. While the landscapes of Davenport and Bettendorf are awash with retail outlets that offer e-cigarettes and vape juice in addition to other products, there are a few dozen stores that specialize in flavors and offer relaxed atmospheres for customers.
Andy Davis, owner of QC Vapes on Spruce Hills Drive in Bettendorf, employs five people. His store, which opened six years ago, exclusively sells vape flavors and products.
"Stores like mine, we set up solely for the vape customer," Davis explained. "I don't sell tobacco. I don't sell anything but what is needed and wanted by adults who have chosen to vape.
"You have to understand that 90 percent — maybe more — of the people who vape are vaping because they don't want to inhale tobacco. The flavor is the business, period. You take away flavors and you take away the business."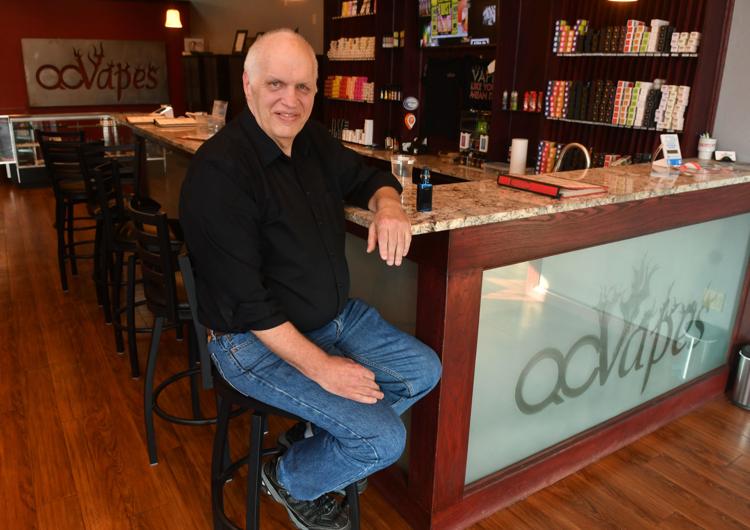 Davis is retired and said a little over half his annual income comes from QC Vapes. But he would be bankrupted if he had to close the store.
"I have financial obligations. I have obligations to my employees," Davis said. "It would all be wiped out."
Chazz Bryant's favorite vape spot is Aqueous Vapors on Locust Street. The 32-year-old started smoking cigarettes at 14 and within a few years had a two-pack-a-day habit.
"My experience has been good," Bryant said. "I breathe easier than I ever did when I smoked. And I vape less than I smoked.
"When I started vaping full time, which was about three years ago, I was using juice with 25 milligrams of nicotine," he said. "Today, I use juice with six milligrams of nicotine."
Bryant also emphasized the importance of flavor in nicotine vapor.
"The thing is, cigarettes stink," he said. "You blow second-hand smoke on people, it smells and everything you wear and everywhere you smoke smells. Vape is just cleaner for everyone.
"The fact is, if the only vape available were nicotine and menthol, I would have never switched."
Why doctors (no longer) suggest vaping to stop smoking
There is no shortage of products that claim they can help cigarette smokers kick the habit. Perhaps the most recent one – and the one that's attracted the most former smokers – is the use of e-cigarettes or vaping.
Advocates of vaping have long advertised it as a method of quitting smoking. In the past, e-cigarette manufacturer Juul has touted itself as a way to "make the switch" and aired commercials with adults saying they stopped smoking thanks to the product.
"The Smoking Alternative, unlike any E-Cigarette or Vape," reads Juul.com, accompanied by several stories of former smokers who put down cigarettes and picked up Juuls.
But Quad-City doctors say the switch might not be as simple as first thought.
"Certainly when vaping first came out, there were enough people out there that said 'Hey, this looks like a viable option to use to help you quit smoking,'" said Genesis pulmonologist Dr. Humphrey Wong. "But, unfortunately, with what's coming up in the last two months, I think it's fair to say that more and more doctors are leery and advising against it. That's certainly our position as well, as a pulmonary society."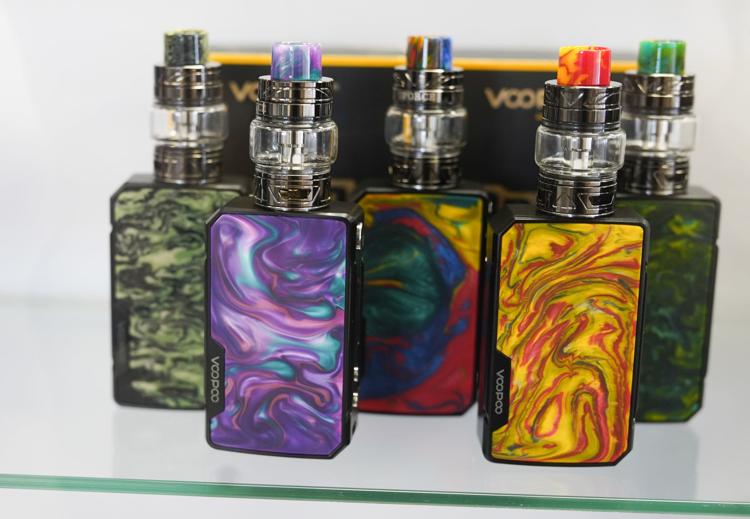 Vaping as a way to quit smoking is not FDA-approved, and Wong says there haven't been enough studies to show that it's more effective than what's available right now.
Especially with the possible side effects of vaping and the potential of getting addicted, Wong said it's better practice to try to get off of using tobacco products completely.
For those looking to quit vaping, Wong said products are very similar to what people may use to quit smoking. "For example, we used smokeless nicotine products like a nicotine patch and lozenges," he said. Those include medications such as Chantix and Zyban.
Wong said he's advised patients to try vaping because they had asked about it. "For some of our hardcore addicted patients, we have advised that in the past, but in general that's not a strategy that I use."
Scott County community tobacco consultant Kim Mills said the department has heard of people using vaping to quit smoking, but agreed it was not a recommended route. Instead, an FDA-approved product is preferred.
Over-the-counter products like lozenges, gums and patches are safe because of the lack of other chemicals surrounding it, Mills said.
Mills said that anyone who vapes should not buy products off the street, including vape products that contain THC or other cannabinoids. She also emphasized that vaping products should never be used by youths. 
You have free articles remaining.
Iowa has several resources available for those who wish to quit smoking, whether it's tobacco products or vaping. QuitLine Iowa, reachable at 1-800-784-8669, lets participants create a personal plan based on their needs. Quit Line now offers an adolescent program as well; My Life, My Quit lets anyone 13 and up call or text 855-891-9989, giving them five Cessation Sessions with a trained counselor.
In addition, there are local options available for cessation programs. Trinity Wellness have adult Freedom from Smoking programs available at 309-779-3700, and Genesis has a smoking cessation program available at 563-421-6991.
For the kids
Reynolds Tobacco Company's cartoon mascot was accused of targeting kids in the 1990s in their ads. In the face of lawsuits, the 'Joe Camel' campaign ended in 1997. Now, vape and e-cigarette companies are facing similar targeting accusations, though the focus is on the product itself. With thousands of flavors, ranging from mint to mango to breakfast cereal to literal candy, the taste is a huge draw for young users who might have been unlikely to pick up a normal cigarette.
At Quad-City schools, student handbooks often lump the devices in with tobacco use, and there are disciplinary measures associated with those infractions, though it can vary based on individual cases: administrative conferences, detention, seizing devices, in-school or out-of-school suspensions, or a behavior contract are some of the options listed in Rock Island-Milan School District's code of conduct. The district declined interview requests, but Communications Director Holly Sparkman said via email that they had changed the policies due to the increased use of e-cigs over the past few years, in the district and at-large.
"We don't keep a tally of confiscated items, so I can't tell you how many we have had in a given year," she said. "There has been an increased use of e-cigs over the last few years that we have seen, thus have changed our policies accordingly."
Pleasant Valley High School Principal Darren Erickson said they had already had a few instances this year of students having their devices confiscated.
"What we've been doing now, and what we really have to watch for is the increase of THC oil or other types of substances," he said. The district is working to have kits on-hand that will test for THC content in vaping devices.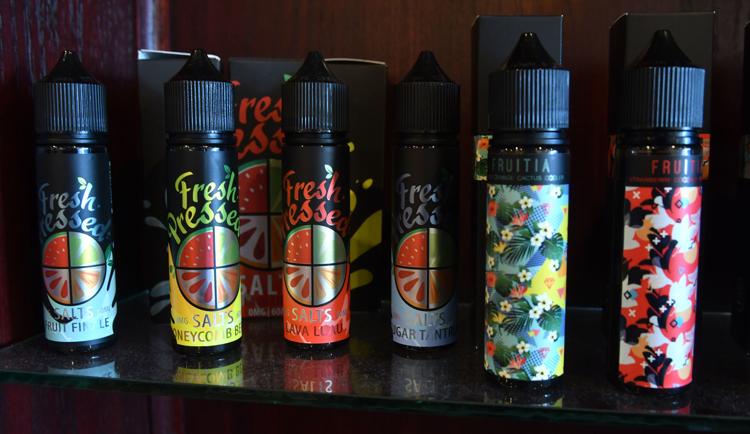 While disciplinary processes are written into the policy, districts are approaching it from a health standpoint too. Sparkman said Rock Island-Milan was "keeping it top-of-mind, as it has developed into such a critical health issue." Building principals have access to educational resources, and some have been distributing information with parents. Counselors, social workers and school psychologists also help connect students and parents to resources and supports.
Erickson said Deputy Jamey Fah, a school resource officer, works with freshman health classes to talk about choices, for vaping and e-cigarettes and other substances.
"We try to do that early in the year. [Fah] is also a part of all of our class meetings," Erickson said. "We're trying to get it into the classrooms. We're trying to make it pretty clear to kids that more and more research still needs to be done."
In Bettendorf, though, that work is going further, with "Vaping Cessation Groups" held during the high school's PRIDE time, a 45-minute block for intervention and enrichment.
While Shelley Hilton-Cullum, a social worker at the school, said via email that they had no hard data on how many students were vaping, she expected they were in line with the national statistics. According to the FDA, about one in five high school students use e-cigarettes.
She reiterated that vapes and e-cigarettes would remain a disciplinary issue, but students who attend the groups would not face disciplinary action.
Hilton-Cullum will be leading the sessions, along with school counselor Amy Harksen. Nursing Services Coordinator Roxanne Schmertmann also helped with programming, which contains information about nicotine, strategies for withdrawal symptoms and cravings, developing healthy alternative habits, and, if needed, individual follow-up counseling.
The programming hasn't been advertised or opened up for registration yet. But after Principal Joy Kelly made an announcement about the health risks and media reports about deaths linked to vaping, Hilton-Cullum said they were encouraged by how many students came in to talk about quitting.
"We know that students vape," she said. "We want to offer them the support and strategies to quit. We want them in the room without fear they will get in trouble."
'Regulations and accountability'
Shortly after the FDA's announced its intention to ban flavored vape products, Michigan announced it planned to do the same at the state level. In the Quad-Cities, many small business owners fear Illinois will do the same.
Aqueous Vapors on Locust Street in Davenport sells close to 200 different vape flavors. Luis Martinez has worked there for more than two years. He saw the immediate impact of the proposed policy changes and news coverage of illnesses linked to vaping.
"Aqueous Vapors owns 27 stores in, like, four or five states, and sales are down across this company 25 percent," Martinez said. "We have been told to do two things: cut back on our orders and start cutting employee hours."
Martinez echoed other store owners when he pointed to the influence of "big tobacco."
"All these years people have vaped, and this is suddenly an issue," Martinez said. "All these years and suddenly there's a problem - not with cigarettes, or flavored tobacco or smokeless tobacco - but flavored vapes.
"Everyone knows what this really is. This is big tobacco losing money. This is people moving away from a product that was a billion-dollar industry."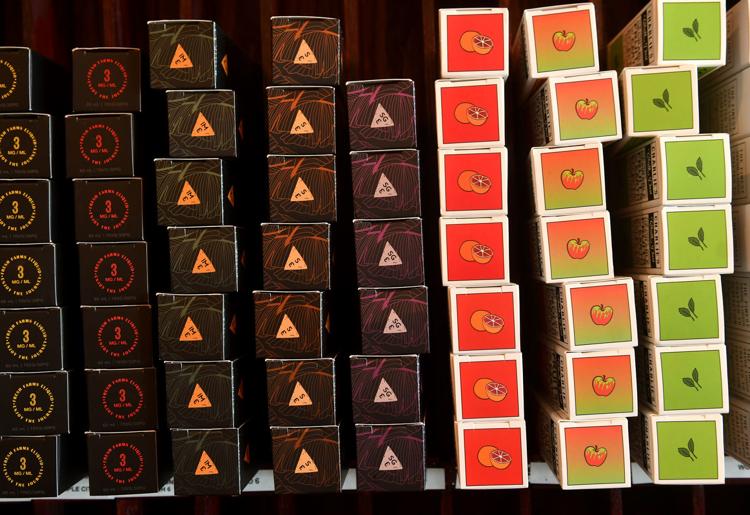 Martinez, Davis and Gaines said if the FDA or any other agency were interested in regulating e-cigarettes and vape juice they would speak with store owners.
Squarely in the regulatory crosshairs is the issue of e-cigarette use by minors - which is believed to be driven by the availability of attractive flavors.
"I've been thinking a lot about how to prevent kids from being exposed to this stuff," Davis said. "First, we need regulation. That's fine. In 2016 all kinds of advertising regulations came down, and I supported that. I don't want to see kids vaping.
"Second, something has to be done about online markets. This is how it goes: A kid gets a debit card at a drugstore. That kid goes online, lies about his or her age and then orders. That's a big source of vape supplies for young people.
"Third, raise the age to 21 and make sure vape shops card on entrance. Just like a bar, when a customer comes in, you card them."
Gaines said greater regulation should be the course taken before any product is banned.
"Go to any liquor store," he said. "What do you see? Flavored beers. Flavored vodka. All kinds of fruity shots and tasty drinks.
"Adults like sweet stuff, tasty stuff. Nobody is calling for a ban of that. We card people for that alcohol. We don't allow children in bars. Why aren't we allowing vape store owners the same kind of regulation and accountability?"