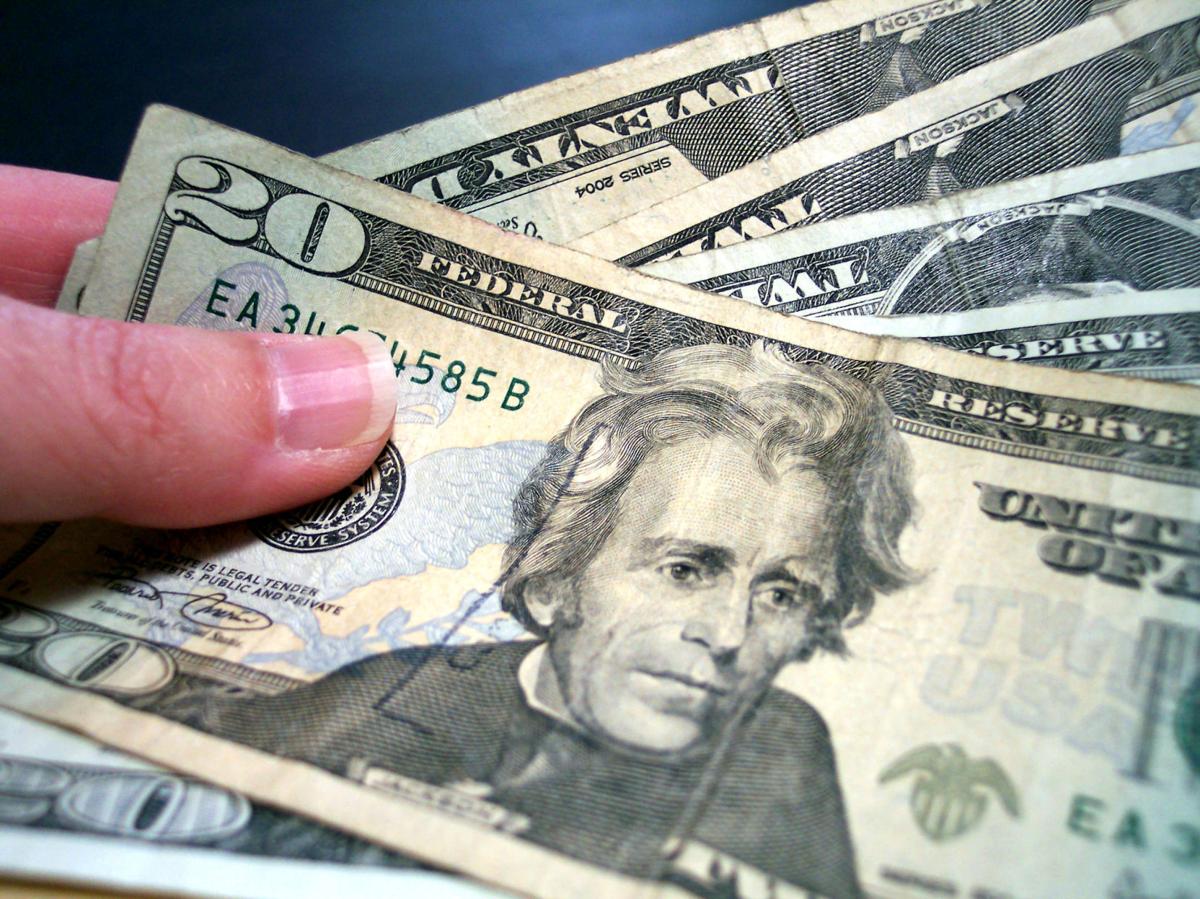 In the Quad-Cities, a woman working full time makes 72 cents for every dollar earned by a man.
The gender pay gap is larger in the Quad-Cities than it is in 48 states, including Iowa and Illinois. 
According to new data from the U.S. Census Bureau, women in the Quad-Cities area who worked full time, year-round in 2018 earned on average $14,847 less than men who also worked full time, year-round. (The Quad-Cities area is defined as the Metropolitan Statistical area that includes Rock Island, Mercer and Henry counties in Illinois and Scott County in Iowa.)
That gap is larger than it was nine years ago. 
Although there's no consensus why the gender pay gap is growing in the Quad-Cities area, one explanation involves the recent growth of traditionally male industries. Local demographics and cultural preferences around work might affect job choice, too.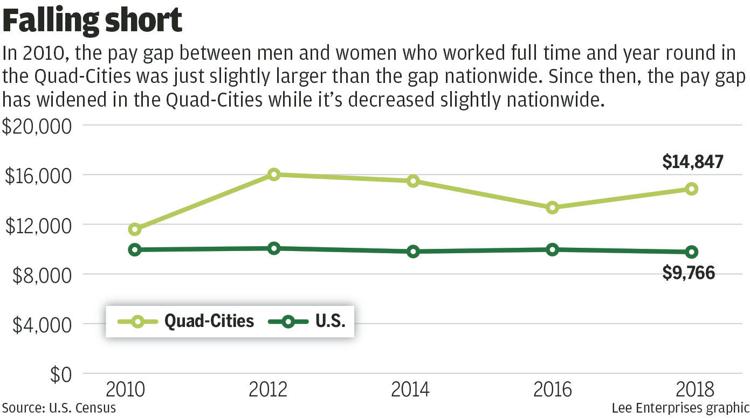 Still, advocates of gender equality worry that unconscious sexism is creeping into pay decisions.
The gap "has a lot to do with gender biases that people hold without realizing they hold them," said Bridget Ehrmann, a speech language pathologist in the Quad-Cities. "These types of things are slowly getting better around the country. That's why it's disturbing that here in the Quad-Cities, the gap is growing."
The bigger picture
Gender-based pay differences transcend location and industry, affecting people in every state and nearly every sector of the economy.
Nationally, median earnings for women working full time were 82% of the median earnings for men in 2018, according to Census data. The gaps are even larger for women of color.
And yet the local gap is growing while the national gap shows some signs of diminishing. Last year, the national pay gap fell to its lowest in decades, at $9,800. That's about two-thirds the size of the pay gap in the Quad-Cities.
The Quad-Cities gap is also worse than the gap in either Illinois or Iowa, where women working full time earn 81% and 78% as much as men, respectively.
In 2018, median earnings for full-time working men in the Quad-Cities metro area were $52,324. For women, median earnings were just $37,477.
Since 2010, median earnings for Quad-Cities men have grown 26.3%. For women, median earnings have grown 18%.
What explains the gap?
In one recent report from PayScale that controlled for variables to isolate gender, the per-dollar gap between men and women was found to be .02 cents. The report concluded that structural barriers prevent women from advancing in the workplace and that those barriers are often more cumbersome for women of color.
One hypothesis for the growing gap in the Quad-Cities area involves the growth of male-dominated industries. For example, since 2010, the number of local jobs in architecture and engineering has grown by 42%; construction by 9%; management occupations by 38%; installation, maintenance and repair by 13%; and computers and mathematics by 81%.
For Melissa Pepper, president of Total Solutions and founder of local nonprofit Lead(h)er, this opportunity gap is less of a "glass ceiling" and more of a broken first rung of a ladder.
"Women aren't making it to that first level of management at the same rate as their male counterparts," Pepper said. "If women are in leadership roles, they might be paid more, or at least equal pay for equal work."
The opportunity gap can perpetuate inequities. Fewer women in management can mean fewer advocates for pay parity, let alone fewer higher-earning women in general.
Joanna Short, an economist at Augustana College, said part of the issue is a "leaky pipeline" in which women don't make it to the upper levels of the payscale despite equal or better rates of education and training.
"Every step of the way, women are leaving and choosing to do something else," Short said. "Part of it could be choosing to be a caregiver. Or they get discouraged from one reason or another."
A study from the Institute for Women's Policy Research found that over a 15-year interval, women made just 49% of what men earned. The discrepancy is explained by women who leave the labor force for a period of time, sometimes to raise children or care for relatives. Research on the "motherhood penalty" has revealed systematic disadvantages for women who have children, including lower pay and stigma.
Much of the pay gap has to do with "occupational segregation," or the tendency for women and men to cluster in different professions. Those choices are influenced by gender norms.
Though there's some evidence that occupational segregation has lessened over time, including in law and medicine, research indicates that when women enter a field historically dominated by men, wages fall — even in the same jobs men once had. 
"Women don't choose to be paid less than men," said Megan Hasselroth, an academic advisor at Black Hawk College in Moline. "These things are done truly because of sexism."
Similar jobs in different industries often pay differently when those industries have gender imbalances. For instance, janitors, who are typically men, make more than maids and house cleaners, who are typically women.
Mandy Parchert is a workforce development business partner at HNI Corporation and a member of a local Lean In circle, a group of female peers who meet regularly for discussion and support.
"I believe women have the same opportunities as men, but the issue becomes, do women and other minorities know how to reach their aspirations when they don't see as many people that look like them in certain roles?" Parchert said. Spaces like the Lean In circle, she said, help women feel confident in attaining their goals.
What can be done?
Advocates of pay equity cite a number of measures that can help close the gap.
In Iowa, one strategy for companies is the EPIC Corporate Challenge, a public-private initiative to advance women in the workforce. Iowa companies that sign onto the challenge commit to setting goals related to at least one of five metrics: recruiting women, retaining women, putting women in senior leadership roles, putting women on the company board, and pay equity.
Pay equity is the least-chosen metric for improvement, said Tiffany O'Donnell, CEO of Women Lead Change. Of the 103 member companies, fewer than five have formally looked at the issue through the Corporate Challenge.
"Companies have to be prepared to do something with what they discover," O'Donnell said. "It takes courage and a budget."
That courage can pay off in material ways, especially in recruiting. Women want to work for companies that are addressing pay imbalances, O'Donnell said. "In a war for talent, companies will be rewarded for acknowledging the importance of pay equity."
Another tactic to close the gap is pay transparency. Externally, employees can get a sense of their market worth through pay forums like PayScale or GlassDoor. Internally, employees can legally discuss their wages under the National Labor Relations Act. But many don't know their rights.
"We're Midwestern polite," said Beth Livingston, an assistant professor at the Tippie College of Business at the University of Iowa. "We don't talk about that. But at the same time, how would I know I'm being paid less? I have to trust that my employer is doing right by me."
By proactively releasing information about employee salaries, companies can support pay equity. One 2019 study found that pay transparency for mid-sized companies in Denmark led to a smaller gender pay gap without significant effects on overall firm profitability.
Research has also shown that the gender-based pay gap is smaller in unions, which bargain collectively, and in federal jobs, which often have strict pay grades.
For many, though, the first and perhaps most difficult part of mitigating the problem is admitting that there is one.
"We need simply to be willing to talk about it," Pepper said. "They can be awkward or difficult conversations. But it's a good first step."
Get local news delivered to your inbox!
Subscribe to our Daily Headlines newsletter.