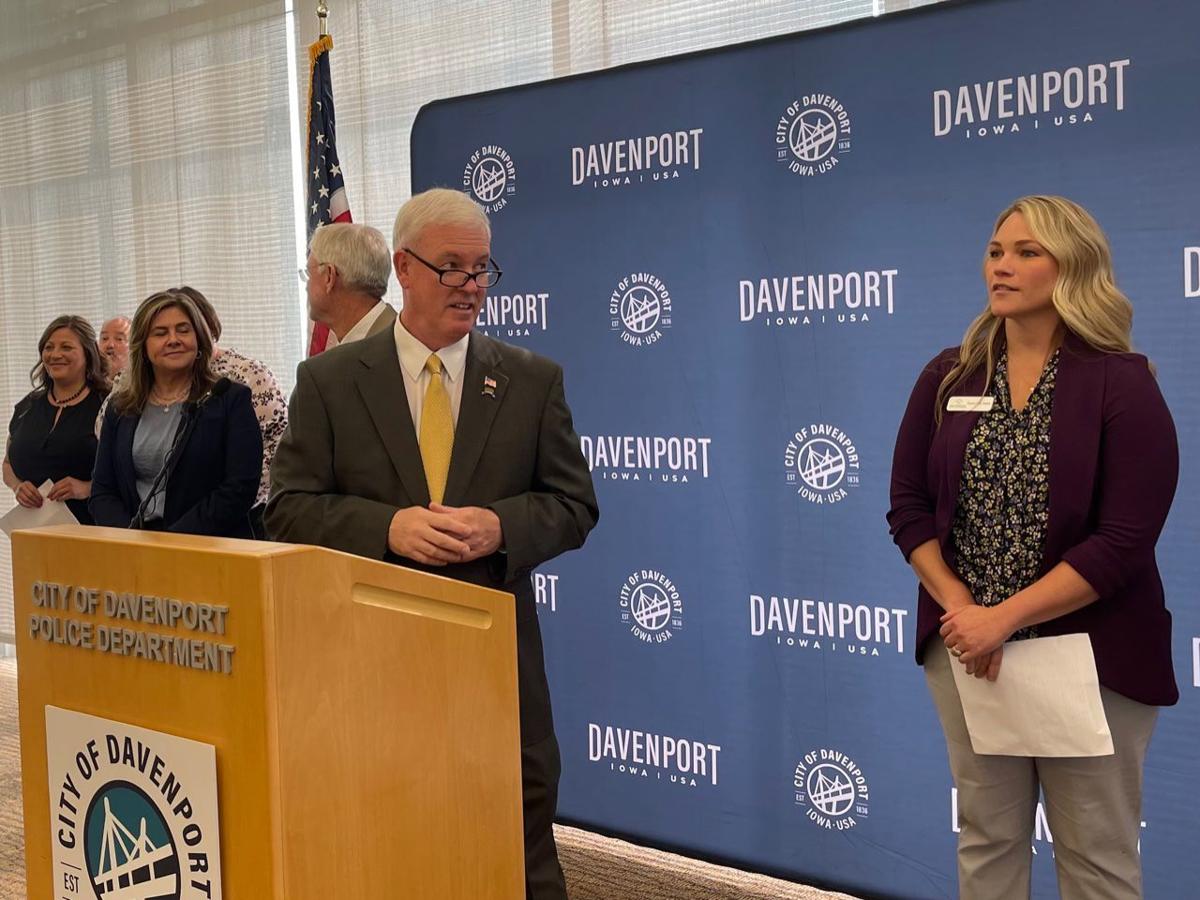 A long line of public officials and directors of assorted agencies filed into the Davenport Police Department's community room Tuesday morning.
Elected and law enforcement officials from Davenport, Bettendorf, Scott County were joined by representatives from the United Way-Quad Cities, Family Resources and the John Deere Foundation to formally announce a new public-private funding agreement for a youth assessment program in Scott County.
What is being simply called the "Youth Assessment Program" was in place as an agreement between Davenport, Bettendorf, and Scott County in late July. Davenport Mayor Mike Matson announced during Tuesday's press conference the program received private funding in the form of a $500,000 boost from the John Deere Foundation.
The program is designed to provide what has been called a coordinated, single-entry site that will assist youth and their families in Scott County with early identification, intervention and comprehensive assessment to appropriate services that will ultimately lead to the reduction of crime.
During Tuesday's press conference Matson stressed the Youth Assessment Program is fully funded for five years. Family Resources President Nicole Cisne Durbin said the program is budgeted at $270,000 a year and will have three employees — one assessor and two care coordinators.
According to Cisne Durbin, the program will be running by Monday, Sept. 6. Matson and Cisne Durbin also stressed the Youth Assessment Program will not be a physical structure.
"We will have the assessor and the care coordinators at Family Resources, but they will be going out into the community, meeting families in places like their homes, places where they are comfortable," Cisne Durbin explained. "The important step is letting families know about the services available to them."
Cisne Durbin said youth and families are provided "holistic needs assessments, case planning, and ongoing coordination for youth and families in Scott County." Youth and families may be referred by schools, agency partners, or self-referred.
They said local law enforcement agencies also can refer young people to the program.
Davenport led the way in funding the program, contributing $1 million in seed funding from nearly $41 million it's slated to receive in federal COVID-19 relief funds. Bettendorf will provide a one-time payment of $300,000. Scott County will provide a total of $700,000 in equal installments over five years.
United Way is the program's fiscal agent, managing and administering the funds and the contract with Family Resources to provide assessment, referral and case management services.
Family Resources was chosen through a request-for-proposal process overseen by United Way and city of Davenport, which a national advocacy group has said was flawed. Family Resources was the only service provider to submit a proposal.
In July Molli Barker Cook, executive director of the National Assessment Center Association, claimed Davenport's efforts do not align with national best practices and the city's process of selecting a nonprofit to run the center was based in "deception and lack of opportunity for local organizations."
City and United Way officials disputed the claims, and argued the criteria was drafted with input from a "well-rounded" task force of law enforcement, Juvenile Court Services, Iowa Department of Human Services, schools, Scott County Juvenile Detention Center and Scott County Kids.
Scott County Kids contracted with the association at the direction of a local task force to create and submit criteria to the city and United Way for soliciting proposals from providers to establish a Youth Assessment Center, based on common national standards and best practices.
Cook said the association learned in April the city of Davenport and United Way altered the request for proposals drafted by the association by removing a requirement that bidders not provide ongoing, therapeutic services within the community. Cook said the requirement was a critical component to ensure a lack of bias in recommendations and referrals for services made by the assessment center for youth and families.