Roger Brown still remembers the shocked looks people gave him the first time he rode a Segway through the halls of the company's New Hampshire headquarters.
It was early 2013, a rough time for the startup and its aspirations of changing how the world gets around. Brown had bought the company for just $9 million a few weeks before and flown in from his home in Tennessee to begin turning things around. What better way to get a sense of the place than to zip about on its signature product?
As Brown cruised the halls on the self-balancing two-wheeled scooter, an employee pulled him aside to lecture him on the risks of riding without a helmet. Brown was dumbfounded. "I own the company," he told the employee. "I can do it." With that, he whizzed away.
A few hours later, he received an email outlining the company's safety policies, which included mandatory helmet use. Either Brown would change his ways, or he'd be written up.
All these years later, he still finds it more than a bit silly. "You would've thought I went to the Baptist convention and walked around with a pro-abortion sign," he said recently.
The fuss over a helmet was the least of Brown's problems. He was the third person to own Segway, which had grabbed headlines in 2001 with the Segway PT and a promise to supplant the automobile and reinvent transportation. Instead, the company's flagship product became a punchline and the company a mess. In the years before Brown bought Segway, a half-dozen CEOs had come and gone, many of its best engineers had defected, and the VCs who had once showered Segway in cash had moved on to the next big thing.
Brown bought the company from the estate of Jimi Heselden, a British entrepreneur who died after riding his Segway off a cliff. Segway was barely getting by on the meager revenue it brought in selling the PT to tour companies, security companies and police departments. But Brown saw a global brand with a powerful distribution channel. Six million tourists rode Segways on tours of cities like San Francisco and Washington, DC each year. He planned to buy other transportation companies focused on short trips, like e-bike startups. All he had to do to make Segway profitable, he figured, was run the place well.
Brown brought on new employees to change Segway's uptight culture. He led an effort to trim costs by reengineering a circuit board, ditching the PT's expensive gyroscope in favor of a cheaper solution, and negotiating a better battery contract. It worked. Segway turned a profit within a year of Brown's arrival. He sold the company to the Chinese firm Ninebot on April 1, 2015 for more than $75 million.
For a time, he was happy. Then one day in August of this year, he got lunch at the Boathouse, a barbecue joint in Cincinnati. As he ate wings and pulled pork sliders, Brown noticed people riding scooters along the riverwalk outside, and not just any scooters: Segway scooters.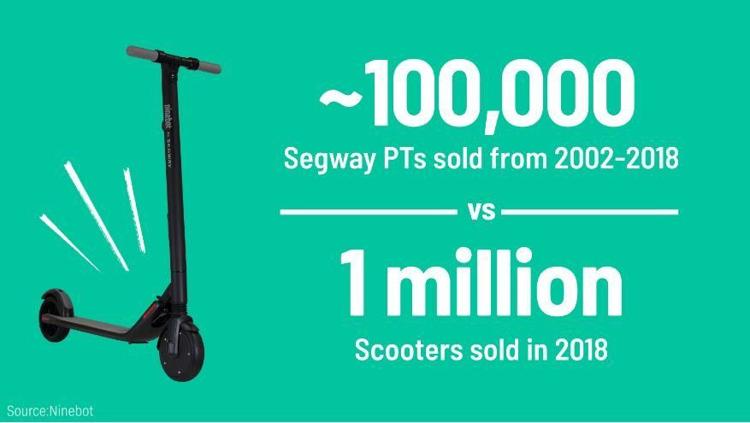 Ninebot introduced the Segway scooters shortly after Brown cashed out, triggering the scooter-sharing craze that has swept the world in the last year. You can find Ninebot's scooters in more than 100 cities, from the Americas to Asia, Europe and Australia. Ninebot can barely keep up. The company, which has more than 1,000 employees, will ship more than one million scooters this year — 10 times the number of PTs Segway sold in its first 17 years.
Silicon Valley-backed Bird and Lime, both of which launched in 2017, lead the trend. They're growing faster than the ridesharing leaders, Uber and Lyft, did in their early days. Uber and Lyft have responded by launching their own scooter services this fall. So has Ford. All rely on Ninebot scooters.
"If I would've had the vision of Bird or Lime," Brown said, "Segway would have been worth $10 billion."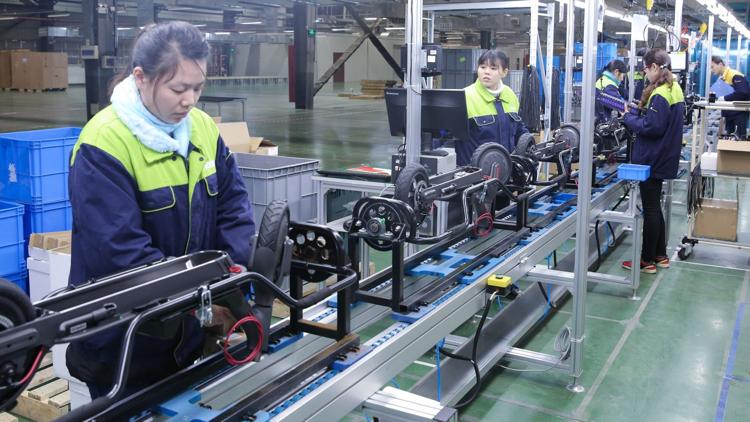 When Brown owned the company, he focused on the Segway PT, which cost thousands of dollars. It had always been too expensive and ahead of its time.
Now, though, the urban transportation revolution that Segway founder Dean Kamen and his truly gifted engineers dreamed of is unfolding, even if they aren't a part of it. Many are thrilled.
"We knew this was the way future transportation products would work," said former Segway lead engineer Doug Field, who has since worked at Apple and Tesla. "Anyone standing on something that's powered by electricity and a computer is a Segway descendant."