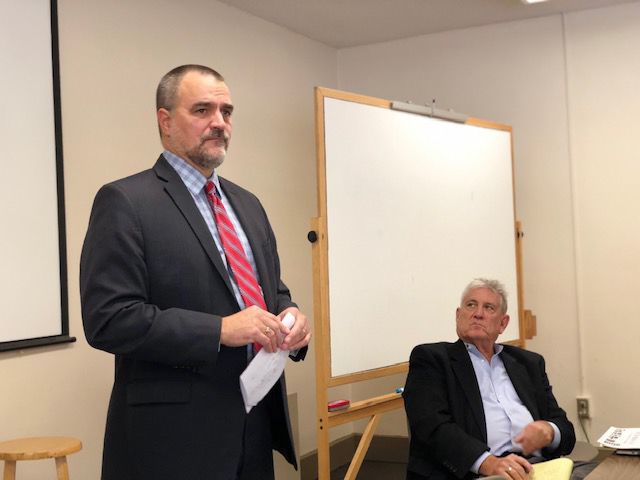 A woman who underwent a hysterectomy only days before drove around Davenport seeking $500 to provide a rent deposit for herself and her five children.
John Cooper, pastor associate and business manager at St. Anthony Catholic Church in downtown Davenport, put that face on the need for affordable housing in Davenport and the rest of the state Thursday morning.
Organizations and individuals who want to help create affordable housing are not organized at the local level, Pastor Cooper said. Still, "People are in need each and every day. We have people in these apartments that have one bed, and three or four people are sleeping in one bed."
He was among 30 individuals and organizations who met at St. Paul Lutheran Church, Davenport, to discuss the new Iowa Housing Partnership, a 220-member nonprofit that will create that organization and work to preserve and produce affordable housing and increase awareness through statewide and national education and advocacy.
Dan Garrett, vice president of WNC Developers, a member that provides equity for affordable housing projects, said developers, other individuals, and organizations will partner to address the shortage.
"If you want to have a vibrant community, you have to have housing at every level of the scale," Garrett said.
He owned a duplex in Spirit Lake that was affordable to renters and "I never once paid $1 for advertising," he said.
"Multi-residential property taxes are going down," said State Rep. Cindy Winckler, D-Davenport, but landlords who have less overhead continue to raise rent.
"If I am a landlord and I charge too much, there is no incentive to me to lower the rent," said Allison Ambrose, of St. John Vianney Catholic Church, Bettendorf.
"You want to drive down rents? Put some affordable housing in there," Garrett said.
He added that often landlords refuse to rent to people who have criminal backgrounds. "How do we expect people not to go back to what they did?" he said.
The partnership seeks more members. A charter member pays $2,500, a for-profit organization pays $500 and a nonprofit or government organization pays $250, with general membership at $100.
Garrett said that it takes a wage of $14.96 an hour to afford $778 rent monthly.