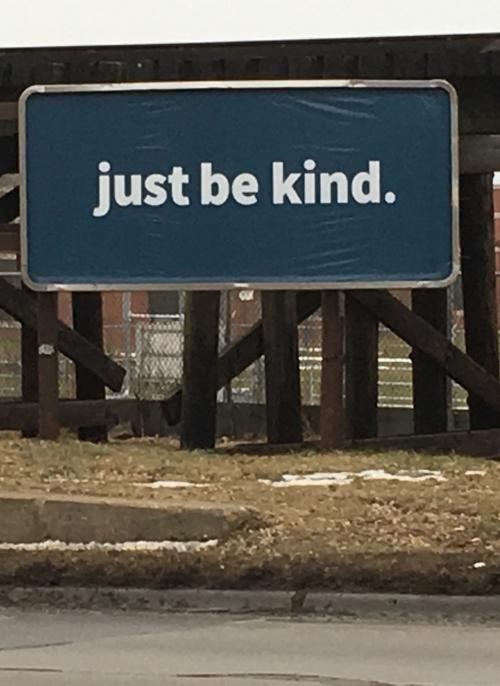 I was driving home from work on East River Drive when I spotted a new billboard near the Village of East Davenport.
In white letters against an all-green background were the words, "just be kind."
Immediately — immediately! — my spirits lifted.
In a time fraught with discord, disparity, discouragement ... dissing of all sorts, these words were a peaceful balm. I felt quieter, calmer, more peaceful.
I also wondered who was responsible for these words. The sign had no logo or sponsor name.
I called Lamar Advertising, the company that handles area billboards, and was referred to sales manager Ann Tressel.
The first words out of her mouth were that there was no advertiser and there was no story.
"We did it," she said. "There's no story."
You have free articles remaining.
After some coaxing, she told me that the message — along with "just be nice" and "just be friendly" — came from Lamar's corporate headquarters in Baton Rouge, Louisiana. The intent is to install these positive message in locations not otherwise spoken for as a kind of public service, she said.
Sometimes people, including herself, need a positive message to "kind of jolt their minds back in a good perspective," Tressel said.
"And I think that if I need that, then a lot of people need that."
Tressel even created her own positive message a while back that said, "call your mom." This was shortly after her own mother died, and is a reminder that people — and life — can't be taken for granted.
As I continued driving home the night of my sighting, I felt, in addition to being peaceful, somehow empowered. In a time when challenges are so big and we are so small, being kind is something we can do. Immediately and all the time.
And it will affect change. Change in the people you're kind to — co-workers, the store clerk, the guy in the car who cut you off — and change in yourself.
All of us likely wonder, now and then, whether our lives will amount to much, whatever that means to us individually.
But regardless of how much money we make, whether we're successful in our careers or whether we've climbed Machu Picchu, if we have been kind, we have accomplished something worthwhile. And if we have not, then what did those things matter, anyway?
Thank you, Lamar Advertising, for the reminder.