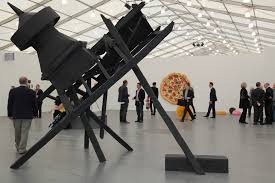 I don't mean to fixate on this, but I have another story about what happened to a piece of the barn on Davenport's East 53rd Street that was "deconstructed" in the summer of 2011.
In April we reported that members of the Gateway Redevelopment Group, a nonprofit organization working in Davenport's historic Gold Coast neighborhood, had used outside boards to side a storage building in the neighborhood.
Now comes word that one of two cupolas from the barn was used in a sculpture displayed in May at the Frieze Art Fair, a leading international contemporary art fair, held in a park in Manhattan.
The sculpture was created by Marianne Vitale, one of seven artists commissioned to make a piece for the show that is funded by the nonprofit Frieze Foundation, based in London.
In February, Vitale, a 40-year-old artist who lives and works in New York City, contacted Jack Haberman, of the Davenport Gateway group, to say that she had spotted the cupola on the group's website and wondered if it were still for sale.
Haberman said that it was, and for $350 — and about that much for shipping — the cupola made its way east, arriving in March.
The resulting sculpture is described on the Frieze website as "a monumental architectural fragment at the center of the fair evoking rural landscape, putting into question old-fashioned traditions and values."
I'm not fluent in the language of art, so I'm not sure what that means.
Haberman is glad the cupola received a second use, but he'd rather that architectural salvage be used in the area from whence it came. The barn's other cupola was sold to an Illinois man.
Vitale, who was born in New York, is known for her large-scale wooden sculptures of burnt bridges, barns and outhouses and has been written up in the New York Times. She is described as "a fixture of the downtown New York art scene."
Her website lists solo and group shows and has pictures of sculptures with $10,000 price tags.
PROGRESS ON THE CHILDREN'S GARDEN: Although "you don't see anything above ground," work IS under way on the Children's Garden at the Quad-City Botanical Center, Rock Island.
While rain delayed work for a time after the May 10 groundbreaking, a lot of below-ground infrastructure work has been accomplished over the past two weeks, Ami Jenkins, executive director of the center, said.
The river feature of the garden is essentially a recirculating fountain and plumbing for that has been put in. If you stop and look closely at the ground from above, you can almost see the outline, she said.
The groundbreaking culminated years of work by many and begins construction on what is expected to be a $6 million project overall.