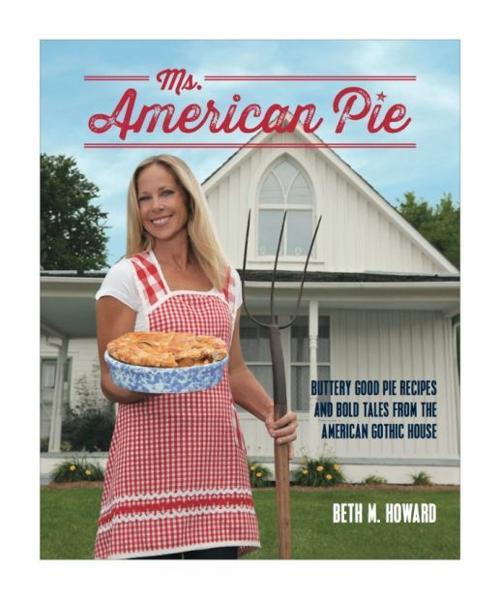 When last we spoke to Beth M. Howard, she was riding high on the success of her book about pie and sales at her pie stand outside the "American Gothic" house where she lives.
Now she has published a second, recipe-oriented book titled "Ms. American Pie," and she is still riding high, although she plans to come down for a landing very soon.
Howard's story continues to amaze.
While summarizing the tale is difficult, here are some highlights: The free-spirited Howard, 52, lived in Davenport from the time she was 12 until she graduated from Assumption High School. She spent most of her adult life on the U.S. coasts and overseas, making a living as a Web producer, coffee importer, freelance writer and pie baker to stars such as Barbra Streisand and Steven Spielberg while working at a cafe in Malibu.
After the sudden, traumatic death of her husband, she moved back to Iowa and now rents from the State Historical Society of Iowa the house in Eldon made famous by artist Grant Wood.
She published "Making Piece: A Memoir of Love, Loss and Pie" in 2012, a chronicle of how she worked through her grief after her husband's death and how pie became a metaphor for sharing, healing and community. The second book came out in April.
Having spent the winter in Los Angeles, she began promoting the book as she made her way back in her RV, stopping in cities along the way — Phoenix, Albuquerque, Dallas and Kansas City — for appearances at news outlets and bookstores to talk about the book and give pie-baking demonstrations.
Once at home, she plunged immediately into baking for her Pitchfork Pie Stand, opening on Memorial Day weekend for her fifth season.
This year, though, she has decided that the stand's last weekend will be July 4-5 (noon to 5 p.m. both days or until the pies are gone), and then she's going to try to catch her breath and focus on her next book.
"I need to set boundaries and honor my life as a writer," she said in a phone interview. "I need time so I can be freed up to focus on what's next. I didn't ever expect my life to become so busy. I miss writing terribly."
Exactly what the next book will be about, she isn't sure. That's one of the reasons she needs time. "I'm hoping it won't have anything to do with pie," she said, adding, though, that she really doesn't know.
What she does know is that she needs time "to keep growing as a writer."
She also will continue with her schedule of pie-making classes.
"Ms. American Pie" is a beautifully photographed recipe book through which Howard weaves her insights and perspective on life as well as pie-baking.
"The reason I wanted to ... write this cookbook is so I could share my philosophy (and sometimes my rants), to help instill courage and confidence in novice bakers and to demonstrate flexibility to experienced bakers ...," she writes in the introduction.
"Mainly, my hope is to spread love and goodwill in the world through the many positive influences this iconic dish offers."
I counted 145 individual photos, including about 30 luscious close-ups of pie. Did she really make all those pies and how long did that take?
Yes she did. And four days.
"Even just talking about it makes me want to start crying," she said. "Some of those pies I had honestly never made before. I was making them for the first time and they had to be photographed. No pressure!" she said. "It was exhausting."
The pie shots are supplemented by outdoor photos taken when the pie stand was open.
I'm a pie baker myself and, as I have previously reported, I changed some of my longtime ways after reading Howard's first book. I switched from a pastry blender to using my hands to mix the flour and shortening.
This actually does work. And as Howard writes, "I believe that the physical, sensual, tactile experience of mixing your dough with your bare hands makes for a better pie."
I will not, however, abandon my practice of crimping aluminum foil around the edges during baking. I do this to prevent the edges from burning while the rest of the pie simply bakes. Howard says I should just turn down the oven temperature, but I'm not ready for this.
The recipes are great — for any kind of pie you could possibly want: fruit pies such as her famous Apple Crumble and Strawberry Rhubarb, and sweet, creamy pies such as French Silk and Nutella. Among the more unusual fruit pies is gooseberry. As Howard observes: "Good luck finding those gooseberries."
Recipes also include a few main-dish pies such as Spaghetti and BLT.
In addition to her own style of making dough, she shares other tips such as how adding tapioca makes for a creamier peach pie. And she explains how to make "pies in a jar" and mini-pies. The latter are especially handy as gifts in situations where a whole pie might be a bit too much. A mini-pie is just right.
But what joy ensues when you make a pie. People remember.
"I had this pie (American Sour Cream Walnut) at a dinner party in Los Angeles about 15 years ago, and I still remember how much I loved it," Howard writes. "You know a pie is good when you haven't eaten it for that many years and yet you still think about it."
And for those who are still afraid of pie-baking, she offers this: "There is no pie that cannot be remedied by a scoop of ice cream."