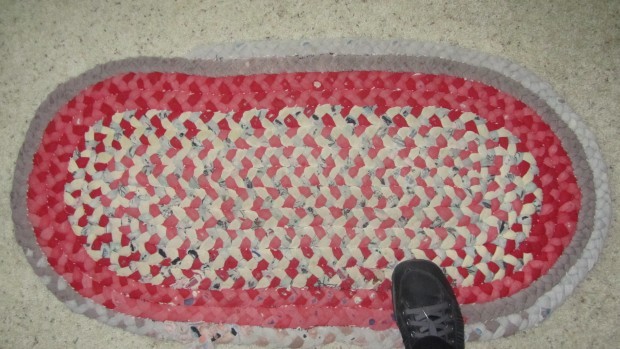 As I was leafing through a new book about home design, my eyes fell on a paragraph about braided rugs.
The author describes them as "pieces of Americana" that are cozy, warm and durable. They impart a casual look that relates specifically to country-style interiors, she says, and she cautions against trying to force them into contemporary or modern room designs.
I have four braided rugs in my house — all hand-made — and they make me feel good every time I look at them.
Inside the front door is one made by one of my sisters as a present at a point in her life when she apparently had time on her hands and ready access to a lot of scrap fabric.
The other three I took from the farm home in which I grew up. I'm not sure when they were made — more than 50 years ago when my mother was still living? Or later, when my dad was mostly retired from farming and filled his winter days reading World Book encyclopedias and making baskets? It is possible he made a rug or two as well.
Like many old-time quilts, these rugs were made from rags. Clothing or other worn fabric items were cut into strips and braided into long ropes. Instead of finishing the raw edges, you turned them under as you braided so that the raw edge was inside.
When you had a sufficiently long braid, you stitched it into a flat oval.
Flat is the operative word. This was not easy to do. You didn't want the rug too loose, but if you sewed it too tight, the edges buckled up. I made a palm-sized rug once with my daughter when we were doing pioneer crafts and even that tended to turn up on the sides.
The braids were sewn together with heavy upholstery thread or, as I examine mine closely, what looks like cord string. My oldest sister says this might have come from livestock feed sacks. The sacks were stitched together at the top with heavy string that you could pull off, and we'd save it, winding it around spools for reuse.
(This kind of waste-not, want-not mentality is amazing, even to me.)
Making rag rugs served a couple of purposes. My family got free rugs and it kept my older siblings occupied. "Mom was always on the lookout for stuff for us to do," my sister recalls. With rug-making, there was no bored, standing-around time, no squabbling.
Because the rugs were made from old clothes, you would sometimes recognize something you once had worn down on the floor. My rugs are multi-colored, using whatever fabric happened to be around, but there was an attempt at color coordination. One is mainly green, another red and another is green and navy.
I like my rugs for many reasons. They are colorful and virtually indestructible. After years of buying rugs with non-skid backing that fuzzes off after several washings, requiring a new purchase, I find that these last.
I wash my rugs once a year at the coin-operated laundry and routinely repair them because the string does wear out. But I enjoy doing that, enjoy the stitching and knowing I am putting something together that has a history, that came from a place I know. And that is the main reason I like them.
Once, while stitching up a rug, I found a snap. The old-fashioned metal clothes fastener (pre-Velcro days) was sewn on the fabric in the rug.
You don't find that in mass-produced rugs from China.