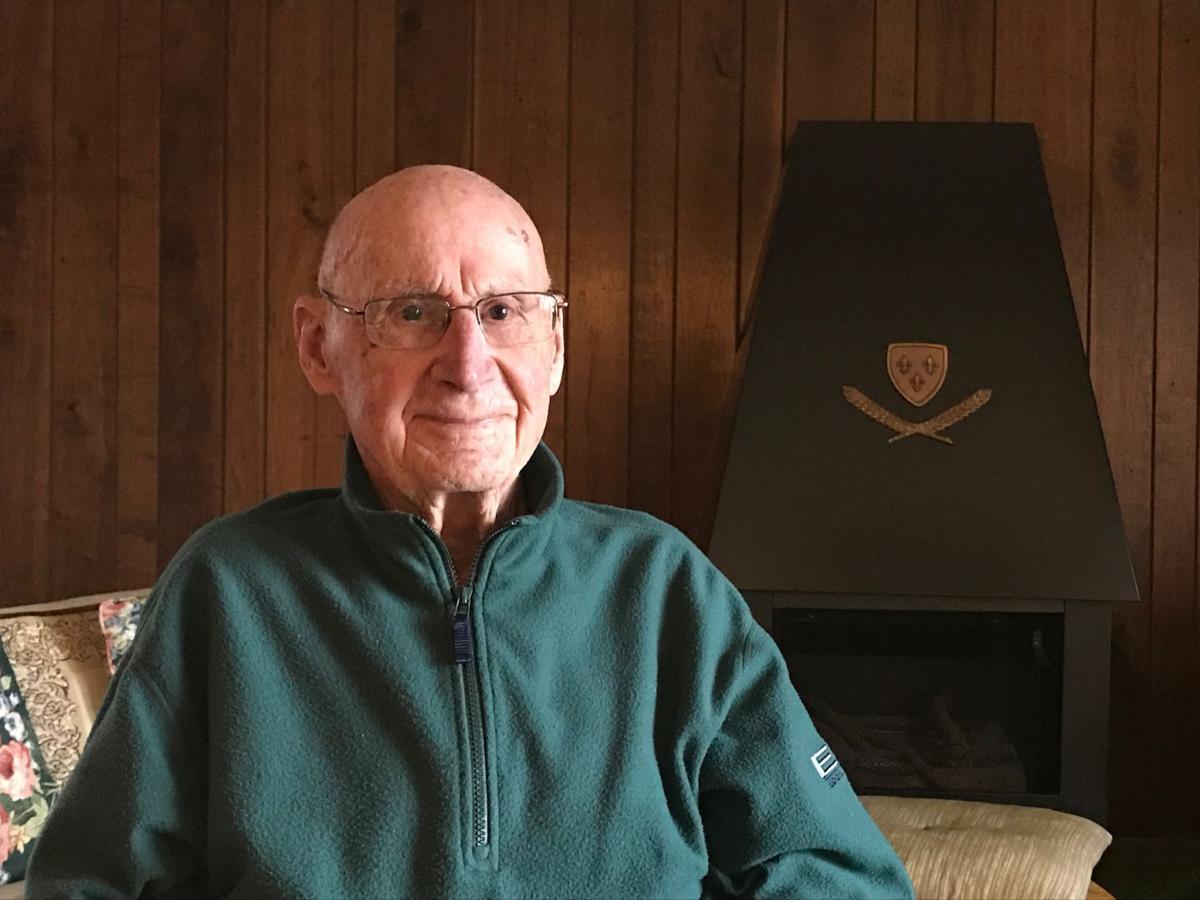 For the past month, I've been interviewing people for this column. I have a stack of notebooks of conversations yet to be published. I've put some miles on my truck to sit at kitchen tables, or in the case of Bob Williams of Long Grove, in his living room. The conversations have reminded me that people are driven, not by politics, but by something much simpler – the desire to be a part of the community, a desire to be happy and to make other's happy. That last thing – the desire to see someone smile – that's what motivates Bob Williams, 92, to get up every morning and make his rounds. Something so simple gives life meaning.
I drove out to Long Grove at the invitation of his neighbors. They thought I should meet him. He's worth knowing, they said.
We sat in his living room in Long Grove, a small town of about 800 people, "mostly retired teachers," Williams said. As a retired teacher and football coach himself, he fits right in.
Williams graduated from high school in Ottumwa and went to Drake University on a football scholarship in 1942. He dropped out right after football season ended and was drafted in March the next year. He was in Germany 30 days and took a sniper bullet. Whatever was keeping him from being focused in school during his first go-around was gone when he came home from World War II. By 1944, he was married and his first child was born in 1946.
He played football through college and when he graduated, he got a job as a high school football coach. "It's the only thing I knew anything about." He moved to Davenport in 1950 as the coach at what was then Davenport High School. "It was the biggest high school in Iowa," he said. When the school split into Central and West high schools, Williams stayed at Central and retired from there in 1987.
But if you live in Long Grove, you know Bob Williams for something besides his career as an educator. You know him for his Hershey bars. Williams makes the rounds each month and as he does, he brings with him king size Hershey bars to give out. That's why people know his name at the bank, at the Long Grove Post Office and at the pharmacy. It's the reason he looks forward to chatting with the staff at the Genesis clinic when he goes in for his appointments. It's why he knows the life stories of the clerks who work at the gas station.
At 92, he's connected to his community and has a full social life, thanks to the box of Hershey bars he buys every Saturday at the dollar store. He pays for the chocolate and always gives one to whoever is in line behind him.
"I learned that any time I give a Hershey bar, it brings a smile to their face," he said.
"I started out small, eating them myself," he said, pausing for a laugh. I couldn't help laughing, if not for the joke, then for the look on his face as he waited to see if I thought it was funny. "With a half glass of milk."
He also carries a box of Milk Bones in his car to give out to the pets in Long Grove.
His neighbor, Jan Hartwig-Heeggen, was sitting with us. She's the one who wanted me to meet Bob. She said that anytime she goes out with Bob, she's surprised by how many people know him and how much he knows about each of them.
"We go to the BP gas station and he'll tell me what's going on in the life of the person behind the counter," she said. "So many of us don't make the effort. Someone new started working there, I could have at least said, 'Welcome to the area.'"
Jan said that she took Bob to lunch at Prairie Grille at SteepleGate and was astonished when the chef came out to the table to see how Bob was doing.
Bob tries to remember the names of everyone he gives a Hershey bar. He brings 18 chocolate bars to the doctor's office, he said. "There are two Lisas, a Mary Beth and a Cindy that lives in Maquoketa."
The other place you might see Bob is on the bike path between Eldridge and Long Grove. He bought a memory bench along the path for his wife when she passed away. He visits her there every day and sits on the bench for a while. "She gives me orders for the day." You'll know it's him because he wears shorts every day, even in the dead of winter. Sometimes former students stop by and sit with him for a while.
"He sees the big picture," Jan said. "He's forward looking. It's one of the reasons he's a joy to be around. He doesn't dwell on himself."
Autumn Phillips is the executive editor of the Quad-City Times. If you want to be part of this "What They Don't Know About Us" series on what we believe and why we believe it, email aphillips@qctimes.com or call 563-383-2264.