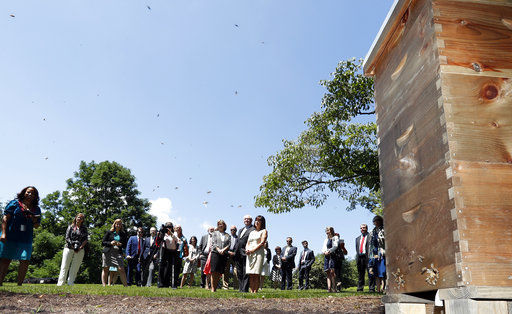 James Comey was on the television, the straight-on shot of him, forearms on the table. Pundits were busy replaying, dissecting and parsing his testimony when my mom called and said, "Have you seen the news?"
If there was a long pause on my end of the line, it is because my mom and I do not talk about politics. Like many Americans, we struggle to talk about our most deeply held beliefs, because we differ. That seems like a strange thing to admit out loud, but more and more we tip toe and obfuscate when it comes to politics. My mom and I are no different. Those conversations feel too charged with emotional minefields and the weight of what is starting to feel like slowly mounting civil war.
We talk about the weather instead. The snow she gets at her house turns to rain by the time it reaches me. We have that in common, the moving clouds.
So, when she said, "Have you seen the news?" I didn't answer. I waited to see what she would say next. She wasn't talking about Comey at all. She was talking about a story that came out a couple days before about Karen Pence, wife of Vice President Mike Pence.
Karen Pence held a press conference at the U.S. Naval Observatory compound, where the vice presidential residence is located and where she now has one established beehive. That was the news my mom wanted to talk about. Ag Secretary Sonny Perdue was at the beehive unveiling and together he and Karen Pence talked about what individuals can do to help bring back the bee population.
I sat in my backyard as my mom and I talked. My own two beehives are thriving this year after a wet spring and lots of flowers. I'm an evangelist for bees, myself, always trying to talk people into getting their own. "It's easy. It's relaxing. You'll have the most productive garden of your life." I've been trying to talk my mom into it for years.
We relaxed into the conversation, she'd discovered some common ground and we were relieved to explore it.
At the beehive press conference, Perdue told reporters, "Just in the spirit of democracy, let's all get involved and do our part, whether it's planting the (bee-friendly flowers) or hosting a beehive just as Mrs. Pence has done here."
You have free articles remaining.
It was a quiet little Victory Garden moment, drowned out by louder stories.
If you can avoid getting into the weeds on GMOs or Waters of the United States (WOTUS) rules, you can usually have a pretty civil and enjoyable conversation about food – even these days.
I'm not sure exactly when it started, but I don't always remember having to work this hard to find common ground. We've been divided by people who do not know us, who would not recognize us on the street or cross a room to greet us. We've been divided by people whose rhetoric on stage splits up friendships and silences family dinner conversations, and yet is laughed off later as "campaign talk" – said but barely believed.
I was thinking about that conversation with my mom, about the bees and the common ground, when I heard the news of a shooter opening fire at a baseball practice because he disagreed with the GOP. He was so angry that he was ready to kill and ready to die.
We were so stunned, that we published an editorial hours later on our website. We wrote, "This isn't warfare. It's politics. … Certainly, what's now happening in America isn't a first. But there was no Facebook in 1968 when baby boomers rose up against the war in Vietnam. There were no smartphone alerts in 1775 when Boston exploded. There were no online comment sections and deep-web posting boards for conspiracy theorists when the Roman Republic collapsed in 27 B.C. The discontent is louder now. The tribal rage is amplified. It's quite literally tearing at the fabric of the country."
I believe that. It's tearing the fabric in imperceptible ways, like what's happened with my mom and I.
We hung up and I looked up the story online about Karen Pence's bees. Her hive is unpainted and stacked high with boxes, a sign that it's well-established and already having a productive season. I looked at the stand it was on in the photos and glanced around for any other signs of beekeeping tricks, knowing Karen Pence has the experience of the U.S. ag department to get her hobby started.
I texted my mom, "I wonder why she only has one hive."
"I don't know," she texted back, "but it's interesting. Isn't it?"