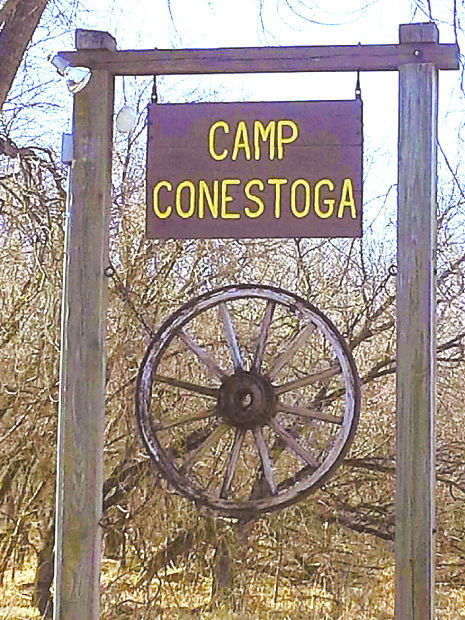 This is what is meant by a crying shame.
It's plain to see why so many women are rattled by the local Girl Scout Council's announcement it may be selling off all four of its Iowa camps.
One of them, Camp Conestoga, is in Scott County.
Its rambling, wooded acreage has a lake, shaded trails, rustic cabins and fresh air. A long-time Girl Scout devotee, Jane Duax, of Davenport, joined me on the 20-minute drive to the camp in New Liberty on Wednesday.
One of the first things I noticed was the deer were everywhere — their white tails darting through the trees like great balls of cotton, playing hide-and-seek. A resting gaggle of Canada geese honked their warning echoes across Flint Lake, flushing a red-tailed hawk from its lakeside perch.
To Duax and countless others like her, the familiar woods hold more meaning and more memories than even a hard-working imagination could conjure.
At the entrance to the camp, Duax pointed to a large expanse and recalled the excitement of being dropped off for a week's stay at Camp Conestoga.
"The counselors would be in their Sunday best: black shirts, white shorts, green tie," she said. "You'd wave goodbye to your mom and dad, and the fun started."
But it's not just the fun that sticks like tree sap to Duax and the
700-or-so others who have signed a petition, asking the Girl Scouts to reconsider selling the camps.
"This place changed my life," Duax said. "It taught me how to be part of a team, to love and respect the outdoors and to look out for myself. I learned on these very paths how not to be afraid of the dark."
Maybe the ever-present glow of a cellphone has staved off such fears for today's girls?
Officials from the Girl Scouts of Eastern Iowa and Western Illinois say today's Girl Scouts are different from the ones in Duax's generation.
Today's girls aren't keen on sleeping quarters that are not temperature-controlled or restroom accommodations that lack the flushing option. Most of today's girls want modern conveniences, meaning air-conditioned cabins, not hot tents.
They want access to the Internet and do not wish to dig their own latrines.
"Right or wrong, it's what most of the girls are telling us they want," Council CEO Diane Nelson said. "Not all girls. Some girls are OK with bugs."
For Duax and many others, camp is the time for roughing it, not for Facebook.
"I want my kids to be unplugged — to go outside, hear the wind move through the trees and not be afraid of daddy longlegs," she said. "They're already good with technology. They know more than we do. They have access to plenty of sports. The outdoors is the missing component."
But Nelson said selling the camps does not have to mean doing away with the outdoors.
"You can still teach them to cook over an open fire, but you have to get them to camp first," she said. "Camping is part of our core. You can't just throw it out the door. But you do have to change it."
For now, no one is entirely sure what the next generation of Scouting will look like. It no doubt will share qualities of the past, but it has to keep up with the times, too. In fact, the plan after selling the four camps might be to build a new outdoor destination that would blend rustic experiences with modern amenities.
"One use of technology might be to have a computer lab where they can print out pictures they took in the woods," Nelson said. "Maybe they could email their parents from camp, so they're not homesick.
"But this doesn't mean they'll be plugged in all day."
And it's not as if the Council hasn't been trying to get girls interested in taking advantage of the camps. They waved all sorts of carrots at the troops, including certificates for overnights at Camp Conestoga. The girls didn't bite.
"Our philosophy was: If you get out there to the camp and see it, how could you not want to go back?" Nelson said. "But the attitude instead was: We've been there and done that."
Although the camps are not expected to generate a profit, she said, they are losing the Council about $600,000 annually. When the same thing was happening about five years ago at Singing Bird Lodge in Rock Island, Camp Shabonee in Rapids City and Piper Hills, New Windsor, Ill., they were sold, too.
Rather than liquidating all four remaining camps, it is possible one could be saved, and the proceeds from the sale of the others used for updating. The Council's board is scheduled to vote on the future of the camps at the March 28 board meeting.
"Some councils have had to sell camps to pay debt, and we don't want to get there," Nelson said. "If transportation to a single, centralized camp is the issue, maybe we'll provide buses. If we don't change, we become obsolete."
For Duax and many others, the rustic experience of Girl Scout camp had a profound impact on their sense of self. Their loyalty to those places is just another measure of what they learned there — what they got out of finding their way in the dark and facing their fears.
Girls today aren't all that different, really. They still want to have fun with their friends and go on adventures and learn new things.
Yesterday's Girl Scouts must understand that it falls upon today's leadership to pass along the same values while finding a new method of delivery.
"Changing lives, that's what we do," Nelson said. "That's our job. The outdoors is a place where we change lives, and that is something that will never change. Our mission is the same. You can't take that away with a property."