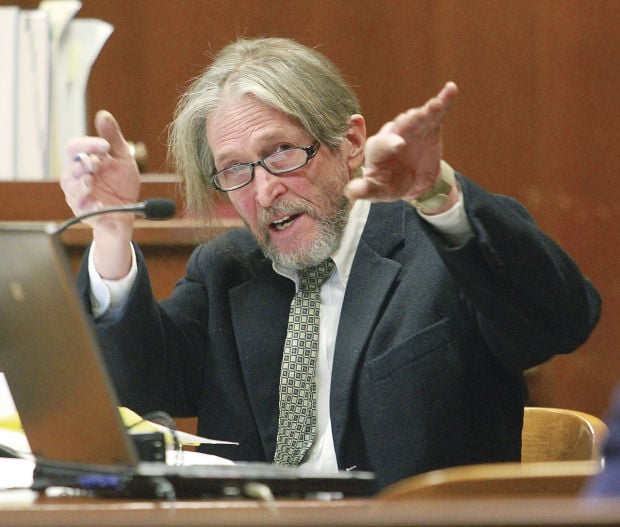 You could've cut the frustration with a butter knife.
Unfortunately, just about everybody in the Scott County courtroom Friday had a reason to feel a little irked. This includes the defendant, former Davenport alderman Keith Meyer.
Maybe he had a good reason for choosing to defend himself against a charge of assaulting his neighbor with a shotgun. But it was not a good choice.
Meyer's on-and-on fumbling with documents and clumsy unfamiliarity with legal procedure created an annoying pace. District Associate Judge Cheryl Traum kept a respectable cool as she repeatedly reminded Meyer how things work and, just as often, how they don't.
Her restraint seemed to have a calming effect on jurors, some of whom let out long, heavy sighs that suggested their patience was growing thin.
But the pro se business obviously was taxing on Meyer, too. He appeared dazed at times, lost among transcripts and objections, rulings and what to do next. It was difficult to watch, but any threat of sympathy was quickly quashed by his stubbornness.
The 71-year-old could not seem to accept, for instance, that his failure to subpoena witnesses meant they could not be called to testify. He wouldn't let it go. The same went for the times Traum ruled this-or-that wasn't relevant to the case.
Meyer couldn't seem to accept those rulings, either. He also had trouble either grasping or accepting that attorneys cannot simply make speeches. His loose-canon proclamations didn't help.
In fact, the damage that was done to Meyer in the courtroom was done by Meyer.
"I'm an activist, and I admit that," he said, going on to acknowledge a routine of filing complaints against Davenport police officers. His closing-argument rambles gave the impression Meyer's troubles are always somebody else's fault — the police, the city, the neighbor.
But something else came up that suggested Meyer's paranoia may not be entirely paranoid.
At one point Friday afternoon, a transcript from his arrest gave away an attitude toward Meyer by at least one police officer that wasn't a bit helpful. The cop disclosed, while at Meyer's house, that he had been there before.
The officer said he didn't really want to have to talk to Meyer on prior visits, so he "knocks softly" on his door, knowing Meyer has a hearing impairment. That way, the cop said, he at least can say he knocked.
Meyer had every right to represent himself in court. He also had every right to insist he never pointed his shotgun at his neighbor.
The problem is, he didn't represent himself well, and it doesn't matter whether he pointed the gun. He admitted he went to the house and retrieved the shotgun during the dispute. And the neighbor testified he was afraid.
Shotgun plus fear equals assault.
We'll find out whether the jury saw it that way.
If justice is to be served, however, the six men and six women must find it in themselves to forgive Meyer's legal inadequacies and personality imperfections and stick to the evidence.
Maybe if they do, he will, too.