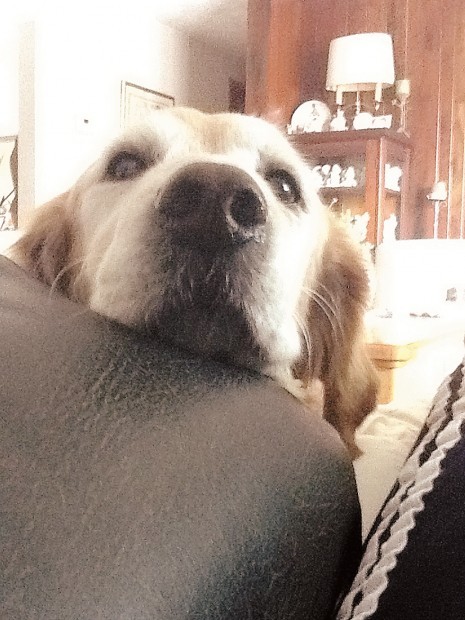 Katie's gone to heaven, but Karen's in hell. The pain isn't quite as raw as it was in the days last week that led up to putting sweet Katie to sleep, but there are many days to go. Grieving is like being sick. It's all you feel.
Katie was 15, a golden retriever.
She was shy and friendly, and she adored her mom, my sister, Karen.
If you come from an animal family, you already know about pet love. Pet death is an inevitable part of it, but it
doesn't keep most of us out of the squeaky-toy business.
In fact, the only sure-fire way to mend a broken heart is to stick your fingers through a wire cage at some shelter and let a pair of little dark eyes remind you why you do it: Because they need you and, in ways, you need them, too.
Some people don't get us, and they scoff at our referring to our dogs and cats as our children. But we don't care. The warmth of the welcome that meets us when we come home pushes any lack of understanding right out the door with the fur balls that collect in the entry.
Katie was Karen's daughter. Period.
And she needed her mom to help her out of her pain. There was nothing to do for the melon-sized tumor that grew so quickly where her ribs already showed. The nasty cough seemed to grow longer and louder every time she climbed the steps or, in the final days, simply walked across the room.
The vet told Karen she would know when it was time. And that was the hardest part.
When you love an animal the way Karen loved Katie, you cannot even consider taking that drive to the vet's office without first enduring days of tears and wretched sadness. You try to get it out of your mind, but the best you can truly hope for is to hide the tears at work and not crash into something on the way home.
You pet your Katie until you no longer can feel her fur under your tired hands. Then you pet her some more.
We knew for a week that Karen had made the impossible decision. I stopped by a couple of times to kiss Katie on the nose and tell her what a good girl she was. Then I climbed back into my car, feeling the lump push against my throat.
When I told Karen I would go along to the vet's Thursday, I wasn't sure I could go through with it. We asked our sister, Diane, to drive, and we took Katie for her last car ride.
Her tired old legs nearly buckled on the slick lobby floor, and she wheezed as we took her to the back room. There was a blue blanket on the floor, and Karen sat down, patting the spot next to her.
I was afraid Katie would see us weeping and be afraid. But she was too distracted by her own discomfort.
Karen stroked her soft, gold ears and told her it would be OK. She bravely nodded her head toward the vet, saying it was time to give the shot.
For a few seconds, Katie relaxed. Her little head fell into her mom's hand, and she slowly closed her eyes. No more coughing. No more pain. No more Katie.
Then something I didn't expect happened: The fear and anguish left my sister's face.
"Honestly, I feel a little relief," she said about an hour after leaving the vet's. "Getting her there was the worst part.
"I know I have the void to face. This minute, there's relief."
The minutes will pass, of course. We will look at pictures of Katie without getting so sad. And someday, Karen will poke her fingers into a wire cage at some shelter, and she'll fall in love all over again.
She'll never find another Katie. But she'll find another daughter. And we'll love that one, too.