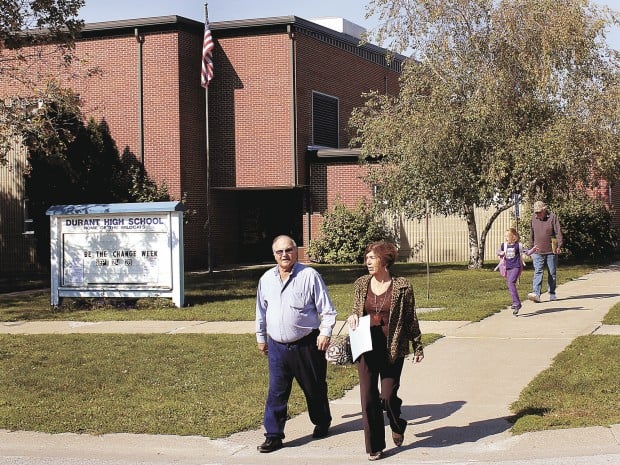 Those who have hunted witches in Durant should have turned on the warlocks.
A little time in jail wouldn't have hurt, either. In fact, seeing a couple of Durant School Board members in jumpsuits and mug shots could have been oddly satisfying.
They want to be petty and small and thumb their noses at the legal system, let 'em pay the piper. They certainly have no quarrel with paying the attorneys.
I know: Most of us thought the Monica Rouse situation was resolved a long time ago. We thought it was done two-plus years ago when an administrative law judge recommended she get back her job as high school principal.
But it wasn't. The board ignored the judge's ruling.
We were sure it was over a year later when a district judge ordered that Rouse be reinstated.
Nope. The board appealed.
Surely the matter would be put to bed in January of this year when an appellate court backed the district judge's ruling. OK, so it wasn't.
But the school board absolutely, positively would do the right thing in the spring when the Iowa Supreme Court's decision not to hear the case meant the other rulings would stand.
Evidently, this collection of people in charge of making important decisions about educating children could not grasp the definition of the word "reinstate." They got it confused with the far less-frequently issued ruling: Continue to bully and berate the woman.
Let's hope the kids were wearing their headphones.
Larry Bartlett has kept up on the case. He was the administrative law judge who heard more than a week's worth of testimony and evidence the Durant School District claimed to have against Rouse.
"The whole thing was not easy, because the allegations were so general," Bartlett said Friday. "The school's attorney said they would prove the allegations. I didn't find that to be true."
Out of the 15 allegations of wrongdoing, which resulted in Rouse being escorted from her job by then-Superintendent Duane Bark, the judge found only one claim remotely damaging.
"She didn't gain from it, and it was to help a kid," Bartlett explained.
Despite his thorough knowledge of the case, Bartlett also is puzzled by the school board's continued insistence on treating Rouse like garbage.
When they no longer could argue against allowing her on school grounds, they stuck her in a board room where the windows were covered in paper.
"She was given a key to that room only, and she was not permitted access to the computer system," Rouse's attorney, Cathy Cartee, recalled Friday. "We complained, and she was put in the back of the grade school in a room with a camera in it.
"She was not welcome anywhere in the building. She was not to communicate with staff or students."
Under the ridiculous circumstances, Cedar County District Judge Mark Smith played hardball, slapping the board members with fines and the threat of 30 long days in jail.
Bartlett said he's never seen anything like it.
A professor emeritus at the University of Iowa's Division of Educational Policy and Leadership Studies, he's been involved with school districts and their legal woes for 40 years. In all that time, he never has seen a school board member violate — let alone repeatedly violate — a judge's order.
"Even in all the law cases I've read, I've not seen anything like it," he said.
This means the Durant School Board is special. The eight members who have served on the past two boards have all been party to the pettiness. A rogue member of a board or city council isn't unique.
But, for whatever reason, Durant managed to find eight people who could agree they are above the law while endorsing an administration that seemed to take pleasure in humiliating Rouse. That's quite a coup. 
"In the history of the board's handling, it seems there are some real underlying issues of a personal nature, rather than a professional nature," Bartlett smartly observed. "I don't understand it all."
Fair-minded people never will.