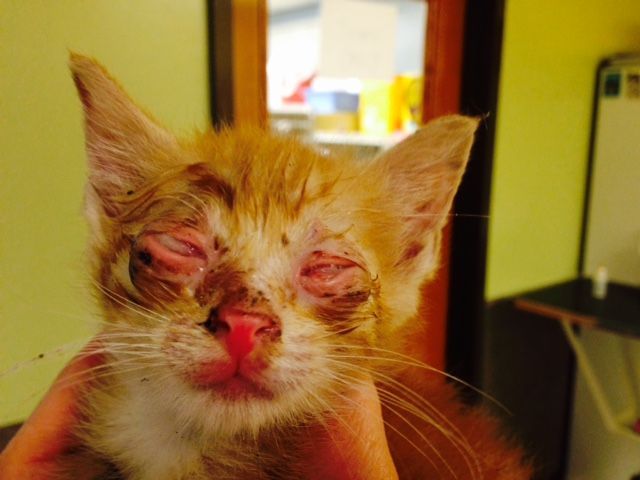 The song popped into my head and stayed there for hours.
I had to look up the singer (Ray Lamontange), but I knew the lyrics:
"Trouble … trouble, trouble, trouble, trouble. Trouble been doggin' my soul since the day I was born."
It seemed like everywhere I looked, somebody was having trouble.
In violation of my own resolve, I returned last week to the King's Harvest Pet Rescue Shelter in Davenport to follow up on the cats and kittens that were removed from the home of an animal hoarder in the spring.
I adopted one of the kittens in early May, mostly because I lack the sense to say no.
There was another reason to return to the shelter, though. Several friends shared on Facebook the photo that accompanies this column.
The picture is so pathetically sad, I had to investigate. More trouble.
The 4-week-old kitten was delivered to the shelter by a man who came upon it in tall grass while cutting weeds. Shelter director Terri Gleize said the guy nearly whacked the poor thing with the weed eater.
When I saw the kitten Wednesday, it looked a little better than it does in the picture. Her little eyes aren't as irritated with infection, and she was nuzzled against the neck of a volunteer, which always helps.
"There are a lot of wild cats in the neighborhood (in Davenport) where Hope was found," Gleize said. "Our Facebook followers named her Hope.
"She was probably born outside to a stray cat. They get sick when they're outside as babies. I don't know if she'll ever be able to see. We're pretty sure she's blind in one eye, at least."
There was bad news and semi-good news on the kitten-hoarding front, too.
About half of the 59 cats (out of 107) that wound up at King's Harvest were adopted. That's terrific.
But more than a dozen of them, mostly kittens, died at the shelter. No one is sure what killed them. Disease, probably. Malnutrition, maybe.
"With many of the kittens, they'd look fine, and we'd come in the next morning, and they were dead," Gleize said. "The family that turned them over to us said that many of the ones they kept also died."
A couple of the remaining survivors have their troubles, too.
One kitten poked a partial paw out of a cage to get my attention. He lost his foot to his troubles. Another kitten, much too small for its age, wobbles so badly, it appears to be drugged. A neurological disorder of some sort keeps it from walking normally.
It never helps to get angry when faced with this kind of irresponsibility in humans.
Instead, I left eager to get home. I felt like I'd visited a pediatrics unit at a hospital and was grateful to be going home to my healthy kids.
But before I could get out the door, a woman arrived with four pet carriers. I don't know how many cats and kittens were in each one, but I heard Gleize say, "She says her sister is a hoarder."
Worry … worry, worry, worry, worry.