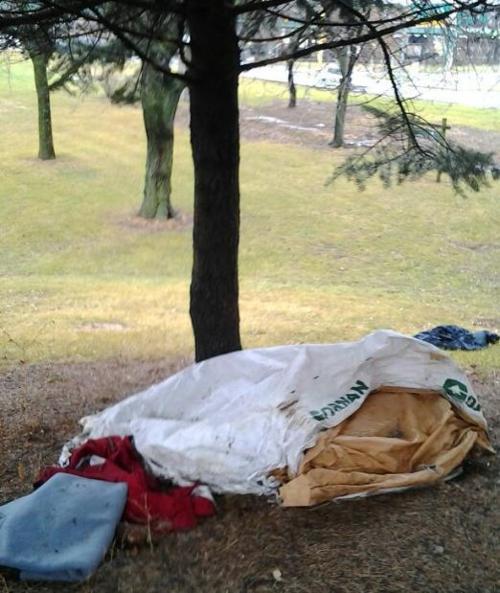 Some of Erv's things are still atop the muddy knoll, under the shade tree, next to the bridge ramp in Bettendorf.
At his other "camp," across the alley from the gas station on State Street, a pile of wet blankets and torn tarps lies in a heap. Erv won't be coming back for those things, either, nor for the bucket of empty plastic bottles that he must have been saving for the refunds.
Erv Thorson hadn't much used his sleeping camp under the tree lately, probably because of the hill leading up to it. His leg was too far gone to make the climb.
But his blankets and tarps are still there, because no one wants to disturb them. As Bettendorf Police Chief Phil Redington correctly pointed out Friday, that little spot under the tree was Erv's home.
His story stirs an uncommon combination of comfort and sadness: Many people cared about the homeless man with the long beard who wore insulated coveralls, year-round, and whose eyes are so blue, they're almost hard to look at.
But the 57-year-old didn't ask for help when he needed it. He wouldn't accept the state benefits he surely would qualify to receive, given the mental-health problems that hounded him with paranoid fantasies about "the Nazis."
He accepted small gifts from some of the regulars at the gas station — a cup of coffee, a sandwich, maybe. But he wasn't one to hold a sign at the foot of the bridge, asking for handouts.
Erv was too proud for what he called "charity," refusing to apply for unemployment or Supplement Security Income benefits.
In the dozen years since he lost his Bettendorf home, Erv chose to live outdoors, and he picked downtown, because he liked its familiarity. He worked about a dozen years for Bettendorf Public Works, but he didn't have a driver's license, and he lost his job when the city went to one-person garbage trucks.
Around the same time he lost his job, his girlfriend died. He held onto the house he owned for several years after that, but he couldn't keep a job, so he couldn't pay the property taxes.
"He likes people," his brother, John Thorson, said. "But he didn't do too well when it came to having to work with them. He couldn't keep a job.
"In 2001, he lost his house. He was always out shoveling sidewalks or mowing grass, but that was because he liked doing things for people. It wasn't for money. That's just Erv."
It's also like Erv to suffer in silence. No one knows for sure how long ago the frostbite got him. But, when he didn't move from his place in the alley for about a week, one of his friends called his brother.
"He'd been limping, and then he just wouldn't eat," said Brenda Pullen, a waitress at Ross' 24-Hour Restaurant who looked out for Erv, making sure he got hot food from the restaurant. "I knew it had to be bad, but he believed he could heal himself."
The call from Pullen was the last straw for Erv's brother. Maybe now someone would listen. Maybe now he could get some help.
"I went to the police, and that's how we got the job done," John Thorson said. "It took two of us from the family to have him committed, but we got him to the hospital."
The frostbite was bad. From Davenport, Erv was taken to University Hospitals, Iowa City.
"They took one leg off from above the knee," his brother said. "All the toes on the other foot had to go. The thing that gets to me is how long we've been trying to get him help."
But no one could make Erv do anything. He's an adult. If he didn't want to show anyone his aching leg, that was his business. Besides, he healed one other time from a bad leg injury, and he truly thought he was capable of healing himself.
He looks different now, lying in a hospital bed, his brother said. His matted hair has been shaved from his head, his long beard is gone, and he is terribly thin from being so sick with infection. But he seems OK with the hospital.
"He likes the warm bed, and he likes the food," his brother said. "The plan now is possibly to get him into rehab in Waterloo and then a group home back in Scott County. He might have to stay at my house for a while, but he seems to like that idea."
Pullen said she talked to Erv on the phone last week, and he didn't sound unhappy to be … not outside.
"He said things were good, and he was about to hang up, but he came back on the line and asked, 'Is everything OK?'" she said. "He was about to hang up again, and he came back and said, 'Say hi to everybody.'"
Erv won't have a use for the torn tarps or the soggy blankets that have been left, respectfully, untouched at his two downtown camps. His brother collected the few personal items he had, and he's keeping them safe at his house in Moline.
Despite the new challenges that face a man whose life has been so harshly scarred by mental illness, it would appear things are looking up for Erv Thorson.
"It's all for the better now," his brother said. "He's warm and off the streets."
As Erv would say to every friend or stranger he encountered, God bless.