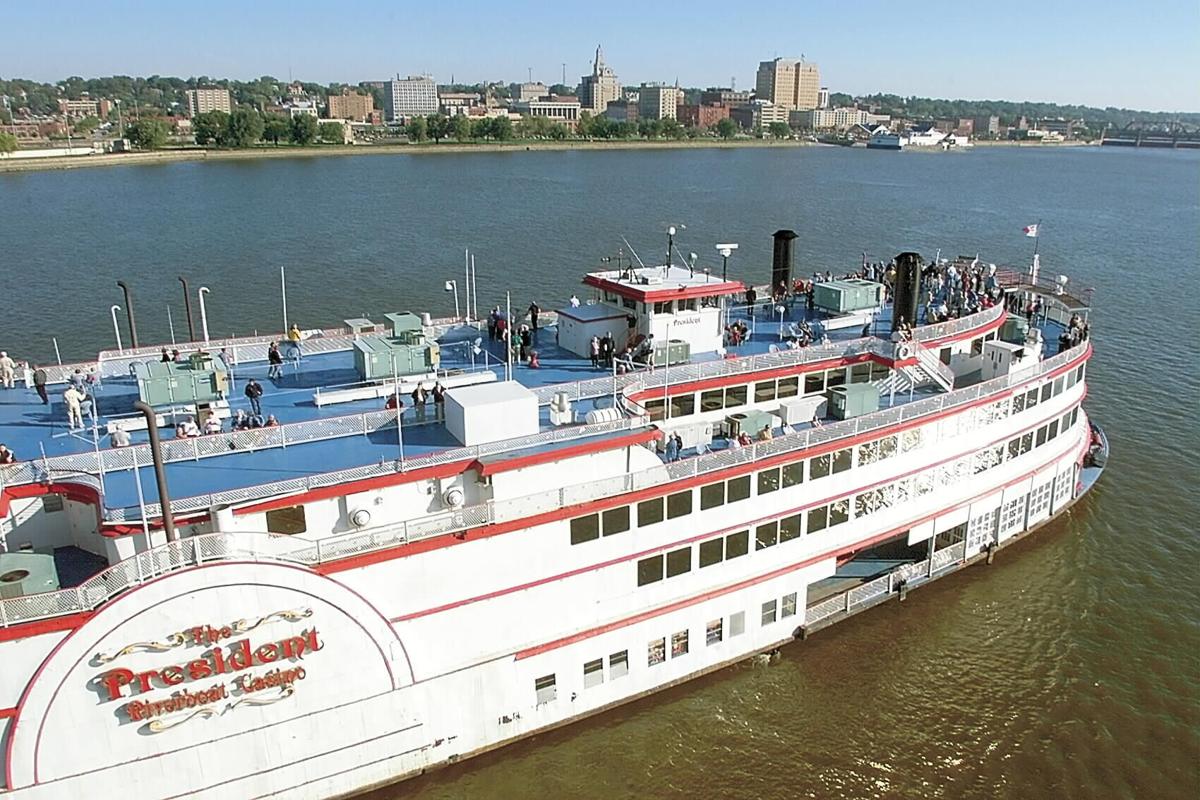 Seventy-five years ago, anyone who lived within a dozen miles of Davenport's riverbank heard a distant calliope. A big boat was a'coming to town. No other steamboat would be as colossal.
This past weekend marked the 75th anniversary of The President's first visit to Davenport. At 8:20 a.m. June 27, 1940, it was approaching the silvery new Centennial Bridge. The lordly pilot tugged the whistle cord.
BUT THE HIGHLY admired President has met a cruel junkyard fate. Ironic!
"Back 75 years ago, she tied up at the foot of Brady Street," says Pat Welsh, of Davenport, a steamboat aficionado who keeps a log of such important events on the big river. Crowds gathered, awed that such an immense boat — the biggest on the whole long Mississippi — was preparing for afternoon and evening excursions June 27-28.
As many as 500 boarded for each trip, all sharing the pleasant prospect of an afternoon or an evening excursion on the mighty sidewheeler. This was the boat where dancers heard the music of Louis "Satchmo" Armstrong, though it's not known whether Satch was aboard during the visit to Davenport. For certain, says Welsh, there was a fine band aboard. Fred Kahlke, the cranky owner of the W.J. Quinlan ferryboat, reluctantly loaned his band — the Tony Catalina Orchestra — to The President for its nightly dancing in Davenport.
POSTERS WERE were on store windows and outdoor walls in the manner of a clarion call: "Moonlight excursion at 8:30" on The President. The young and the young at heart enjoyed the joy of relaxation on a slow boat to nowhere under a moonlit sky. Life was much slower then compared with the hectic, honking pace of 2015.
The President was only six years old and had a very clean look. "She (all boats carry the feminine gender) had smokestacks painted silver with a red-and-blue rim at the top," steamboat expert Welsh says.
The President first operated out of New Orleans and St. Louis as a local excursion boat, hosting big-ticket musicians, but by 1940 it had turned to tramping. Tramping has a special meaning for river folks, Rock Island riverboat expert Judy Patsch says.
"Tramping is a term for steamboats, traveling from city to city, offering three-hour excursion rides," she says.
Always, The President was impressive and came out of retirement to become John Connelly's floating gambling palace in Davenport. That lasted about a decade, until 2001, when she was replaced by a more durable casino, the present Rhythm City, whose days are numbered as well.
WHAT OF THE grand old President? An entrepreneur envisioned it as a steamboat motel, to be moored inland near Effingham, Ill. For that, The President had to be dismantled, an unlikely job, and reassembled near St. Elmo, Ill. There, it was spread in pieces over two acres of ground, like a worn-out blanket. Nothing happened for two years. Some of it was trucked to Altamont, Ill., where it further deteriorated.
Brad Smithson, an employee of the Altamont News Banner, said Monday that it had been sold as scrap. He said it looked like a bunch of junk. A sad au revoir to its gaudy Davenport debut, three-quarters of a century ago.