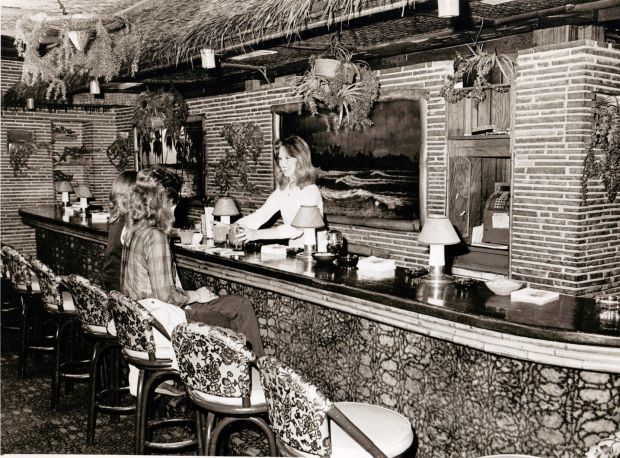 This is the night when Quad-Citizens get spiffed up and do the town. They have always done so. 
Al Klass, the bon vivant who once jazzed up our towns with his Gay '90s restaurant and bars,  drops a few lines of memories and fuel on the fire of debate over Plantation Garlic Dressing.
That dressing is always good for an argument, mom and dad — anyone who thinks they are getting the real thing when a restaurant offers Plantation Salad on their menus.
AL MEANDERS about gaudier days in Rock Island and the county. He nostalgia-izes …
"In the years after the post-Looney era, Rock Island County had a liberal tolerance level. That was back in the days when Jenny Mills operated her 'small café' on 24th Street in Rock Island. It was tolerated when the infamous 20th Street strip was rip-roaring with the Hollywood Supper Club and Marge DePauw was both operator and bouncer of the Paddock Club. My key club in the Harper House Hotel was infamous.
"AS TO THE SUBJECT of the Plantation Garlic Dressing, Nic Chirekos — who ran the Plantation — and the Plantation faction conducted culinary espionage. When their efforts to acquire my Gay '90s dressing failed, they had to develop their own version, which is entirely different than the Gay '90s formula. The Gay '90s dressing is still alive and kicking and is available at some stores in the Quad-Cities.
"Personally, I am currently involved in developing a marketing program with a national food chain and hope it will be favored with a place in their stores."
As to the recipe best known as Plantation Garlic Dressing, I repeat it here for the umpteenth time. Angela Chirekos, daughter of Nic, once challenged this recipe. But this concoction tastes pretty much like the real thing, if you stir it up in your kitchen. I welcome any additions or corrections.
Plantation Garlic Dressing
1 pint of Kraft French dressing 
1 bud of finely chopped garlic 
3 teaspoons of anchovy paste 
1  small package of Roquefort cheese 
Add melba toast to the salad before serving 
Lost, but not forgotten, memories
"THERE WAS A PERSON we only remember as Ray the cop," says Laurel Peters Irvin of Davenport.
"He walked a Davenport route with a tire marker, chalk on the end of a stick. He marked tires as a measure of the time a car had been parked. The fun of it was when he would come by, we would — as kids — stand on the curb and he would mark the toes of our shoes. Oh, how we were tickled by that."
Laurel never knew his name, but I do. The officer was a rosy-cheeked officer, Ray Musselman.
OUR COMPLAINT that all cars today look alike reminds Edna Pierce of Tipton how — long ago — she went to the Mississippi Valley Fair with her parents. 
"We drove to town and through the elegant entrance. Dad told us to come back every now and check on the car. We did, but all those black Model T Fords looked exactly the same. All day we had been checking the wrong car."
Dad found out. He was unhappy about their mistake. Edna and sister got the dickens. "There were extra chores to help us improve on our diligence," says Edna
ALL THIS is enough of yesterdays for one Saturday.