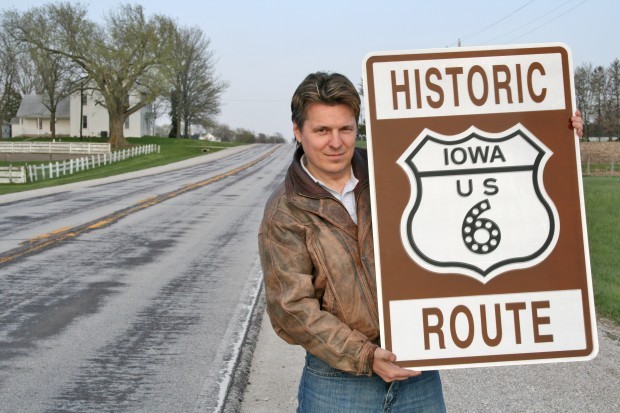 Sandwiched between green fields, U.S. 6 — linking Davenport and Wilton — is no longer a lost corridor.
The forgotten highway will have its old name unofficially back, thank goodness. Not that it hasn't always been called simply "6."
More than 30 years ago, the Iowa Department of Transportation ignominiously renamed that 25-mile route something else. The intent was to shunt motorists off U.S. 6 for a stretch and route them onto the speedy new Interstate 80 a few miles away.
It was a dreadful trick, and many of the citizenry have been pouting ever since.
Imogene Sorgenfrey, visiting in front of the Durant Post office, said, "I could never understand why they ever changed the name. People have come from California and asked me, 'Whatever happened to Highway 6?'"
SOUND REASONING has finally prevailed. Eight big historic-type signs will be erected next month. They will say "Historic Iowa US 6 Route" and the state of Iowa or federal government has nothing to do with it.
Mayors of three towns along the way — Walcott, Durant and Wilton — agreed on the signs at a summit meeting with the Route 6 Tourist Association.
"These signs will make motorists realize that the Route 6 they remember is alive and well," says Dave Darby, executive director of Route Iowa group.
Route 6 is said to have been a covered wagon trail, but those tales are largely illusory. In a marathon on July 2, 1910, more than 10,000 farmers and others worked to build a road across Iowa in an hour. Thousands of picks and shovels and scrapers carved the road. Small bridges were built. It was hailed by newspapers and magazines as an Iowa miracle.
As cars and time rolled on, the route was blessed with paving and new names like Iowa 7, the White Way Highway and U.S. 32 before becoming Route 6.
In 1937, it became America's longest highway, stretching from Massachusetts to California, and was claimed to be the country's most used highway. Towns along the way prospered. Durant had its White Way restaurant. Motorists had a burger and cuppa at Route 6 diners.
All was well for the Old 6 stretch out of Davenport to Wilton until it was upstaged by I-80. Bureaucrats turned it into an alphabet soup of names, none of them with a "6." By 1980, the federal government turned the highway over to the state, renaming it IA 927. By 2003, the historic route had been reduced to a mere county road, F58.
"There is rural charm in the name Route 6," says Robin Schilling, Durant's postmaster. "People get off the interstate to cruise through towns like Durant, Wilton and Walcott." At City Hall, deputy clerk Janet Boorn says many maps still show Route 6 — not F58 — running through these towns.
A presentation and dedication of the signs will be 6 p.m. June 14, Wilton Community Center.
THIS WEEK, I cruised Old 6. No trucks, no signs, just fields of fingerling corn and green blankets of beans. It wasn't until I was past Wilton and had made a couple of gooseneck turns peppered with confusing highway signs that the name U.S. 6 reappeared.
It never made sense to slice Old 6 off the map.
Those who love the country and peace should be happy that the new signs may help guide humanity back to rural sanity.