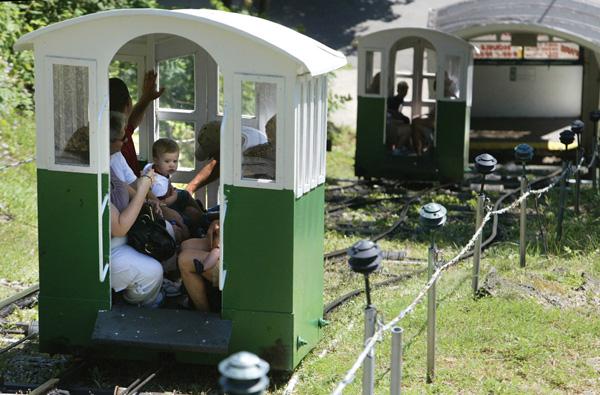 DUBUQUE, Iowa — It begins with a pull on a cord that looks to have been there since they built steamboats in Dubuque. Up, up you go!  Hang onto the seat in the little cable car!  It's slow, steady and only a little scary.
On a hot summer day, it's an incomparable ride on the Fenelon Place Elevator that glides passengers 189 feet in two minutes to the top of the city's bluffs … and then back down after you've stayed awhile to admire Dubuque — a great city to look at — and some astounding scenery.
Cable Car Square is easily located. Once you're downtown, just look up. It's there, at 512 Fenelon Place. It's listed in the National Register of Historic Places as the world's steepest, shortest, scenic railway, 296 feet in length.
You pay at the top. Passengers climb into the little cable cars. It's a tad tricky and a squeeze. There isn't much room. Packed aboard on our ride were four adults and a little girl named Avery, who was in town from California and sat on her mother's lap.
Once you're squeezed into the tiny car, you grasp a pull-cord. There is a buzz that means you're off on a steep ride controlled by an operator in a house at the top. Most kids love it. Some are scared. Grownups are usually left slack-jawed. A young man named Kevin Albright from Des Moines exclaimed, "This is a blast!"
A few years ago, we shared our gondola with a Japanese businessman visiting America. He said the ride on the Dubuque cable car was the best thing in Iowa.
As you ride to the top, you'll mostly watch, with fascination, the wavy cable that's pulling the car. You may take a quick glance at a garden of hostas and flowers on the cliffside and wonder how anyone can reach the garden.
 This is a counter-balance cable car elevator, built 126 years ago by a businessman who was tired of the long ride by horse and buggy to reach his home on the hilltop. At first it was his own domain, but after 10 years or so, it went public. It's been remodeled a few times, but the view from the top is still glorious by dawn, full daylight or at nightfall. Being counter-balanced, one car goes up while the other goes down. In so many words, there is no waiting for a ride.
Once we were at the top, the operator of the cable car, Mary Beck — a second-generation at the controls — happily greeted riders with "Enjoy the view and stay as long as you like." We twisted through a gingerbread-iron turnstile that came from the 1893 Columbian Exposition, the Chicago World's Fair, to reach a wide platform.  There, on a clear day — to co-opt the old tune — you can see forever.
We're joined by Amy Schadle, the owner of the cable car elevator. She lives next-door and explains everything about it, like telling about the makings of a grandfather clock. She's full of good stories about the place, too.
"Some people look out from the platform at the big Mississippi and ask what river that is out there. Some don't know where they are. They ask if this is Ohio or Idaho. They're surprised to know they're in Iowa," she says. "We've had some operators joke that, when it's really clear, you can see four states, all the way to Missouri."
At a height such as this, anything can be expected. "A lot of train nuts come from all over America for this cable trip. They're all dolled up in conductor hats," Amy says. "We've even had weddings up here on the observation platform, the whole party in their gowns and tuxedos. They take their turn to ride up to the top, even the minister. It's really a pretty place to get married. Our elevator was even in the movie 'F.I.S.T.' with Sylvester Stallone."
Sitting in the control house, it all seems quite simple and friendly. Riders are invited to peek in the windows to see how it all works. Long ago, the cable car was operated by an old street car motor, with the cars pulled up and down by a heavy hemp rope. After a fire, the rope burned, sending the cars crashing to ground level. After that, the ropes were wisely replaced by steel cables. Thirty years ago, the whole works was renovated. The original gear drive was replaced with a modern gear box and a DC motor.
It's always been a cheap ride. It began at a nickel, and it was a dime in 1962. In recent years, the price has been upped to a dollar each way, with children 50 cents, under 5 years free. A bicycle and its rider cost $1.50, one way. Apparently, once they're at the top, the bicyclists coast back down.