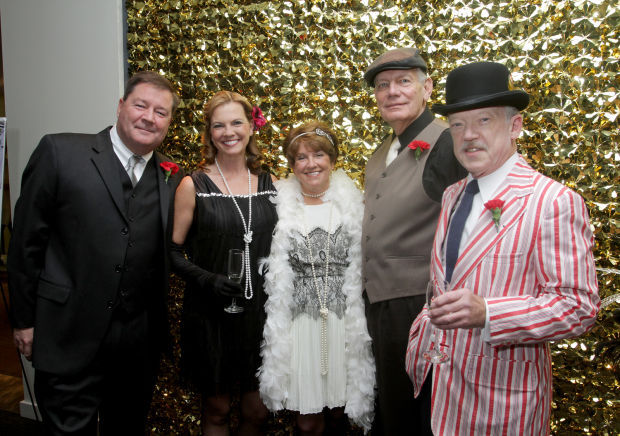 Life has its moments and its careers. Take a look at Clarence Darrow, the respected long-time Rock Island lawyer and what have you.
"I retired and closed my law office this year and never was one to sit around the house," he says. Clarence is a relative of the noted Clarence Darrow, whose fame dates back to the Scopes "Monkey Trial" in Tennessee in 1925. When not in court as a barrister, the current Clarence has volunteered at Quad-City food pantries and a head honcho for Turkey Trots. He's a cook and server in the do-good Vineyard of Hope kitchen of Sister Ludmilla and a helper in gathering food for Luddy's hungry.
Now, he asks, "What does me, a former circuit judge, state legislator and lawyer do in his retirement?"
Darrow has never left the bar. He has become a bartender! How about that, all you tea-totalers?
"I bartend at the Kahl Home," Darrow says with a puff of pride. "That swell new place home has a cocktail plaza in the lobby. Most of the residents are quite excited about that. Every Thursday I am their volunteer bartender beginning at 4 p.m. Since we serve only beer and wine, I do not need to have Billy Collins teach me how to make his Billy and Me'exotic drinks."
Darrow is a strict bartender. Residents of the home are allowed only two beers or two glasses of wine. Otherwise it would spoil their dinner appetite.
"It's just like a regular cocktail lounge. I serve pretzels, cheese balls and popcorn. We have a keyboard player and guitarist. Good cocktail music. I'm tending bar at a perfect time, late afternoon, when relatives drop in. They drink a little, talk and some play cards," says Darrow. "Meanwhile, while I bartend, my wife, Lili, works in the gift shop."
Sign in, please
Greg Dwyer here, from the Dwyer and Michaels radio show: "I was reading how the Neon Museum in Las Vegas is trying to acquire the famous Hard Rock Casino neon guitar sign to add to their collection of vintage signage and wondered about the most famous vintage signs from the Quad-Cities? I can think of the Yankee Clipper sign as the first thing you saw driving over the (then called) Centennial Bridge. I wonder where that Clipper sign is now. Obviously, the Col Ballroom is still riding high and proud, But there must be a hundred more signs hiding in warehouses, wouldn't you think?"
Okey-doke, Greg. Let's start a campaign to find them. We'll organize a Quad-City Sign Museum. But where will we put 'em all?