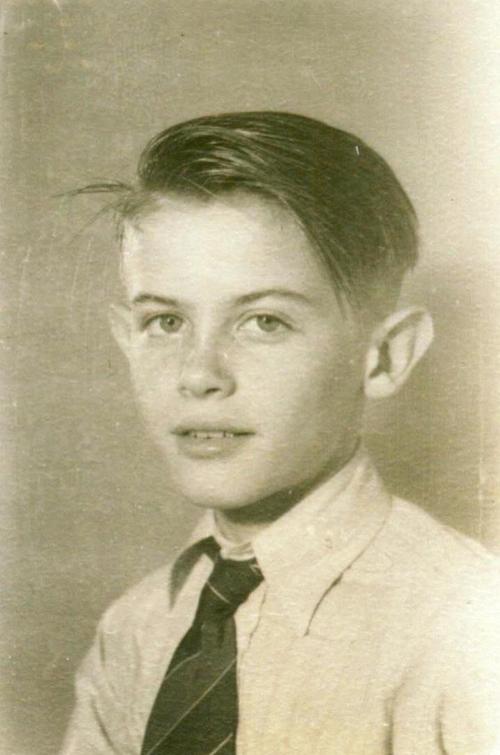 During an idling evening, Tom Otting was wondering how life existed for kids without electronic games and smartphones and tweets. "What did we do with ourselves?" he thought. Tom, an 81-year-old retired Davenport bank executive and civic do-gooder, pulled out a 12-inch legal pad and scribbled four pages on "what kids did for fun in 1940s." Here are a few of his entries. There shall be more in the future. He has a lot more to remember.
"At about 8 or 9, my introduction to the big city of Davenport from home in Cascade, Iowa, population 1,100, was to be introduced to the 'gang,' Frankie McFate and Johnny Watkins. I couldn't be a member unless I jumped off the viaduct, 12 feet, onto the cinder playground of St. Anthony's School. Fortunately, I didn't break my legs. Then, I found they didn't really have a gang.
"AFTER SCHOOL, it was over to 5th and Brady streets and a stop at Franny's Grocery, a little hole in the wall for a 5-cent Pepsi and a penny's worth of salted peanuts out of a machine to mix in the Pepsi for the town's best drink. Then, to Hickey Bros. for Blackjack gum to put on our front teeth so it would look like our teeth has been knocked out. We hoped they would forget to say 'thank you' so our purchase would be free.
Next, up Brady to the old church that was a museum and a stop at Miles 2nd Hand store, listening to the Palmer carillon, and watching the tall tower lights flashing WOC and PSC.
"Other adventures were going to Harry's Army store for bargains we never bought, watching the mouse on tracks buzzing through Hanssen Hardware, and going past Richter-Rhomberg to check out the big stuffed bear in the glass showcase.
"We had to stop at the Fun Shop on Harrison to try out the whoopee cushions and the hand buzzers. After school, we had to cross Main Street to admire the big train steam engines coming and going.
"SATURDAY MORNING was a dime movie at the State Theater, and maybe a treat at the Times Cafeteria or a slab of merengue pie at Shannons and glass of real orange juice for a dime at Junger's.
"Then, across Main Street to the alley back of Hiland Potato Chips to get a free handful of chips. From there to Old Mill where they'd give us a free hunk of fresh ice cream on a piece of wax paper. From there, to Prince Castle for little burgers, 2 cents or 5 cents. They were about as big around as a 50-cent piece. But they were wonderful.
"Summer was wonderful. Walking barefoot was fun. Swimming was great in the downtown Natatorium. To cool off, we'd walk through Davenport Bank & Trust Co. We'd wave at the president, V.O Figge, and he'd wave back.
"Fifteen years later, I would be working for him."