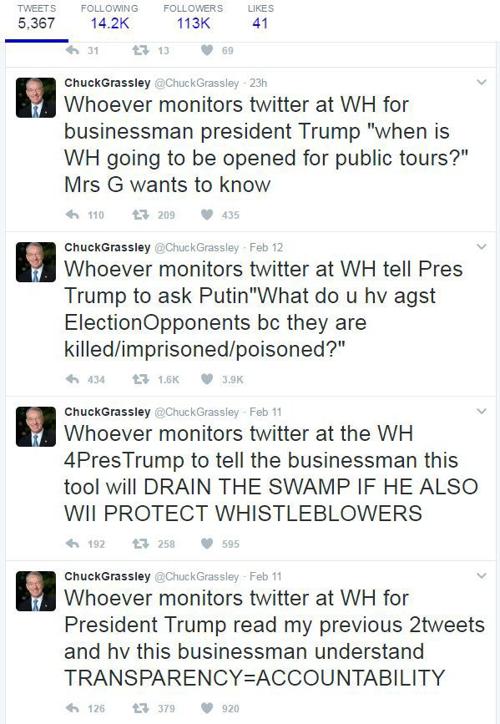 Maybe Chuck Grassley's weekend Twitter tirade is the face of GOP resistance to President Donald Trump. 
Iowa's 83 year-old U.S. senator went off over the weekend in a series of tweets aimed at "Whoever monitors twitter for WH (White House)."
Grassley blasted "overclassification," long a method that transparency advocates say is used to keep Congress and the public in the dark. He slammed Russian dictator Vladimir Putin, one of the few people on the planet Trump isn't too keen on criticizing. He called for greater protections for whistleblowers, one of Grassley's long-time pet projects. And he even took aim at a dearth of public White House tours because "Mrs. G wants to know."
It was concurrently glorious and troubling.
One would think the chairman of the Senate Judiciary Committee would have a direct line to the Oval Office, particularly when it's held by a fellow Republican. Trump is all about fealty, remember, and Iowa Republicans barnstormed the state last fall propelling his November victory here.
But Trump loves Twitter. It's his unofficial mouthpiece. I mean, North Korea was launching missiles and -- save for one milquetoast tweet -- Trump preferred to rant about billionaire Mark Cuban between taxpayer-funded strokes at his very own golf course in Florida.
GOP members of Congress are growing increasingly vocal about the Trump administration and its three weeks of blunders. Sen. John McCain, one of the few Republicans who never rode the Trump train, got under the president's skin when he demanded answers about the recent "botched" military raid in Yemen that got a Navy Seal killed, resulted in several civilian deaths and accomplished about squat. Even Jason Chaffetz, the hyper-partisan chairman of the House Oversight Committee, offered a rather soft, yet noteworthy rebuke after Trump adviser Kellyanne Conway advertised Ivanka Trump's shoes on national television. Chaffetz is the guy, remember, who came up empty handed after two years investigating BENGHAZI(!), but doesn't think the Kremlin's meddling in U.S. elections merits attention. 
Excluding McCain, though, most members of the ruling GOP have been exceedingly cautious with the new president. Sen. Joni Ernst, R-Iowa, for example, last week signed a rather muted plea for the White House to adopt a tougher stance on Russia. Ernst, you might remember, regularly appeared alongside Trump at campaign rallies throughout the state. 
For a guy who ran on his ability to "hire the best people" to make everything "terrific," Trump's administration is in a shambles. Saturday Night Live is making Press Secretary Sean Spicer's life a little more difficult because his boss doesn't like that a woman is portraying him. National Security Adviser Michael Flynn probably broke a whole slew of laws when he allegedly discussed sanctions with Russian officials in December. Chief of Staff and voice of sanity Reince Priebus is taking fire from the administration's alt-right wing. And former purveyor of white nationalism Steve Bannon is apparently writing executive orders, which the president doesn't read, that go to court to die.
Grassley's Twitter broadside wasn't his first. I personally enjoy watching him hammer away on the History Channel for its not-at-all history-related lineup, featuring pawn brokers and Bigfoot "documentaries." Can't Iowa's senior senator get a well-sourced documentary on Etruscan art that doesn't involve alien abductions?
Maybe Grassley's rant is a sign of things to come. Maybe Republicans in Congress are one-by-one reaching their own personal red line with this president. Maybe Twitter is the most effective way of calling Trump out. But maybe Grassley should next time tag @realDonaldTrump.
I doubt "Whoever monitors twitter for WH" is listening.