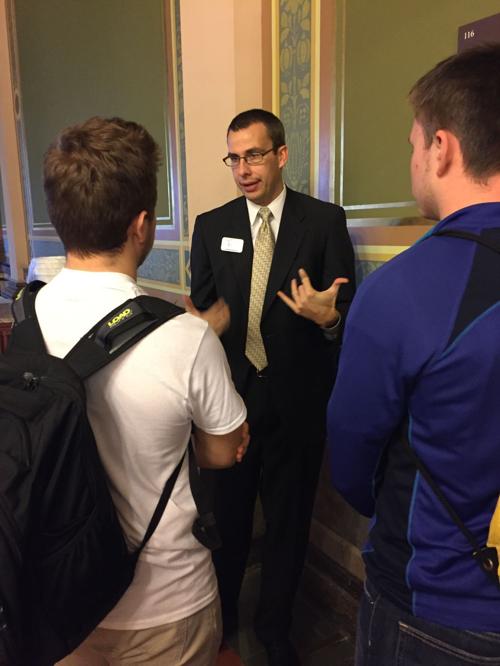 Iowa Sen. Roby Smith doused speculation on Monday that he'd make a run at the only remaining Democrat in Iowa's Congressional delegation, Rep. Dave Loebsack.
Those close to Loebsack have speculated for weeks that the 39-year-old Republican from Davenport would try to oust the six-term incumbent in 2018. Loebsack is one of roughly three-dozen Democrats targeted by National Republican Congressional Committee. He's among several Democrats who, last year, clung to a seat in districts where President Donald Trump prevailed.
So, unsurprisingly, those within Loebsack's orbit are on the lookout for potential threats. And Smith's name has repeatedly come up.
"That is not something I'm planning on doing," Smith said when asked about challenging Loebsack. "At least not for 2018."
Democratic speculation wasn't without cause. Smith is young. He's among the top fundraisers in Iowa's GOP. And he's managed to hold on to the 47th Senate District, which includes traditionally Democratic strongholds.
Iowa GOP Chairman Jeff Kaufmann and his son, Bobby, are also among the names circulating about who might challenge Loebsack. The junior Kaufmann has said that he's mulling a run. 
For weeks, Smith's closest political allies dismissed the rumors that the four-term state senator would try to oust Loebsack. Instead, they argued, Smith is best-suited for the highly coveted lieutenant governorship, which will be vacant once Gov. Terry Branstad ships off to China and Kim Reynolds replaces him.
Smith's ability to raise cash and his name recognition in eastern Iowa, long desired ground for Iowa Republicans, made Smith a viable choice, his allies said.
"That's something, I think they've made their choice and it's not me," Smith said about Reynolds' successor, calling it "the best kept secret at the Capitol."
It's an interesting political moment for both Loebsack and Smith. Loebsack easily vanquished Dr. Chris Peters in November, but the libertarian Peters was largely deserted on a political island, without any real support from state and national Republicans. It was 2014's defeat of a well-funded, more traditional conservative Republican, Mariannette Miller-Meeks, that marked Loebsack's last meaningful challenge. 
Smith's supporters see significant potential in the young, gregarious father of four. His opponents tend to use words like "slimy" to describe him.  
Smith, too, could face a stiff challenge for Senate 47 in 2018, assuming Iowa Democrats can find a viable candidate. The 47th is split by a pair of House districts held by Republican newcomer Gary Mohr in the east and nearly untouchable Democrat Phyllis Thede in the west. The 2017 legislative session, which concluded this weekend, raised Smith's profile. He was a driving force behind legislation that would have righted Iowa's deeply inequitable school funding. But that bill died in the House, amid revenue panic-induced budget slashing. He also offered Democrats fresh ammunition by carrying voter ID legislation -- popular statewide but loathed by liberals, civil rights groups and the organization representing Iowa's county auditors.
On top of that, Legislative Republicans representing swing districts will bear the political brunt of the Legislature's conservative agenda, especially rollbacks of collective bargaining, limits on abortion access and educational funding.
But, by dismissing speculation that he'll make his second attempt at a Congressional seat, Smith positioned himself for a re-election bid in 2018. And he'll again push next year for the fix to inequitable school funding, which would score him significant points in district should it actually survive.
"I believe we will get it passed next year as long as the budget doesn't throw us another curve ball," he said.