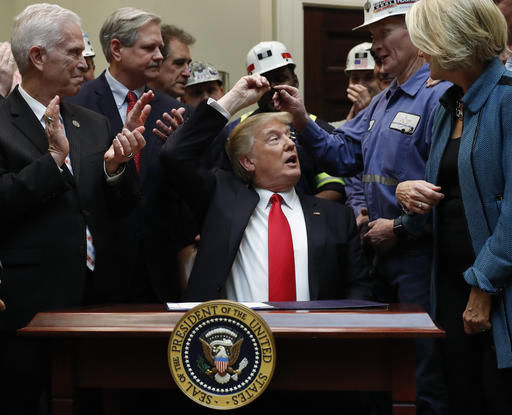 Donald Trump is objectively devaluing the presidency.
Consider his attacks on various corporations so far in his short tenure. It's bizarre that a Republican, a party long committed to the free market, would use his bully pulpit to manipulate markets and punish specific companies. But Trump's power to hit corporations where it hurts has diminished substantially after a month in office. 
His pre-inauguration Twitter assault on Lockhead Martin for the "tremendous" cost of the troubled F-35 instantly sent the defense contractor's stock plunging $2.75, or 2 percent. For an established company Lockheed's size, that's a sizable loss of value. About two weeks later, General Motors was his target for its Mexico-based production plants. Within seconds, the automaker's stock dropped 24 cents, or 0.7 percent.
Then, this month, Trump went after retailer Nordstrom, which ditched his daughter's product line. Nordstrom experienced a momentary dip and ended the day with a 4 percent boost in stock prices. Nordstrom wasn't only immune to the Trump effect. It looks to have benefited from it.
In an objective sense, Trump's words are losing value. And that's a problem for anyone concerned with global American influence.
Take this weekend's gaffe. Trump is clearly sick of all the protests and questions about his Russian connections. So he opted to cover himself in the warm blanket of adoration only a campaign rally can offer. Look what happened in Sweden, he proclaimed, while trying to make some point of Muslim refugees. 
Well. Nothing happened in Sweden, a fact that country's former prime minister quickly pointed out.
"What has Trump been smoking," Carl Bildt tweeted shortly after the statement. 
Yeah. It's made up. And it's coming from a man with access to the most sophisticated intelligence apparatus in human history. Trump blamed Fox News. 
Trump may say the media is the "enemy of the American people." But, in reality, truth is Trump's greatest adversary. It's an antagonistic relationship that is quickly eroding the influence of the U.S. presidency.
At some point, people stop listening. 
All politics relies on some form of shared reality. Debates can't even happen unless everyone involved agrees on a certain set of facts. Trump's rejection of accepted reality worked for him on the campaign trail, particularly when the electorate was motivated by gut feelings and instinct. Now, he must continually up the ante in order to dominate the news cycle. The tactic is unsustainable and not playing well when it's coming from the leader of the free world.
Trump's total and complete ignorance last week about the Two State solution -- long held as the goal in Israeli/Palestinian relations -- was an embarrassment. There's no way everyone is going to be happy with any agreement. Trump demurred. So much for strength. Days later, he regressed to his typical tactic: Lecture and blame the media for his mistakes. 
Frankly, the lack of a clear message coming out of the White House is a real problem. Trump says one thing, aimed at getting applause from his base, and his advisers immediately go on a clarification tour. Vice President Mike Pence spent the weekend in Europe assuaging the concerns of NATO allies, for example. Defense Secretary Jim Mattis was promising Iraqis that the U.S. isn't going to steal their oil. On Monday, the British Parliament debated whether Trump should be permitted to address the chamber in an upcoming visit. And even Vlad Putin's state-run media is suddenly expressing doubts about Trump.
Meanwhile, the president was on his third golf holiday in as many weeks.
Republican U.S. Sen. John McCain last week directly addressed this problem by imploring the international community to not give up on America.  
It all comes down to a lack of consistency and a focus on petty, vanity-driven grievances. A substantive, global vision is what gives the presidency its power. Trump is too infatuated with individual slights for a holistic view. 
And, as the markets have shown, stock prices of firms that have annoyed the president are no longer what's dropping. It's the power of presidency that's entering a bear market.