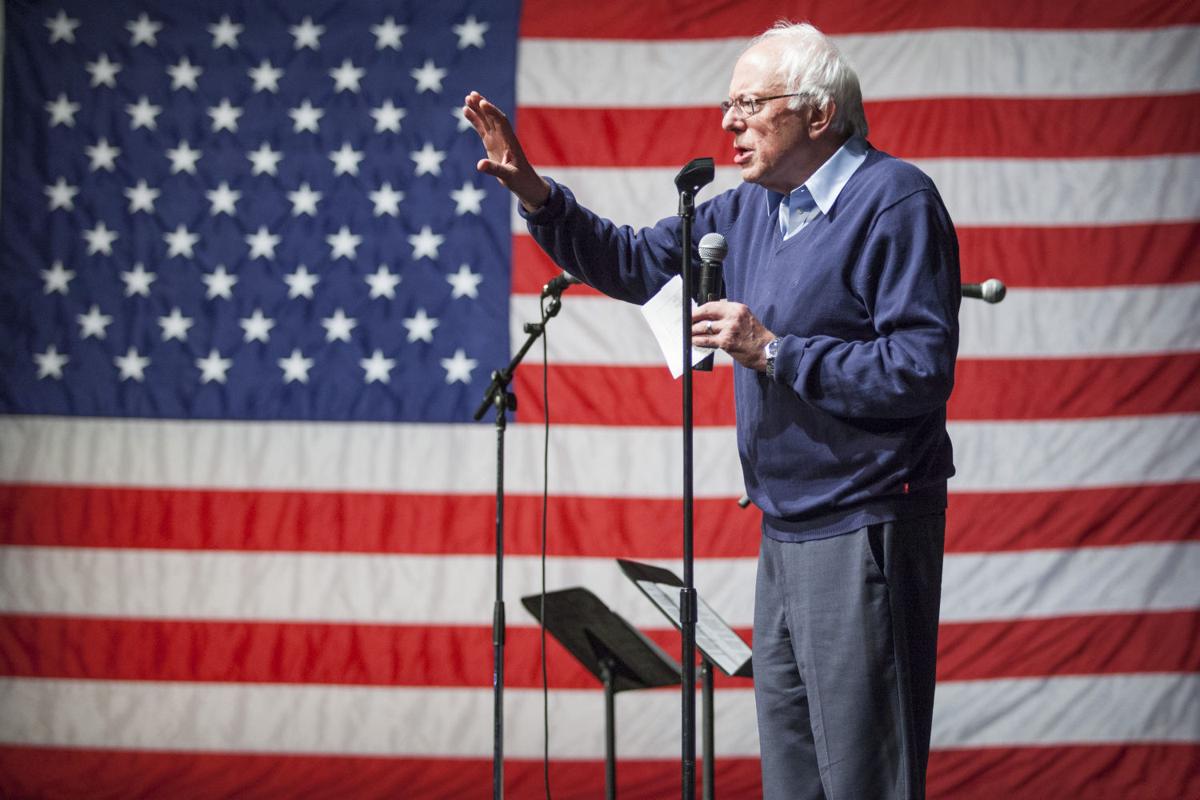 Americans are tired of the hollow rhetoric. They're tired of two parties that, in a lot of ways, mirror each other. Any Democrat looking for a clear choice in the general election should caucus Monday for Sen. Bernie Sanders.
Yes, Sanders of Vermont is an avowed socialist. Yes, he's pledged to raise taxes, particularly on the affluent. Sanders is challenging economic policy that is rotting the guts of the American experiment. And, of even greater importance, he's consistently done so for years. 
We spent more than an hour in a lively debate over this endorsement after face-to-face conversations with each candidate. Former Secretary of State Hillary Clinton is hugely impressive. It's hard to keep one's jaw from going slack when she's delving into the intricacies of Tunisian politics or Pakistani feudalism. Many an editorial writer has already correctly opined on her experience and knowledge. She's been playing the game for decades. And she knows the issues, inside and out.
That fact is, at the same time, her greatest strength and her greatest weakness. Clinton embodies the status quo. 
Few topics are as ripe for debate as the consolidation of wealth and power in the the U.S. among a wealthy few. It's an argument that only Sanders appears to truly appreciate, one that should carry through to November.
Democratic Party leaders know that much of its base is tired with the middling "third way" spearheaded by Clinton's husband, Bill, in the 1990s. Think "with your head instead of your heart," party leaders say, a shot at Sanders' alleged lack of electability, while warily eyeing the polls and a lack of enthusiasm for the anointed candidate. But it's also an acknowledgement that much of the rank-and-file identifies with Sanders' core beliefs. His calls to splinter massive financial institutions, implement truly universal, single-payer health care and provide tuition free college strike to the very heart of Democratic principles.
The party, however, is asking voters to reject their maxims for more of the same.
Then-Sen. Clinton voted for the war in Iraq. Sanders opposed it. She supported the Patriot Act, one of the greatest assaults on civil liberties in the nation's history. Sanders opposed it. She supported the Wall Street bailout. Sanders opposed it. There's a pattern here. 
Sanders is correct: Experience and judgment aren't one and the same. 
It's on Sanders to convince Americans that he can play ball on the world stage. His domestic agenda is one thing. Now he must show that he can handle the big foreign policy questions. 
Clinton told us she can get things done, thanks to relationships built with Republicans. Sanders, she argues, can't, because his rhetoric is too extreme. However, a Clinton presidency would likely mirror that of President Barack Obama. Democrats aren't taking back the House anytime soon. Clobbering the Clintons has been the pastime of House Republicans for decades. Gridlock is the only result of years of disdain, mistrust and wasteful congressional investigations.
Some argue that Sanders' very entry into the race is a victory. He's shifted the conversation, they say. Clinton has moved left, they contend. That's enough. Now the 74-year-old should bow out and let the Democratic Party's hand-picked matriarch have her turn.
Gov. Martin O'Malley -- the other candidate seeking the Democratic nomination and a man who should be a strong contender in his own right -- is correct: The process is rigged. It's obviously not O'Malley's time. But the former Maryland governor might be the future of the Democratic Party. There should be a Cabinet position waiting for him, if Democrats hold on to the White House. 
In 2008, voters rejected Clinton for what they thought was a new era of political discourse. Obama has had his moments, for sure. But his supporters didn't get the new-century paradigm shift they desired. The corporatism persisted. Special interests and the wealthy continue to own Washington. Clinton is incapable of changing that. She's just too plugged in. 
If the Democratic Party is to move forward, it must abandon its compromised policy and differentiate itself come November. Only Sanders can accomplish that goal. 
Local editorials represent the opinion of the Quad-City Times editorial board, which consists of Publisher Deb Anselm, Executive Editor Autumn Phillips, Editorial Page Editor Jon Alexander, Associate Editor Bill Wundram City Editor Dan Bowerman and community representative John Wetzel.