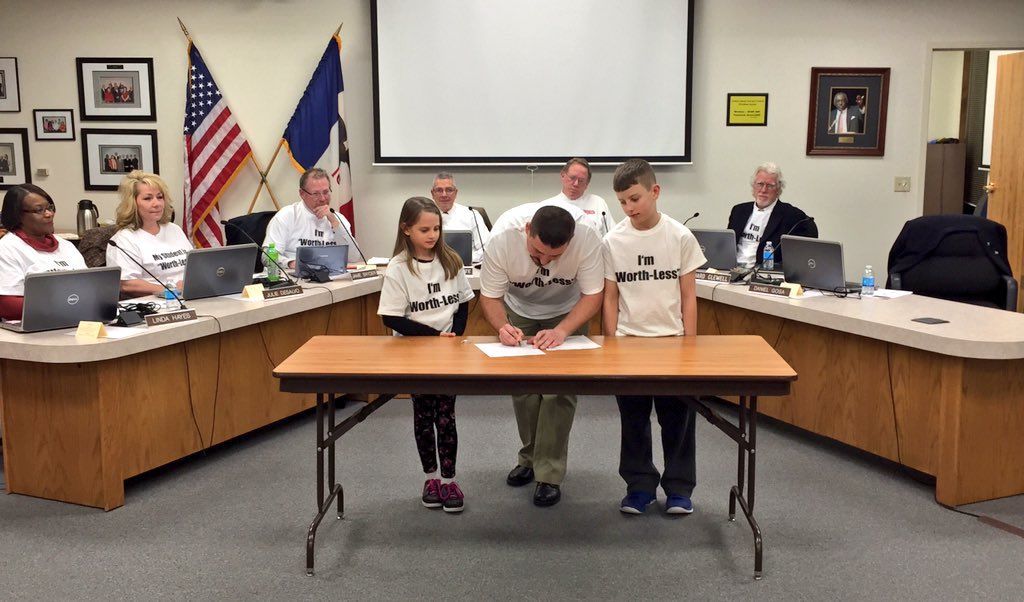 Davenport Community Schools Superintendent Art Tate might soon be a law breaker. Members of the district's School Board might be accomplices to his lawlessness. But it's the General Assembly's continued unwillingness to right the state's classist, state-centralized school funding model that's the real crime. 
Iowa's school funding just isn't fair and hasn't been for decades. Inequity between tax-rich and tax-poor districts were never normalized when the state instituted its annual cap on school budget increases. And the systemic inequity has since plagued public education throughout the state.
Tate is sick of his district receiving up to $175-per-student less than nearby districts. He's tired of his students getting shafted because of some arcane state formula. He's frustrated by the annual budgetary devastation, to the tune of a lost $143 million in potential revenue over the past 40 years. 
On Monday, School Board members signed a letter formalizing their support for Tate's plan, which would illegally withdraw $2.7 million in reserve funds to bring the district's spending in line with more affluent neighbors. Spending the $29 million reserve fund, a breach of state law, would, for a time, permit the district to maintain per-pupil spending at the more equal level to wealthier districts.
Davenport's school officials are daring the state to come after them and, in so doing, inviting a protracted, public political standoff that could stretch throughout the summer. The plight of Iowa's under-funded public schools would dominate news cycles. But Tate could lose his certification in the process, if the state decides to come after him.
He's putting his career on the line. The man has guts.
If only the same could be said for the Legislature. 
It's not secret that Iowa's school funding model -- primarily reliant on state cash -- is broken. Lawmakers, with control of the purse strings, have "studied" the issue for years. But, for too long, they've lacked the political courage to overhaul a system of haves and have-nots.
Neither Tate nor any member of Davenport's school board want to be in contempt of the Legislature. They have no desire to face punitive action or see state aid withheld out of codified spite. They're picking a fight and hoping the bully backs down. Or, even better, maybe the bully acknowledges his failings and cedes some power back to local officials. 
Right now, the House Education Committee is eyeing three bills that would finally provide some local control over how funding is spent. Committee Chairman Ron Jorgeson, R-Sioux City, is carrying the legislation that, among other things, would permit local districts to use sales tax revenue to fill the equity gap, a practice now banned by state law. Several other bills that strive to address the issue, including legislation authored by Rep. Cindy Winckler, D-Davenport, are making the rounds at the Capitol. Yet, in each case, the bills are mired in committee in the divided General Assembly, as Gov. Terry Branstad instead focuses on diverting educational funds to water quality programs. 
Lawmakers are keenly aware of the damage Iowa's unfair, state-centric funding model has done to far too many school poor district's throughout the state. It's not as if Tate is acting in a vacuum. His gripe, and that of Davenport's school board, are a regular refrain throughout Iowa. The Legislature has lacked the will to march into the minefield. 
The state could come after Davenport's gutsy superintendent. Or, more constructively, lawmakers could take a page from his book and take a stand for what's right. 
Local editorials represent the opinion of the Quad-City Times editorial board, which consists of Publisher Deb Anselm, Executive Editor Autumn Phillips, Editorial Page Editor Jon Alexander, City Editor Dan Bowerman, Associate Editor Bill Wundram and community representative John Wetzel.
Catch the latest in Opinion
Get opinion pieces, letters and editorials sent directly to your inbox weekly!