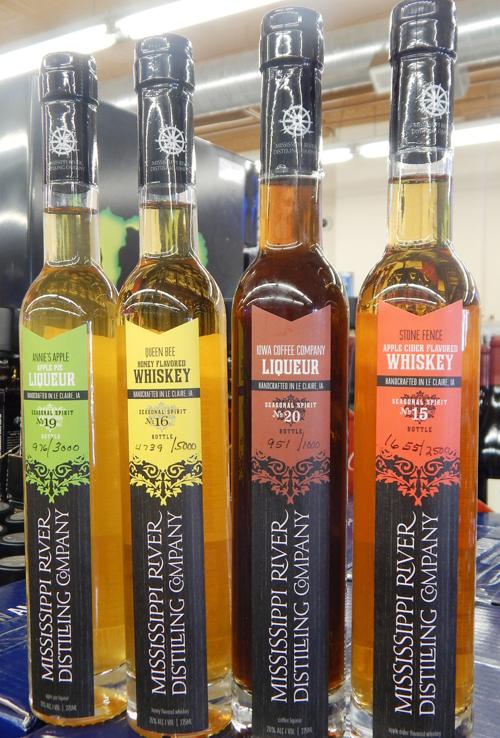 Iowa's puritanical liquor laws are best left in the mid-20th century. The anti-choice booze mandates should go the way of polio. 
Yet again, reasonable, pro-business legislation is stalled in the House because it involves liquor. It's legislation that would promote competition while providing a level playing field for in-state distilleries, including LeClaire-based Mississippi River Distilling Company.
But, per usual, Iowa lawmakers opt to sip when a gulp is required.
Most of the state's liquor laws were direct responses to the end of Prohibition. The eight-decade-old anachronisms intentionally offer preference to low-alcohol content beverages, wine and beer. It intentionally hamstrings liquor production. It intentionally gives the state huge control over the sale and consumption of booze.
It all sprang from fear -- fear of wild, gambling-rife saloons and the prostitutes that worked them. Times have changed.
Casinos are a significant part of the Quad-Cities economy. The bar scene is integral to the region's quest to brand itself "hip." Microbreweries and craft beers, bolstered by friendly state law, are thriving.
And yet, Mississippi Distilling Company owner Garrett Burchett has to fight every step of the way for his business' survival. 
The bill now dying the slow death of legislative inaction would boost the amount of whiskey Burchett can annually churn out. It would increase the ridiculous two-bottle limit on individual sales. And, perhaps of greatest import, it would permit distilleries to sell a glass of liquor on site. 
Wine and beer tastings are big business now. Customers are right to be confused by Burchett's inability to offer something similar.
Confusion is the ultimate outcome of nonsensical, disproportionate regulation. 
But the legislation would neuter "the legitimacy of the system that regulates alcohol in Iowa," Iowa Wholesale Beer Distributors griped last week to Iowa Public Radio. Only the distribution association and beer giant Anheuser Busch -- the very groups that enjoy special treatment -- openly oppose the bill.
The "legitimacy" argument is bunk. This is about maintaining a market advantage, plain and simple. The state's three-tier liquor laws, segregating on-site consumption from wholesale distribution, are products of a bygone age filled with bygone fear mongering.   
Republicans love to talk about "choice" and "freedom." Personal responsibility is a conservative buzz phrase. But, yet again, the GOP-controlled House proves that "freedom" is only accessible to those who conform to a very specific set of dated principles.
Craft beverages are in. They go hand-in-hand with record players, incredibly tight trousers, obscure bands and farmer's markets. An entire subculture of educated professionals has embraced local products and post-industrial production methods.
This is the movement that Quad-Cities officials have worked tirelessly to tap. It's the energy that's rejuvenated downtowns throughout the region. 
But the no-fun patrol in Des Moines could this year only diminish the long-term damage a public intoxication ticket does to someone's record. The absurd "gotcha" law should have died off years ago. 
The 1930s are gone. Prohibition failed. And yet, the temperance movement's debunked dogma continues to run roughshod over free-market competition.
Local editorials represent the opinion of the Quad-City Times editorial board, which consists of Publisher Deb Anselm, Executive Editor Autumn Phillips, Editorial Page Editor Jon Alexander, City Editor Dan Bowerman, Associate Editor Bill Wundram and community representative John Wetzel.