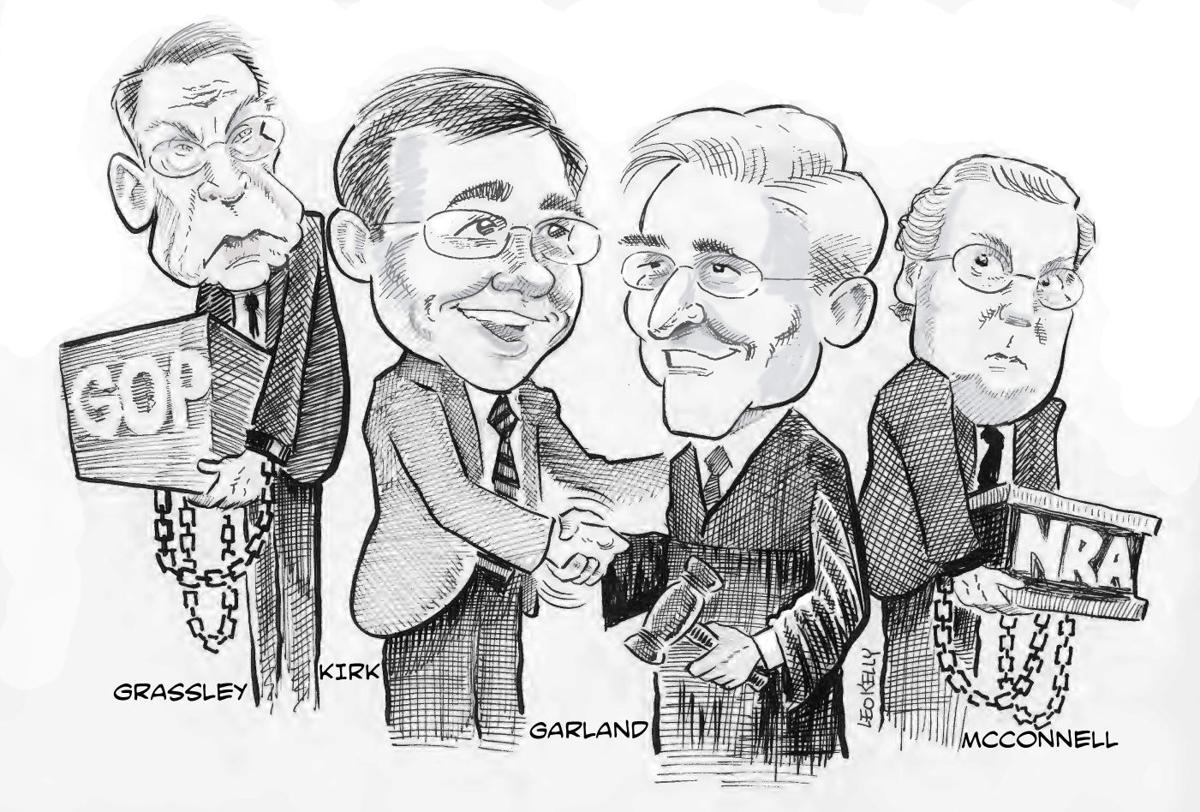 U.S. Sen. Mark Kirk on Tuesday might have lit the fuse that breaches Sen. Chuck Grassley's fortress of obstruction-at-all-cost.
Political survival likely played a part in Kirk's meeting with Supreme Court nominee Merrick Garland. Kirk's calls for Senate confirmation hearings might be the result of mounting pressure from Democratic challenger Rep. Tammy Duckworth. Or the freshman from Illinois might actually think the Senate should fulfill its constitutional mandate, regardless of who is in the White House.
In reality, "all of the above" is probably the correct answer.
And that's OK. That's politics. Kirk was the first Republican to chip at the obstructionist wall hastily erected in February by Majority Leader Mitch McConnell and Judiciary Committee Chairman Chuck Grassley when Associate Justice Antonin Scalia died. 
Kirk didn't mince words, either. 
"He's been duly nominated by the elected president of the United States to fill a vacancy which we know exists on the court, and we need open-minded, rational, responsible people to keep an open mind to make sure the process works," Kirk said.
Kirk's completely rational, open-minded approach didn't end there.
"Obviously, I would consider voting for him," he said. "That's the whole purpose."
In one short interview with the national media, Kirk cut through the anti-Obama slag that's at the heart of the obstruction. 
But Kirk, it seems, just can't win. Duckworth continued to hammer away at him, even after he did right by the law and his constituents. 
He's not pushing hard enough, says the Duckworth campaign, as if the Illinois Republican can single-handedly force a confirmation hearing.
In reality, Kirk's stand opened a crack, one which may, over time, result in the failure of McConnell's and Grassley's rampart. It's a barrier that can't fall fast enough. The shorthanded Supreme Court is broken. Just this month, the high court was deadlocked on the question of forced union dues. Justices, through their unusual willingness to openly broker a proposed compromise from the bench, have indicated a similar 4-4 split on Obamacare's contraception mandate.
Sen. Susan Collins of Maine followed Kirk's lead, calling for Garland to receive an up-or-down vote. And now a quarter of the Senate Republican caucus is, at least, willing to meet with President Barack Obama's centrist nominee. Slowly but surely, the McConnell/Grassley coalition of "no way" is coming asunder, under the weight of political backlash and basic respect for the rule of law.
Just ask Grassley, who has gone to ground in the past several weeks.
Iowa's venerable, respected senior senator is known for his annual statewide tours. The 99-county tour is so ingrained in Midwestern political discourse, it's dubbed "the full Grassley." Yet, no doubt because of anger over Grassley's assault on basic governance, he's suddenly nowhere to be found. 
His two stops so far, strategically located in some of Iowa's most conservative strongholds, featured anger and frustration over his intransigence.
Maybe it's Grassley's seniority and position of power that propels his inability to yield. Maybe it's his relationship with McConnell, the architect of this ill-fated plan. Maybe it's his relative safety in November's General Election. Kirk is, after all, widely seen as one of the Senate GOP's most at-risk incumbents.
Midwesterners are notoriously polite. And yet, one of Iowa's most influential elected officials spent weeks sidestepping an informal meeting with Garland. It's just plain rude. To be fair, Grassley has since indicated he would sit down with Garland.
But convening actual hearings? Hell no.
Political survival might have played a role in Kirk's stand. But throughout his first term, the gaffe-prone senator has a history of rightly breaking from the party line. He was the only Republican to stand with pro-gay marriage protesters outside the Supreme Court while justices mulled that case.
Tuesday's break from leadership wasn't Kirk's first. But if it ignites a chain reaction that ends the gridlock, it could be his most significant.
Local editorials represent the opinion of the Quad-City Times editorial board, which consists of Publisher Deb Anselm, Executive Editor Autumn Phillips, Editorial Page Editor Jon Alexander, City Editor Dan Bowerman, Associate Editor Bill Wundram and community representative John Wetzel.