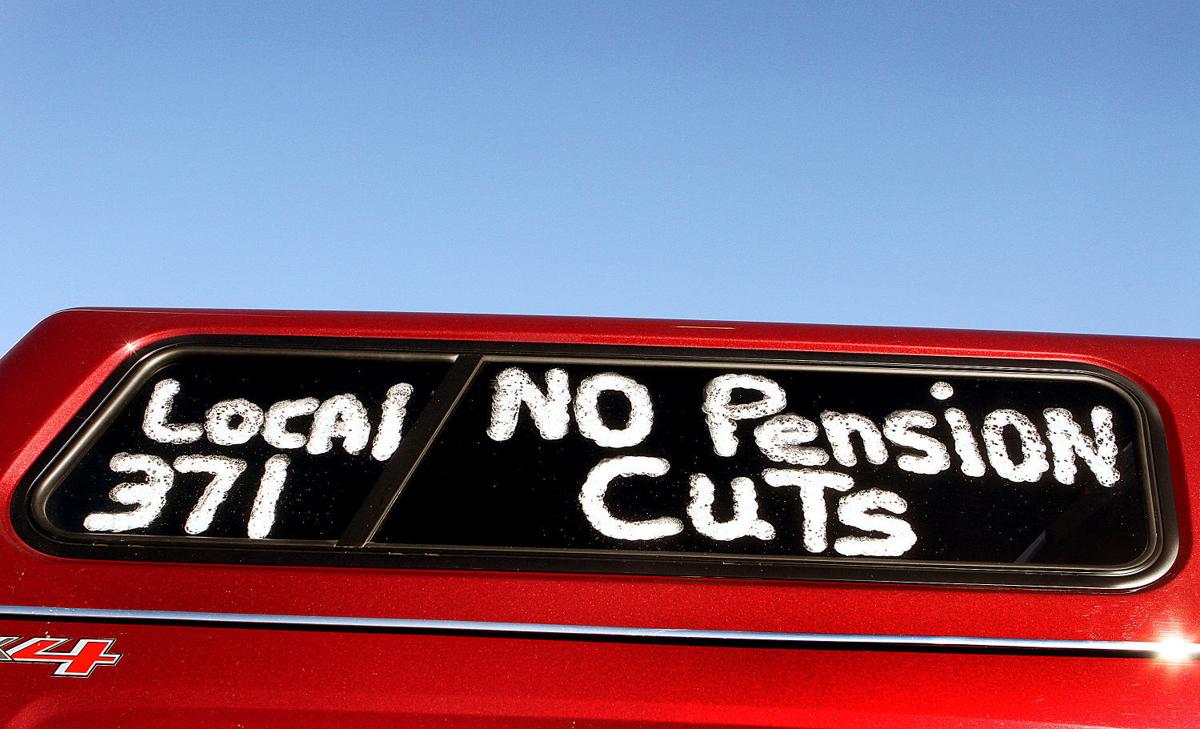 Congress owes that much to the 400,000 retirees set to have their Central States Pension Fund (CSPF) benefits slashed next month.
Thousands of Central States pensioners rallied Thursday at the Capitol in Washington. The private pension fund, like hundreds of others, was mismanaged for decades by trustees. Union bosses were AWOL throughout, turning their heads as the risky investments piled up. With a value of just $18 billion, Central States has more than $35 billion in liabilities.
Then, in 2014, Congress got involved. Lawmakers hoped to shield the federal insurance agency that backs private pensions from the coming wave of failing private funds. Inserting a tiny clause, empowering Treasury officials to reduce pension payments in the event of a fund's pending collapse, did just that. The massive change, potentially altering the lives of 40,000 Central States pensioners in Iowa and Illinois, breezed through Congress with little to no discussion. That's the beauty -- and the farce -- of jamming voluminous budget bills with tangential policy.
Rep. Cheri Bustos, D-East Moline, says she approved the massive spending package to avoid a government shutdown. Slighting 400,000 retired delivery drivers and truckers wasn't her goal when she became the only Quad-Cities lawmaker to back the last-minute funding plan, she said. To make her point, Bustos is co-sponsoring legislation to bail out Central States, saving retired Eagle Foods employee Terry Weeks, of Davenport, from a 58 percent slashing of the pension he paid into for more than 30 years.
Central States admits the proposed bailout is unlikely. The House's continued slide to the right precludes the bailout from conservatives' purity test, Central States argues on its website.
Even further, the increasing rarity of private pensions, in a 401(k)-invested economy, feeds anger among non-union taxpayers who snarl at the word "bailout." Add to that, the inherent politicization of the Senate draft -- sponsored by insurgent Democratic presidential candidate Bernie Sanders -- and Sanders' bailout is probably doomed to inaction.
Treasury officials have set a May 7 deadline for a decision. Congress is in session through April 29 before a planned week off.
A congressional side-step would be nothing short of shameful cowardice. The clock is ticking. 
The GOP-run Congress, after all, inserted itself into this issue with its 2014 federal funding bill. Yet, lawmakers appear to lack the spine to openly debate the political principles that probably doom the bailout to the dust-collecting pile.
A floor debate followed by a vote is the least Congress can do for the 400,000 Americans facing financial upheaval. 
There's a compelling conservative argument against bailing out Central States. The bank bailout in 2010 still enrages the masses, who aren't likely to much care about the distinction between hedge fund managers and retired truck drivers. The bill could set a precedent that would cost taxpayers for decades. Up to 200 private pensions could go bust over the next two decades, says the Pension Rights Center. The U.S. government could find itself on the hook for billions, year after year.
But the 400,000 people reliant on the sinking Central States pension were made a promise. Pay in for so long and enjoy a secure retirement. They're victims of poor management and union indifference. And they're facing personal catastrophe.
Congress pulled a fast one on more 40,000 Iowans and Illinoisans. True to form, the ruse was well hidden, only rearing its ugly head when Central States pensioners started receiving notices in the mail.  
There's merit to both sides of the Central Fund bailout debate. And congressional Republicans are always willing to make some statement about government spending.
If Republican lawmakers truly believe their mantra, they'll have the courage to apply it to real people facing real personal disaster. 
Local editorials represent the opinion of the Quad-City Times editorial board, which consists of Publisher Deb Anselm, Executive Editor Autumn Phillips, Editorial Page Editor Jon Alexander, City Editor Dan Bowerman, Associate Editor Bill Wundram and community representative John Wetzel.