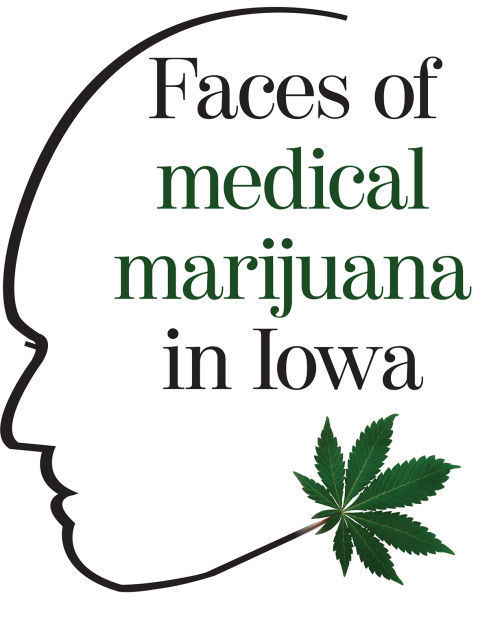 A surprising bipartisan coalition came together in the final hours of the 2014 Iowa legislative session to pass a medical marijuana bill aimed at helping a handful of epileptic Iowa children and adults.
Now Iowans eager for that legal relief tell Times reporter Brian Wellner that well-intentioned bill hasn't helped one bit. In our two-day series on Iowa's Faces of Medical Marijuana, Iowans say that despite legislators' good intentions, the law and the state's Department of Public Health have not delivered.
The health department has yet to produce a single medical marijuana card, required by law before any Iowan can legally possess a specific cannabis oil extract that has no intoxicating effect. It can only heal, not impair.
Iowan after Iowan told Wellner the new law still outlaws transporting and sale of the extract in Iowa, inviting criminal risk on parents whom legislators intended to help. These Iowans are not druggies or drug dealers. They remain afraid of prosecution, even as they and their children continue to suffer.
The logical response would be better legislation to address those Iowans' concern. But logic rarely enters into legislative discussions about marijuana. Instead, most lawmakers cling to a 1930s "Reefer Madness" depiction of marijuana as a crutch for addicts. Lawmakers continue to fund police crackdowns that imprison more Iowans while doing nothing measurable to curtail the use or availability of recreational marijuana.
The Iowans interviewed by Wellner give lawmakers enough information to effectively legislate medical marijuana so that it actually helps people who need it. That could mean permitting card-holding Iowans to produce, carry and use their own marijuana for regulated treatment. It could mean regulating vendors to provide it. It could mean expanding the list of eligible conditions beyond the single form of epilepsy affecting fewer than two dozen Iowans.
It does not have to include the Illinois method of inventing, regulating and taxing an entire supply chain. Note that Illinois' medical marijuana law approved in 2013 established a pricey network of regional dispensaries that still hasn't delivered one gram of relief to Illinoisans. While Iowa lawmakers over-cautiously restricted medical marijuana use, Illinois lawmakers greedily culled millions of dollars in fees to create a dispensary network focused primarily on generating government cash, not healing anyone.
Enough states have provided examples to guide smart Iowa lawmakers with a variety of methods to allow medical marijuana for Iowans who need it.
Lawmakers in Des Moines agreed in principle last year that Iowans should be allowed cannabis oil extract. The faces of Iowa medical marijuana all agree that lawmakers did not deliver. Those faces say other treatments and prescription narcotics aren't working. They're looking for solutions that don't leave them or their children groggy, or dependent on opiate derivatives.