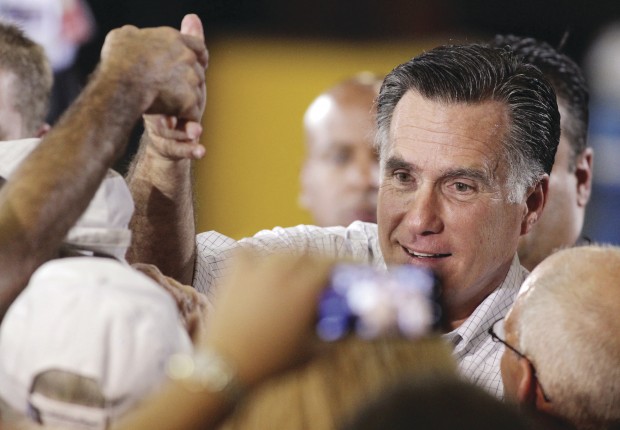 We invested heavily in hope back in 2008.
Our 2012 endorsement of Mitt Romney comes with an imperative for change.
The change that we'd hoped would elevate our economy wound up woefully short. The presidential gambit to place health-care reform ahead of economic recovery jeopardized both. President Barack Obama expended all of the presidential leadership on muscling through health care reform, leaving little for implementation and none for significant economic recovery.
We support many aspects of the president's health care reform. But so much is left undone because of the president's inability to win popular support for the reforms. For example, the health care exchanges so critical to implementation are stuck at square one. Nov. 16 is the federal government deadline for establishing exchanges, yet 35 states have balked. Even the president's home state has ignored the directive.
That's just one example of flagging leadership on an issue that defines the Obama presidency.
The president's green energy initiatives were intended to launch a U.S. alternative energy boom. Earlier this month, A123 Systems joined the succession of green energy firms that failed after being selected by the Obama administration for preferential grants. Beacon Power. Abound Solar. EnerDel. Solyndra. All stumbled despite receiving hundreds of millions of dollars in taxpayer-funded grants.
The president laments congressional gridlock that fomented under the inflammatory leadership of Rep. Nancy Pelosi and Sen. Harry Reid. The president's deference to their reckless rhetoric further deepened congressional divide. Obama doesn't deserve all of the blame. But he merits little credit for any meaningful attempt to bridge the gap.
That gap pushed the U.S. to a series of precipitous deadlines, including the sequestration ledge where Congress currently is perched. Lots of blame to go around and some of it lands squarely on a president who chose a marginal health care victory over a badly needed growth agenda.
Our hopeful 2008 endorsement went to a promising up 'n comer over a lackluster challenger who botched his first big presidential decision by picking an unqualified running mate. Sen. John McCain's choice of Sarah Palin struck us, and apparently millions of undecided voters, as a calculated political ploy, not a credible presidential successor.
This year, the Republican ticket is led by a candidate with a proven record of moderate governance, legislative leadership and compromise. Mitt Romney arrives at the presidency with global leadership experience and a track record of turnarounds.
No need to rely on hope. His record includes evidence of change. He changed the trajectory of a failing U.S. Winter Olympics. He changed the path of Massachusetts with a health care plan we admire, even if Romney is now less than enthused.
He picked a running mate who has specific deficit reduction plans, not just hopeful intentions. Ryan's plan cuts too deeply in some areas and needs significant compromise, particularly on the future of Medicare, but these plans are in the hands of a presidential team experienced in compromise.
Our interest in Romney jelled into support through the debates, where we saw his leadership and pragmatic managerial experience shine through. He didn't just say what ardent Republicans wanted to hear. In fact, he stated his unequivocal support for women's contraception rights, knowing it would incense a huge number of Christian and Catholic voters.
Romney described himself in alignment with most of the president's foreign policy directives.
What differs for us is his lifelong leadership success. We don't begrudge his Bain Capital decisions, all legal and lucrative on behalf of his employers and investors. He made different decisions when he worked for the people of Massachusetts as governor.
We're confident he'll be as responsive to all Americans if elected president.
We heard the eavesdrop audio of Romney's glib reference to a small group of acquaintances about the 47 percent. We also heard Obama's comments to Russian President Vladimir Putin. For this endorsement, we take our queues not from excerpts of overheard remarks or lip-slips. We rely on leadership experience, detailed public statements and our personal meetings with the candidates during this and the 2007 caucus campaigns.
Today, we endorse a successful leader focused on economic recovery and growth and deficit reduction. We endorse a proven manager who won't need on-the-job training. We endorse a compromiser who offers the best hope of breaking congressional gridlock.
Most of all, we endorse change.
We endorse Mitt Romney for president.