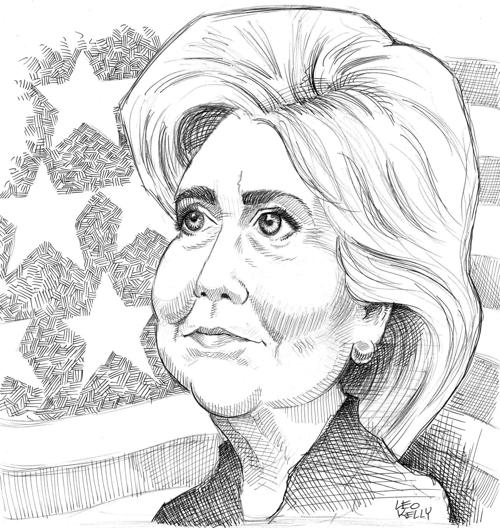 That posh new hotel in Washington, D.C., is the closest Republican Donald Trump should ever get to the White House. For the good of the republic, we urge voters to support Democrat Hillary Clinton on Nov. 8.
False equivalence has dominated this maddeningly long election cycle. Clinton is not without her faults. Her private email server while secretary of state, for example, proves Clinton's distaste for transparency.
But Trump -- the man is nothing short of a racist, misogynist demagogue with no respect for the rule of law. The foibles of the two candidates aren't even in the same galaxy. Clinton bends the rules with lawyerly imprecision slathered in hubris and entitlement. Trump stomps on the Constitution one amendment at a time. 
His Muslim ban helped propel his fear-based primary campaign. The man, and his supporters, see fit to impose a religious test on immigrants, a clear affront to the First Amendment. His attacks on the constitutionally protected free press -- and increasingly aggressive language about the media -- has exposed him as a whiny political hack who is incapable of owning his mistakes. The same goes for his striking willingness to reject democracy itself through bogus allegations of a "rigged" election. 
Trump treats women like sex objects. He's chided veterans. He's leveled generalized accusations on anyone without a lily white complexion. He's stoked right-wing paranoia. He's rejected science and fact-finding. He's endorsed war crimes. He's taken a page from Stalin and threatened to imprison political opponents. 
Trump is, by all measures, a self-important plutocrat claiming to speak for the commoner. 
The president wields incredible power in the U.S. system. Congress has shown only fecklessness throughout the past six years. That's a combustible element when mixed with a lawless firebrand such as Trump in the White House. 
It's true that much of rural America has been left to post-industrial rot, voiceless amid the growing power of coastal metropolises. But blaming those with the least power is not only objectively wrong, it's the classic default position for a long line of carnival barkers. 
Trump's policies are little but a constantly shifting stream of ideas blurted out without much thought to appease his most rabid apostles. The braggart-in-chief has hijacked the GOP and married its economic principles with prejudice and protectionism. Trump claims he can ax trillions in taxes while building out infrastructure and the military. It simply doesn't square. Trump has displayed a worrisome adoration for Russian dictator Vladimir Putin. U.S. allies are rightly concerned about his lack of commitment to long-established friendships. 
At the very least, Clinton deals in reality. She discusses climate change as the very real threat that it is. Her immigration policy is workable and humane. Her calls for free or low-cost community college are an actual solution for the blight that's overrun post-industrial small town America. Her requirements for a Supreme Court justice protect the rights of all Americans, including women, homosexuals and voters of color. Clinton's foreign policy chops are second to none. 
It's imperative that Clinton learn from her mistakes as a member of the U.S. Senate and, later, secretary of state. In both cases, her willingness to wage war has proven itself foolhardy. 
Few politicians have weathered almost three decades of politically motivated investigations, witch hunts and sexist taunts. 
If nothing else, Trump has exposed the deep-seated prejudices that fester at America's core. Going forward, the lessons of Trump must be dealt with, particularly within the GOP. A right-wing insurgency this year cost Republicans an opportunity against a very beatable Democratic opponent. 
Yes, Clinton has flipped on free trade. Yes, her cozy relationship with Wall Street is a cause for concern. But the more of the same that Clinton offers -- while not exciting -- shines bright against the xenophobic darkness offered by Trump. Those Republicans who have doggedly supported him come hell or high water, including Gov. Terry Branstad and Sens. Chuck Grassley and Joni Ernst, are an embarrassment. 
Trump offers only contempt for cultural diversity, science and the rule of law. 
There's just one serious candidate seeking the White House. And that's Hillary Clinton. 
Local editorials represent the opinion of the Quad-City Times editorial board, which consists of Publisher Deb Anselm, Executive Editor Autumn Phillips, Editorial Page Editor Jon Alexander, City Editor Dan Bowerman, Associate Editor Bill Wundram and community representative John Wetzel.