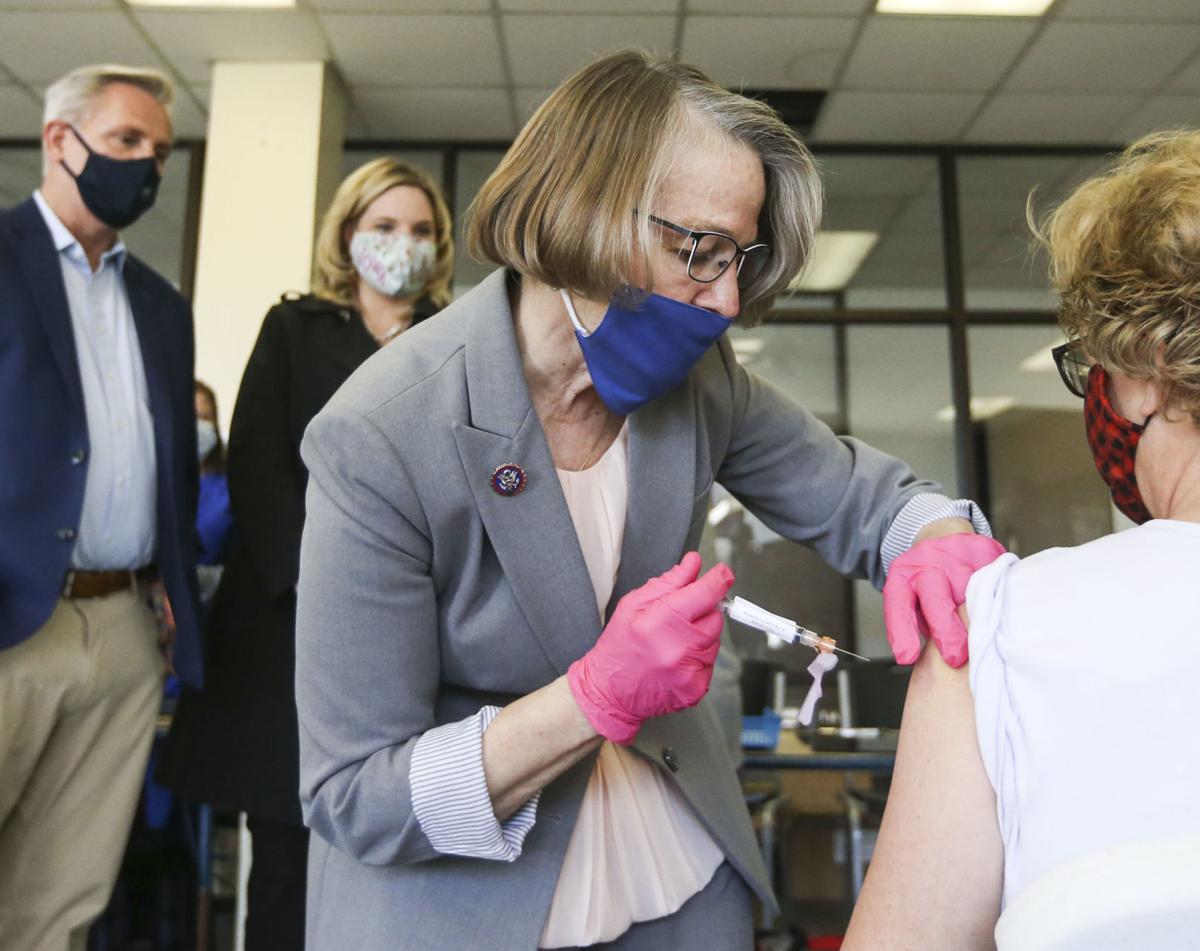 The number of patients hospitalized with severe symptoms of COVID-19 dipped Thursday — a welcome sight after a roughly two-week trend that saw the number of Quad-Cities residents admitted with the virus rise on an almost daily basis.
Deep concerns remain, however, as the age of the patients and the severity of the symptoms have changed since the worst days of the pandemic back in the late fall and winter of 2020.
"This time feels a little different than it did the first time we saw the number of hospitalized patients really increase," said Dr. Kurt Andersen, chief medical officer at Genesis Health System. "The main difference that we noticed is that people seem to be getting sicker. We have some very sick patients right now."
Andersen said the 60-to-70 year-old age group and those under the age of 60 make up the highest percentage of patients admitted to Genesis hospitals with severe symptoms of COVID-19.
"It is clear to us, younger people are getting sick and sick to the extent they need to be hospitalized," Andersen explained. "In the the winter (of 2020), the majority of COVID patients were 70 years old and older."
Andersen said that demographic shift might have a lot to do with who had been vaccinated.
"Older people have been vaccinated for some time, and it is clear the vaccines are doing exactly what they are supposed to do — lessen the severity of symptoms, keep people out of hospitals and help people live through this pandemic," Andersen said.
On Thursday, Genesis Health System reported 36 patients hospitalized with severe symptoms of COVID-19 and a seven-day positivity rate of 8.55%.
For the same time period, UnityPoint Health-Trinity reported 29 COVID-19 patients and a seven-day positivity rate of 16.35%.
Rock Island County health officials reported 22 county residents were hospitalized with COVID-19.
Those numbers were lower across the board.
Hospitalizations hit a high not seen in months on Wednesday, as Genesis Health System reported 42 patients admitted with severe symptoms of COVID-19 — an increase of seven patients from Tuesday's total. The hospital system's seven-day positivity rate dipped to 9.90% Wednesday.
UnityPoint Health-Trinity reported 30 COVID-19 patients Wednesday. The seven-day positivity rate at Trinity was 17.61%.
Rock Island County public health officials reported 24 residents hospitalized with the virus Wednesday.
UnityPoint Health-Trinity issued a statement about the recent rise in COVID-19 hospitalizations.
"We are seeing an increase in COVID-19-positive patients and positive tests in our hospitals and clinics. Test positivity rates have been increasing since late March, and the number of COVID positive inpatients has increased to its highest point since January," the release said.
"We are continuing to monitor the situation, and at this point, no changes are planned to our current visitor policy or hours. It's also important to note that the ages of our recent COVID-positive inpatients have been younger on average than previous surge," the release added. "We continue to ask the public to practice social distancing, wear masks and get the COVID-19 vaccine when it's available to you. We are still in the midst of this pandemic, and we are urging the community to continue practicing COVID safety precautions while others receive the opportunity to get vaccine."
Trinity reported seven patients with severe COVID-19 infection are in ICU, and Andersen noted 40% of ICU beds in the Genesis system are occupied with patients battling the virus.
Andersen stressed while an increased number of ICU beds are devoted to COVID-19 patients. there is not a shortage of ICU beds.
"The ICU beds are a kind of fluid, moving number," Andersen explained. "And ICU spaces are a regional concern — so patients can be transferred if there are problems."
Andersen said increased numbers of ICU patients suffering from the virus could stress nurses and doctors, creating staffing challenges.
"It was already a very long year — we do not need another massive surge like we saw in 2020," Andersen said. "If that happens, more people will die. And we will stretch our health care workers again.
Local death, other COVID-19 numbers
The number of deaths in Scott County linked to the virus increased to 234 Thursday, as the Iowa Department of Public Health reported one death.
State health officials said there were 73 new COVID-19 cases in Scott County. That increased the county's total number of cases since the start of the pandemic to 19,877.
The seven-day positivity rate in Scott County remained at 11% Thursday, more than double the state rate of 5.1%.
The Rock Island Health Department reported 22 new cases Thursday, increasing the county's total to 13,697 since last year. The number of deaths linked to virus remained 310.
Last reported near the end of March, Rock Island County's positivity rate is 4.7%.