Signs protesting an outsourcing initiative in the Davenport Community School District are popping up in Davenport.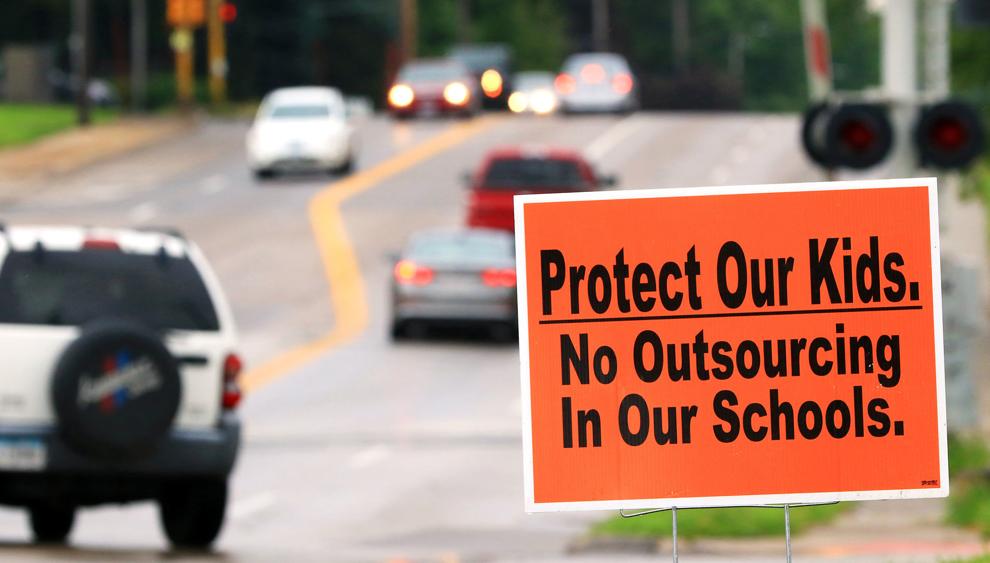 Last week, Davenport Schools Superintendent Art Tate floated the idea of outsourcing some services, if the district could save money and maintain or improve the quality of the service. Teaching jobs would not outsourced.
Since then, signs saying "Protect Our Kids, No Outsourcing in our Schools" have appeared along West Locust Street and West Central Park Avenue opposing the concept.
Union officials were aware of the signs, but said they have not taken an official stance on the issue.
Earlene Anderson, the union representative for the American Federation of State, County and Municipal Employees (AFSCME,) for East Central Iowa, which represents the district's para-educators, security, custodial and food service-workers, among others, said "everything is still evolving."
"We believe it's rarely in the public's best interest to outsource," she added.
Outsourcing involves hiring an outside company, which means either wages and benefits go down so it can make a profit, or if wages and benefits don't decline, "the district would have no cost savings" she said.
Toby Paone, UniServ director at Iowa State Education Association, said the teachers group may take a stance on outsourcing, but it would probably come in September after the organization votes. An announcement would be made afterward, he said.