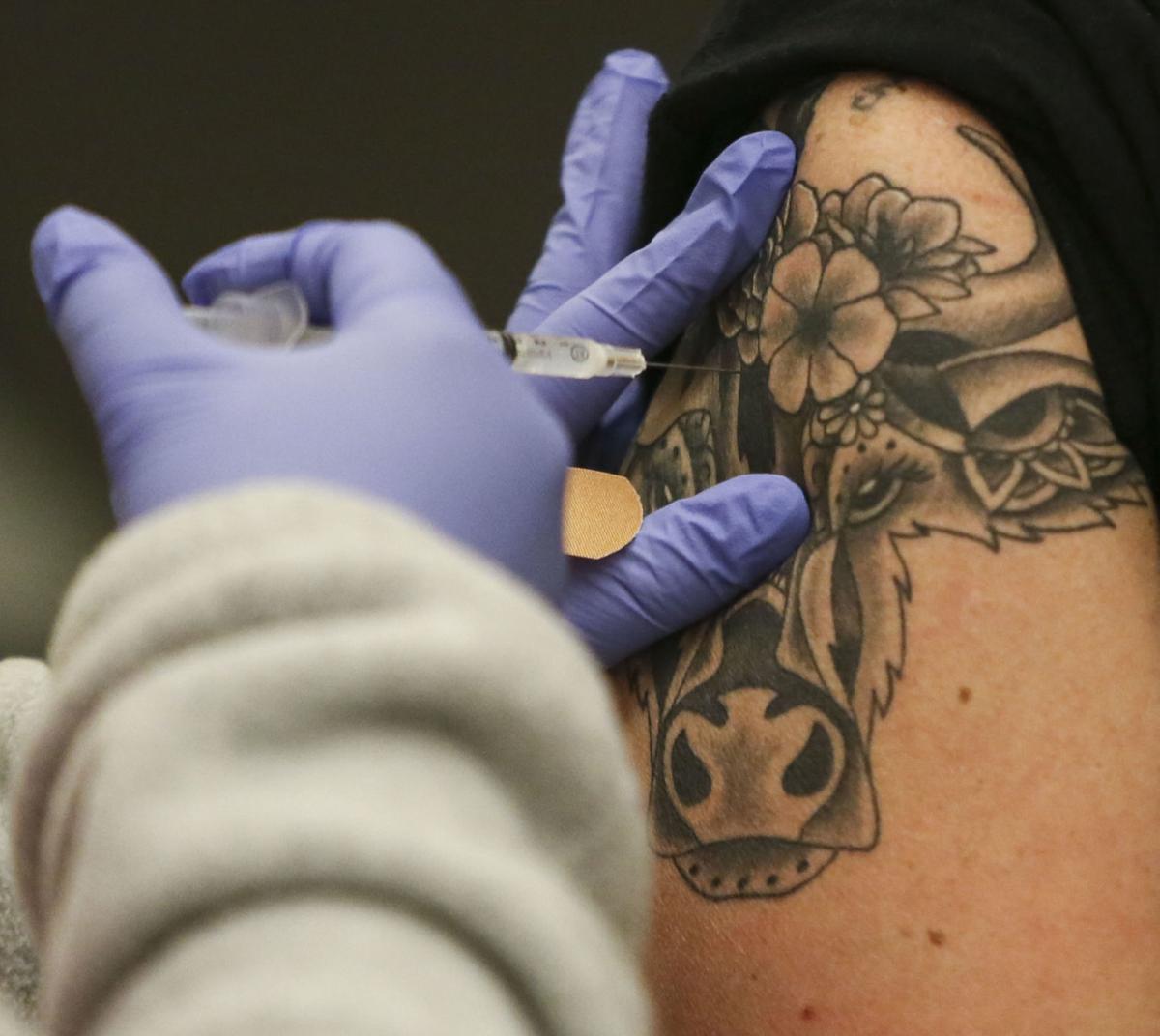 DES MOINES — After more than a half-year in decline, the number of COVID-19 cases in Iowa has been increasing in recent weeks.
With cases increasing despite widespread availability of the COVID-19 vaccine, huge public gatherings and another school year set to start in roughly two months, public health officials are expressing concern.
And their message echoes in unison: If you have not already, please get the COVID-19 vaccine.
Nearly all new hospitalizations from COVID-19 — more than 97% nationwide — are unvaccinated individuals, according to the federal Centers for Disease Control and Prevention.
The director of that organization, Dr. Rochelle Walensky, recently characterized the state of COVID-19 as "a pandemic of the unvaccinated."
"We clearly know that the public health trend in COVID-19 cases in Iowa, and in Polk County, is definitely because of individuals who are not vaccinated," Polk County public health spokeswoman Nola Aigner Davis said. "We can't stress enough about getting vaccinated. We know the vaccine is effective. We know it works."
After a deadly winter, the number of new COVID-19 cases in Iowa started falling around late November and early December — roughly the same time the vaccine was first made available. Over the next seven months, the numbers of COVID cases, hospitalizations and deaths all dropped dramatically and continuously.
But over the past three-plus weeks, and for the first time since that devastating winter surge, the numbers of new COVID cases and hospitalizations in Iowa have been increasing.
The rolling two-week average of daily new cases bottomed out at 80.7 on June 27. Since then, that figure has steadily increased and more than doubled, to 173.6 on Tuesday, according to state public health data.
That is the last date for which state public health data is publicly available because the state has reduced its COVID data reporting. Throughout much of the pandemic, the state updated COVID data multiple times per day on its coronavirus.iowa.gov website. Recently, the state changed to updating the figures just once per week.
Also over the past two weeks, COVID hospitalizations have jumped from 71 to more than 100, the most in two months.
Public health officials hammered on the need to get more Iowans vaccinated in order to stop the virus' spread.
"As cases increase across the country and in Iowa, it's important that even more Iowans get vaccinated," Sarah Ekstrand, a spokeswoman for the state public health department, said in an emailed response to questions. "It's the key to reducing virus activity, saving lives and keeping our health care resources available for all Iowans' needs."
Public health officials generally say roughly 70% of a population needs to be vaccinated in order to stop the spread of a virus like COVID-19. According to the most recent White House state report on COVID-19, 60.9% of Iowans 18 years or older are fully vaccinated and 64.6% have received at least one shot. (Some versions of the vaccine require two shots in order to be fully vaccinated.)
"We look at about 70% for community immunity," Davis said, adding that roughly 64% of Polk County residents are vaccinated. "So we still have a little ways to go."
The emergence of the COVID-19 Delta variant has added to public health officials' consternation. The new variant appears to be even more transmissible than the original virus, and appears to be having a greater impact on young people, health and medical officials say.
"With the rise in prevalence of the Delta variant, we are urging all Iowans to get vaccinated for COVID- 19 as soon as possible," Ekstrand said. "Since the beginning of the vaccine campaign, our goal has always been to get as many Iowans vaccinated as quickly as possible. Vaccines continue to be a critical tool for preventing the spread of this virus and keeping all Iowans safe and healthy. We will continue to message about the importance of getting vaccinated for COVID-19 for the foreseeable future."
The rise of the Delta variant at a time when cases are increasing and less than 70% of Iowans are vaccinated could create a troublesome mix. And one more potentially dangerous ingredient looms: The Bix (held July 24), RAGBRAI (July 25-July 31) and the State Fair (August 12-August 22) are three Iowa institutions that will bring together thousands of people from all over.
In 2019, there were more than 13,000 runners in the Bix 7, and hundreds of non-runners gathered along the course or at house parties that day. In 2019, 10,000 riders from all 50 states participated in RAGBRAI, a bicycle ride that crosses the state from the Missouri River on the western border to the Mississippi River on the eastern border. And in 2019, nearly 1.2 million people attended the Iowa State Fair.
They are all outdoor events, which health officials say carry less risk than those in enclosed spaces, but that doesn't make them risk-free, especially for those who haven't been vaccinated.
Immediately after those major events, Iowans will return to school for the 2021-2022 school year. And unless something unexpectedly changes in the meantime, they will do so without any face mask requirements. The Republican-led Iowa Legislature and Republican Iowa Gov. Kim Reynolds earlier this year passed a new state law that says school districts and local governments cannot enact pandemic mitigation strategies --- like face mask requirements --- that exceed the state's strategies at the time.
Children 11 years and younger are still not eligible for the COVID-19 vaccine.
"Any time we see people coming together who are not vaccinated, we know the situation is ripe for the Delta variant to spread," Davis said. "That's especially worrisome as we are getting back to a fall where we will have kids in school."
And the best tonic, Davis repeated, is for more Iowans to get the COVID-19 vaccine.
The challenge facing public health officials is the reticence of people who are not yet vaccinated. According to a new poll from The Associated Press-NORC Center for Public Affairs Research, 80% of Americans who are not yet vaccinated said they either probably will not or definitely will not. Only 19% of the unvaccinated said they probably or definitely will get the vaccine, The Associated Press reported.
"This isn't something to wait on. We know what protects you is getting vaccinated," Davis said. "We know over the course of time that the variant is changing. Right now, the Delta variant is more transmissible. We don't know what the future of this virus looks like.
"The most absolutely important way to get protected right now is to get vaccinated."