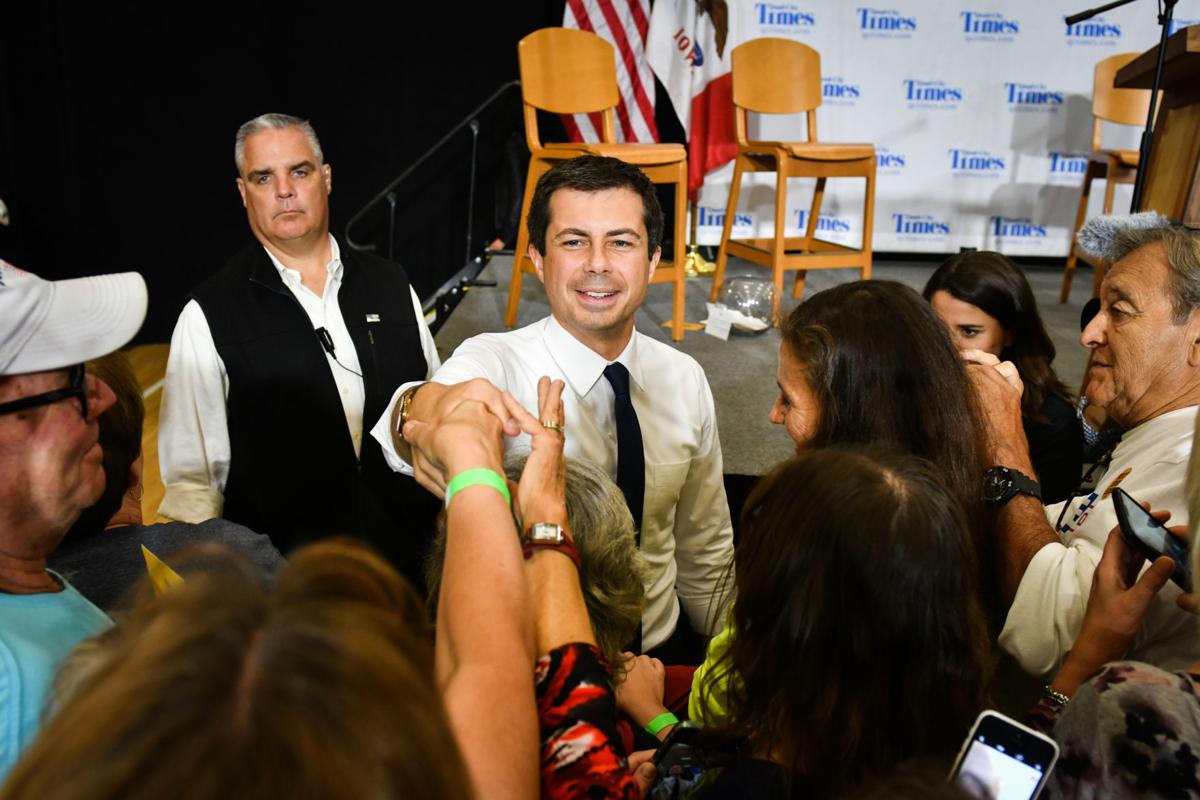 A roundup of campaign news items of interest for Wednesday, October 2, 2019:
BUTTIGIEG CAMPAIGN HIRES EX-GILLIBRAND STAFFER: A former high-level state staffer for Kirsten Gillibrand's Democratic presidential campaign has been scooped up by Pete Buttigieg's campaign.
Casey Clemmons, who was Gillibrand's Iowa caucus director before the U.S. Senator from New York exited the race, has been hired as Buttigieg's deputy state director in Iowa.
Clemmons previously served as the Iowa Democratic Party's turnout director during the 2018 election season. He now joins Buttigieg, the South Bend, Indiana, mayor.
"I'm honored to be joining this incredible team that has been diligently and relentlessly organizing Iowa in smart and creative ways, leaving no precinct unturned," Clemmons said in a statement provided by the Buttigieg campaign. "I'm proud to work for a fellow Midwesterner and pragmatic progressive who will bring a necessary calmness and new generation of American leadership to the White House."
KLOBUCHAR'S FIRST AD READY: Democratic presidential candidate Amy Klobuchar's first TV campaign ad will begin airing this week in Iowa and New Hampshire.
"If you feel stuck in the middle of the extremes in our politics and you are tired of the noise and the nonsense, you've got a home with me," Klobuchar says in the ad. "I am someone that tells the truth. I don't make promises that I can't keep. I have people's back. And I believe that to win, you bring people with you and that is how you govern, as well."
Klobuchar's ad will begin airing as she returns to Iowa for another campaign trip this weekend.
FORMER USDA OFFICIAL ENDORSES O'ROURKE: Beto O'Rourke's Democratic presidential campaign has been endorsed by Doug Thompson, an Iowa farmer who worked in the federal agriculture department under former Democratic President Barack Obama.
"Beto O'Rourke is the right choice to lead us out of (Republican President Donald) Trump's mess; from his commitment to trade that benefits American producers, growers and workers, to his steadfast support of the Renewable Fuels Standard," Thompson said in a video in which he announced his endorsement and criticized the Trump administration's handling of waivers allowing oil refineries to skit the federal ethanol mandate.
CASTRO'S WORKERS RIGHTS PLAN: Pre-empting states' right-to-work laws and strengthening the federal government's ability to fine businesses for labor violations are provisions in Democratic presidential candidate Julian Castro's plan for workers' rights.
The former federal housing secretary said he also supports sectoral bargaining — collective bargaining by workers at different companies but in the same industry — and restricting businesses from classifying workers as contractors, which allows those businesses to avoid offering benefits to those workers.
Castro also proposed farmworkers under federal labor and employment law protections.
"I grew up in a working class household with two strong women. My grandmother worked her entire life as a maid, a cook, and a babysitter. My mom was a community organizer in the Chicano movement. Ensuring our economy and our democracy works for working people is not theoretical for me, it's personal," Castro said in a statement. "This Workers First labor platform will spark economic opportunity, empower workers with justice and dignity, and ensure all workers are included in our future prosperity."
STEYER CALLS FOR GUN REGISTRY: A national license for all gun ownership — similar to a driver's license — plus a national registry for existing assault weapons and a ban on new assault weapons are among the key provisions of Democratic presidential candidate Tom Steyer's gun regulation plans.
The California businessman also calls for a voluntary gun buy-back program, the creation of a new federal office for the prevention of gun violence, and what his campaign described as "structural reforms" to limit lobbyist influence, noting specifically the National Rifle Association.
"The NRA is the perfect example of the stranglehold of special interests on our government, particularly the GOP. If Congress won't take action, then I will use executive powers to orient the federal government to take action to address this public health crisis," Steyer said in a statement. "It is past time that we take real action for families who have lost loved ones, the students that practice live shooter drills in their classrooms, and the communities across America torn apart by gun violence."
CONSERVATION GROUP ENDORSES GREENFIELD: Theresa Greenfield's Democratic campaign for the U.S. Senate has been endorsed by the League of Conservation Voters' political arm.
Greenfield, a West Des Moines businesswoman, is one of four Democrats vying for the party's nomination in Iowa's U.S. Senate race.
"Iowans are already feeling the impacts of extreme weather fueled by the climate crisis, and they deserve a Senator who will take action, not one who continues to deny science," Tiernan Sittenfeld, the organization's senior vice president of government affairs, said in a statement. "That's why LCV Action Fund is thrilled to endorse Theresa Greenfield. She understands the needs of families in every corner of Iowa, and she is committed to investing in the Hawkeye State's clean energy economy. We know she has what it takes to fight for communities across the state."