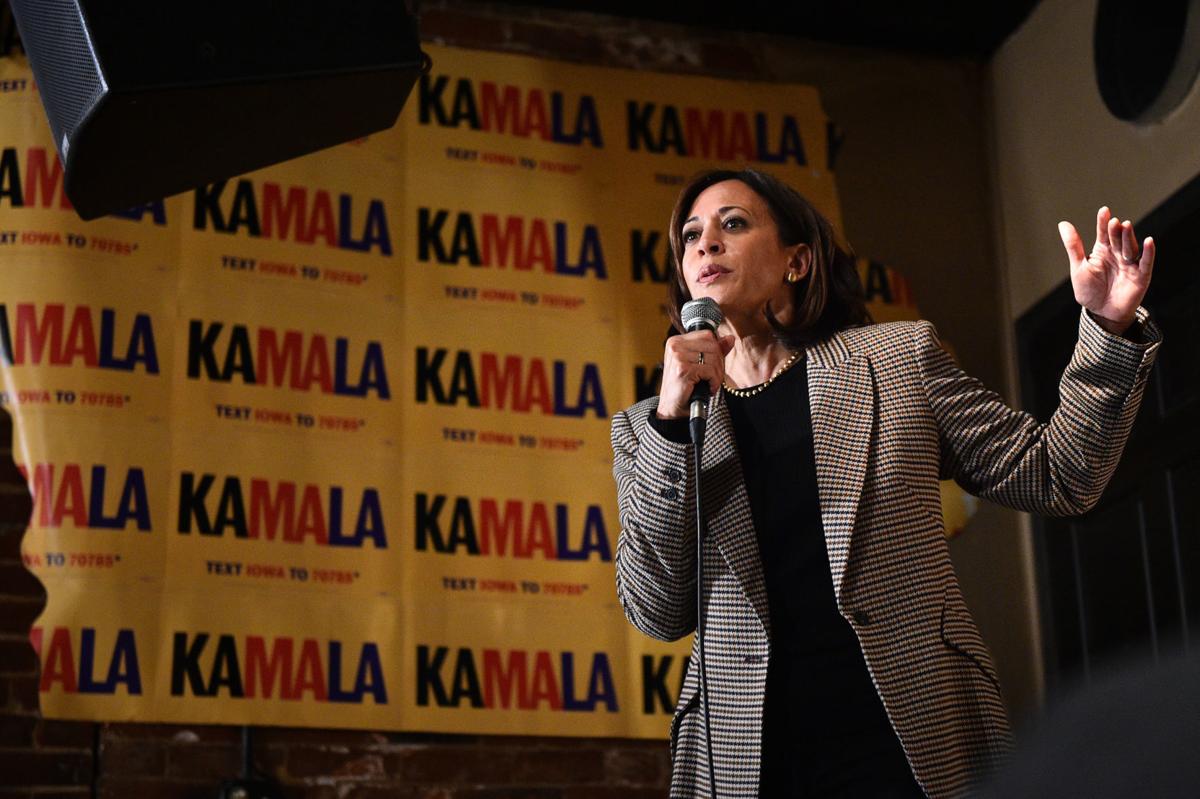 A roundup of campaign news items of interest for Monday, November 25, 2019:
HARRIS' MENTAL HEALTH CARE PLAN: Democratic presidential candidate Kamala Harris announced a mental health care plan that, as part of her Medicare-for-All, will cover mental health on demand — that is to anyone who needs it, whenever they need it and wherever they need it.
The U.S. Senator from California said her plan calls for doubling the number of treatment beds, giving priority to states with shortages, and supporting veterans' mental health by doubling research dollars for the departments of Defense and Veterans Affairs to address PTSD, military sexual trauma, and traumatic brain injury.
"We have failed when it comes to policy solutions for Americans struggling with mental health," Harris said. "Too often we only focus on health care from the neck down, and we need to ensure we are addressing health care from the neck up."
Harris, who spoke about the need to improve mental health services while campaigning in Washington, Iowa, over the weekend, said her plan would deliver "mental health care on demand" by removing high co-pays and deductibles, providing direct access to providers via telemedicine, and investing research dollars into public health challenges facing our veterans.
As part of her plan, Harris is calling for an end of the mental illness to jail pipeline. She would increase funds for integrating specialized police, mental health professionals, EMS, 911 systems, and hospital emergency rooms in response to mental health crisis calls. She would increase federal funding for hiring mental health professionals to accompany police officers in responding to calls for individuals in mental crises.
BUTTIGIEG'S PLAN FOR RETIREES: Democratic presidential candidate Pete Buttigieg would work to establish Long-Term Care America, a new program to provide eligible older Americans with a $90 per day benefit for as long as they need it. More than 11 million Americans 65 or older would be eligible for the benefits, the South Bend, Indiana, mayor's campaign said.
Buttigieg also proposed preserving Social Security and Medicare Advantage and creating a portable public 401(k) option.
"There's no dignity in retirement without being able to choose the health care plan that's right for you," Buttigieg said in a news release. "I'll always remember the social worker patiently explaining to my mom that her best option to cover Dad's care might be for our family to spend everything that we had until we were asset-poor enough to qualify for Medicaid. I am determined to usher in a new era for older Americans that upholds the unshakable promise that every American should be able to maintain a decent standard of living when they retire."
STEYER'S HOUSING PLAN: Democratic presidential candidate Tom Steyer's housing plan would focus on creating housing that would withstands the impacts and slow the expansion of climate change.
You have free articles remaining.
The California businessman proposed ensuring that all new residential buildings are zero-carbon by 2030 and all existing residential buildings are retrofitted to zero-carbon buildings by 2045.
"When I was in western Iowa, I talked to people whose homes had been destroyed by floods. One of the biggest things I heard was the emotional and financial frustrations of people trying to pay for home repairs or relocations," Steyer said in a news release. "My plan would ensure new housing developments are built to withstand future natural disasters exacerbated by climate change."
BULLOCK'S CORPORATE TAX PLAN: Federal corporate taxes would depend on a business' level of investment in American workers under a proposal from Democratic presidential candidate Steve Bullock.
The Montana governor's campaign described the proposals as "an innovative way to address the problems of globalization head on — driving investment in American jobs and raising needed revenue to fund advancements in healthcare, education, infrastructure, and more."
"We should be supporting American jobs, not shipping them overseas. In an increasingly global economy, we must pursue new ways to drive investment in American workers — that means more than returning to business as usual," Bullock said in a statement. "My plan discourages outsourcing and rewards businesses that invest in creating jobs here at home, ensuring that all Americans reap the benefits of a growing economy — not just a wealthy few."
WILLIAMSON'S 'WHOLE HEALTH' PLAN: Democratic presidential candidate Marianne Williamson said many diseases can be prevented and reversed through lifestyle changes "demonstrated in medical research to be effective."
The New York author cited a European Prospective Investigation into Cancer and Nutrition study that showed changes in nutrition and lifestyle factors could potentially prevent some cases of diabetes, heart attacks, strokes and cancers.
Williamson said her 'whole health' plan takes a holistic approach to Americans' health instead of focusing on health care and access to health insurance.
"America's health care system puts an unbalanced focus on treating the symptoms of illness at the expense of treating their cause. Yet until we ask why so many of us experience chronic illness, to begin with — far more than do the citizens of comparably wealthy countries — we will continue to experience unsatisfactory results in health care," Williamson said in a news release. "The 'Whole Health Plan' expands the health care debate, tackling not only how to pay for health care but also how to provide greater opportunities for health."
CASTRO ADDS IOWA ENDORSEMENTS: Democratic presidential candidate Julian Castro added three Iowa endorsements, all from southeast Iowa, including two local party leaders.
"Secretary Julián Castro is inviting us to all join in working to create a stronger America in which all of us may prosper," Mary Jo Riesberg, chairwoman of the Lee County Democrats, said in a statement distributed by the Castro campaign. "He is offering Democrats the opportunity to take back our purpose as the champions for the poor. To be the party of what is right and just. To be proud again that the American dream will be available for everyone to grasp, regardless of our origins, our parents, our language, our race, our ability, or who we love."