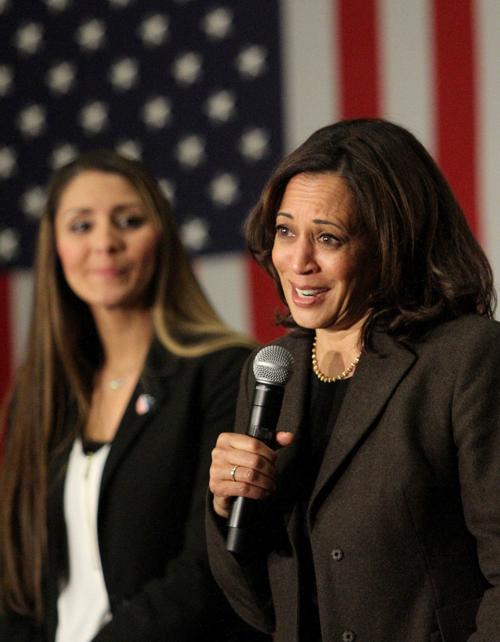 (EDITORS NOTE: Full list of Warren and Harris endorsements after the text, for possible localization.)
A roundup of campaign news items of interest for Thursday, November 21, 2019:
SANDERS' PLAN FOR HBCUS: Fitting with his overall plan for colleges, Historic Black Colleges and Universities would be tuition-free under Democratic presidential candidate Bernie Sanders' proposals.
The U.S. Senator from Vermont also proposed investing $5 billion toward grant programs and debt cancellation at HBCUs, and another $10 billion to create and expand HBCU medical, dental, and teacher training graduate programs, his campaign said.
"Historically Black Colleges and Universities have educated generations of African American leaders, and helped build and grow the culture of diversity that makes our country what it is today," Sanders said in a statement. "Unfortunately, too many HBCUs have struggled financially in recent years from a lack of federal resources, a drop in enrollment, and from crushing institutional debt. Yet the need for HBCUs and the education they provide has never been greater."
You have free articles remaining.
10TH STATE LAWMAKER ENDORSES WARREN: A tenth state lawmaker is among 25 new Iowa endorsements for Democratic presidential candidate Elizabeth Warren.
The U.S. Senator from Massachusetts has been endorsed by Art Staed, a Democratic state legislator from Cedar Rapids. He is the 10th current state lawmaker to endorse Warren.
Also among the new Warren endorsements is former state lawmaker Dave Osterberg.
"Elizabeth Warren has the passion and intellect to unite and lead our nation," Staed said in a statement provided by the Warren campaign. "Even in these times of polarization, we can make big, structural change if we lead with compassion, thoughtfulness and decisive action --- and that's exactly what Elizabeth will do."
MORE ENDORSEMENTS FOR HARRIS: A former state lawmaker is among six new endorsements for Kamala Harris' Democratic presidential campaign.
The U.S. Senator from California picked up endorsements from Pat Harper, a former state lawmaker from Waterloo, and Iowa City housing official Megan Alter, among others.
"I love her ethics and her knowledge of the law. She shows deep respect for our laws. It is what our country needs after so much deviousness and disrespect for the law from our current president," Harper said in a statement provided by the Harris campaign. "We are a nation of laws and cannot endure much longer with a leader who is constantly trying to thwart the law. There are many other issues in the 2020 election, but to me nothing is more important than to have a Democratic candidate who can face the opposition with a thorough knowledge of the constitution and our laws."