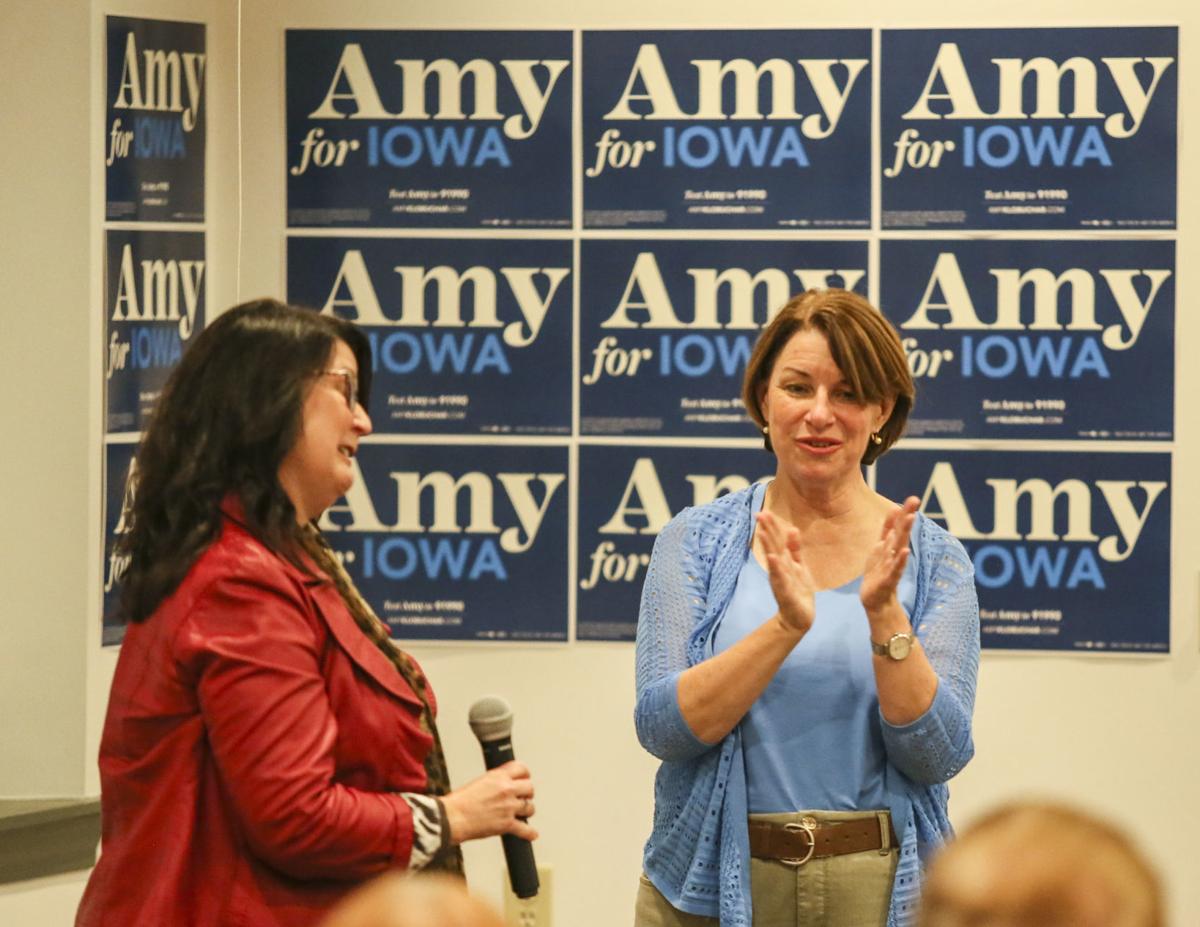 A roundup of campaign news items of interest for Tuesday, December 3, 2019:
KLOBUCHAR ENDORSED BY FORMER BULLOCK SUPPORTER: Bruce Bearinger, a state lawmaker who previously endorsed Democratic presidential candidate, has endorsed Amy Klobuchar.
Bullock, the governor of Montana, dropped out of the race earlier this week.
Bearinger represents an Iowa House district in Fayette County, one of 16 Iowa counties that flipped from Democratic president Barack Obama in 2012 to Republican president Donald Trump in 2016.
The campaign for Klobuchar, a U.S. senator from Minnesota, claims to have more endorsements from current and former Iowa state lawmakers than any other Democratic presidential candidate.
"Amy Klobuchar's track record of legislative success in Washington and electoral success in Minnesota is unmatched in the Democratic field. Amy understands that to win in 2020, and for the next president to govern successfully, our party has to reach out to voters who felt overlooked in 2016, particularly in rural America," Bearinger said in a statement provided by the Klobuchar campaign. "I believe her common-sense agenda — particularly on issues such as health care, education and agriculture — will resonate with a majority of Iowans and voters across the country."
WARREN'S PLAN FOR PART-TIME WORKERS: Employers would be required to give two weeks' notice of scheduling for part-time workers, and would be required to offer those workers some benefits like paid family leave and retirement plans under a proposal from Democratic presidential candidate Elizabeth Warren.
The U.S. senator from Massachusetts also proposed requiring employers to consider workers' schedule requests "in good faith," and require at least 11 hours between shifts.
"American workers have too little power and it allows big companies to rake in giant profits while squeezing working families to the breaking point," Warren wrote in a social media post accompanying her policy announcement. "My 'Fair Workweek' plan will help shift power back to part-time workers — helping up to 27 million Americans, and along with my other plans, producing the kind of big, structural change we need to create an economy that works for everyone."
BOOKER ON HBCUS: Democratic presidential candidate Cory Booker proposed $60 billion in new funding for grants to benefit educational programming and infrastructure upgrades at historical black colleges and universities.
The U.S. senator from New Jersey said the funding boost would provide funding security for HBCUs for years, and would help the schools expand and improve STEM education and help with recruitment, retention, and graduation rates.
HBCUs would also be included in Booker's proposals for college in general, including helping public college students to graduate debt-free, doubling Pell Grants, and forgiving loan debt for low-income students.
You have free articles remaining.
"HBCUs make our country stronger and more reflective of the diversity that makes us so great," Booker said in a statement. "I am here today because of the power of these institutions to uplift and bring about opportunity to black Americans. As president, I will redouble our efforts to support and invest in HBCUs across the country --- my mother and father wouldn't have it any other way."
BUTTIGIEG PLANS TO ADDRESS HEALTH DISPARITIES: A new National Health Equity Strategy Task Force is a primary component of Democratic presidential candidate Pete Buttigieg's plan to address tackle systemic health disparities in communities across the country, his campaign said.
The South Bend, Indiana, mayor's campaign said the goal is to "ensure that a person's race, gender, or where they live do not dictate their health and well-being."
Buttgieg also proposed investing in Health Equity Zones, training health care workers to combat racism and bias when treating patients, and investing in programs designed to diversify the health care workforce.
"I'm determined to usher in a new era for health in America, one that recognizes that our policies must target systemic disparities in our health system," Buttigieg said in a statement. "One that understands what happens in our lives outside the clinic is equally as important to our health and well-being than what happens in a hospital or doctor's office. And one that makes achieving health equity — where everyone has a fair opportunity to be as healthy as they can be — a national imperative."
STUDENT GROUP ENDORSES SANDERS: Iowa Student Action, a progressive student group, endorsed Democratic presidential candidate Bernie Sanders, a U.S. senator from Vermont.
The group is a local affiliate of a national organization that advocates for tuition-free college for all and the cancellation of student loan debt.
"Only Bernie Sanders has proven to be an ally and voice for young people throughout his lifetime, and we're confident that he'll continue to do so when he's president," Iowa Student Action organizer Sara Castro said in a statement distributed by the Sanders campaign. "Candidates need to do more than just say they support young people; they need to show that support. Sanders' 'College for All' plan, including undocumented and formerly incarcerated people, along with full debt cancellation, shows he is willing to fight for us."
14 LEGISLATORS ENDORSE GREENFIELD: Theresa Greenfield's Democratic U.S. Senate campaign has been endorsed by 14 Democratic state lawmakers.
Greenfield is one of four Democrats seeking the party's nomination in the state's U.S. Senate race.
"Theresa knows tough work because it's how she was raised and believes in rural communities because she's from one," Amanda Ragan, a state senator from Mason City, said in a statement provided by the Greenfield campaign. "She shares our values."
The legislators who endorsed Greenfield are senators Ragan, Todd Taylor, Tony Bisignano, Joe Bolkcom, and Jim Lykam; and representatives Mary Mascher, Bob Kressig, Bruce Hunter, John Forbes, Karin Derry, Cindy Winckler, Monica Kurth, Jennifer Konfrst, and Kristin Sunde.
Lee-Gazette Des Moines Bureau