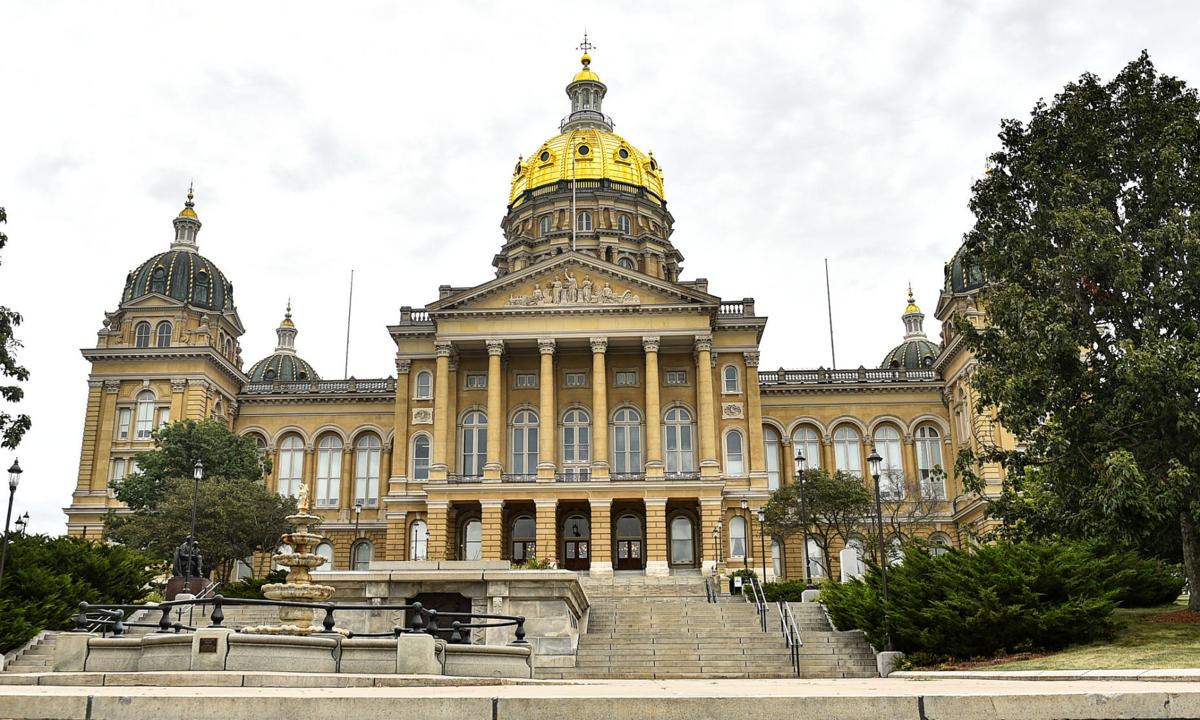 A roundup of legislative and Capitol news items of interest:
ADJOURNMENT DELAY: A GOP stalemate over tax policy has the potential to drag out the 2021 session.
Gov. Kim Reynolds pitched a compromise package Wednesday that she hoped would break a stalemate, but House Speaker Pat Grassley, R-New Hartford, said there's no agreement yet.
Senate Majority Leader Jack Whitver, R-Ankeny, says his members want to resolve the tax-policy impasse before they move ahead with the fiscal 2022 state budget.
"I don't see us getting done obviously this week. I don't think we'll be done next week, so I think we're looking at several weeks minimum regardless," Whitver said.
Sen. Joe Bolkcom, D-Iowa City, referenced Whitver's former college football playing days by likening Senate GOP hopes of achieving all their tax-cut objectives to a desperation "Hail Mary" pass attempt.
"Most of the time it fails; there are occasions when the Hail Mary does work, but I'm not seeing it in this particular game this session," Bolkcom said. "Where is the budget? We're ready to wrap things up."
VACCINE HESITANCY: Gov. Kim Reynolds said 46% of eligible Iowans were fully vaccinated from COVID-19 and 57% had received the first of two doses but that the demand for the vaccine in Iowa continued to wane.
Reynolds said because they had not used their entire stock, 54 counties declined any new allocation of COVID-19 vaccine doses for this week and 34 more declined at least a portion of their new allocation.
Just 11 counties accepted their full new vaccine allotment, Reynolds said.
The governor said the state continued to work with county public health departments and other local groups and leaders to offer vaccination clinics in the coming weeks and months at public events.
As an example, Reynolds said a mobile vaccine clinic will be available outside Principal Park stadium in Des Moines during Iowa Cubs home baseball games for the team's first two homestands.
NATIONAL HONOR: The chief of the Iowa Governor's Traffic Safety Bureau was been honored with the National Highway Traffic Safety Administration's Lifetime Achievement Award.
Patrick J. Hoye, one of 15 award winners nationally, was recognized for his "steadfast leadership, vision, and commitment to reducing traffic safety injuries and fatalities in Iowa and across the country."
As the Iowa agency's leader since November 2012, Hoye and his staff have set an aggressive agenda to reduce fatalities and serious injuries in Iowa, according to the national safety group. He also has testified before legislative committees on public safety initiatives and routinely speaks on traffic safety issues at conferences across the country.
Hoye is a retired 32-year veteran of the Iowa State Patrol, including a stint as the patrol's 13th chief.
JUDICIAL NOMINATING: The State Judicial Nominating Commission, which is responsible for selecting nominees for appointment to the Iowa Court of Appeals, will begin accepting applications for the vacancy on the court that will occur when Judge Richard Doyle retires Aug. 7.
Applications are due before noon June 10. The commission has 60 days to send a slate of nominees to Gov. Kim Reynolds.
To be eligible, a person must be a resident of Iowa, licensed to practice law in Iowa and be able to serve an initial and one regular term of office before reaching the age of 72.
PHARMACY PHISHING: The Iowa Board of Pharmacy has received several notifications from Iowa pharmacies regarding recent phishing scams.
The callers have spoofed legitimate Board of Pharmacy phone numbers and requested the name of the pharmacy's diabetic test strip supplier. Additionally, callers have identified themselves as the wholesale distributor requesting verification of account information.
The board urges its licensees and registrants to be cautious of suspicious communications from individuals who may be posing as employees of the board. If licensees receive suspicious calls, they should hang up and directly call the board office or assigned compliance officer to verify the authenticity of the call.
LEGAL ASSISTANCE: The Iowa Supreme Court has approved $195,695 in grants to 11 nonprofit programs that provide legal assistance to low-income Iowans with civil legal problems.
The grants are funded by the interest on Lawyers' Trust Account program. With this year's grants, the Supreme Court has awarded more than $25 million since July 1985.
The grants went to organizations in Cedar Rapids, the University of Iowa College of Law, Des Moines, Muscatine, Mason City, Drake University Law School, Ames, Appanoose County and Sioux City.