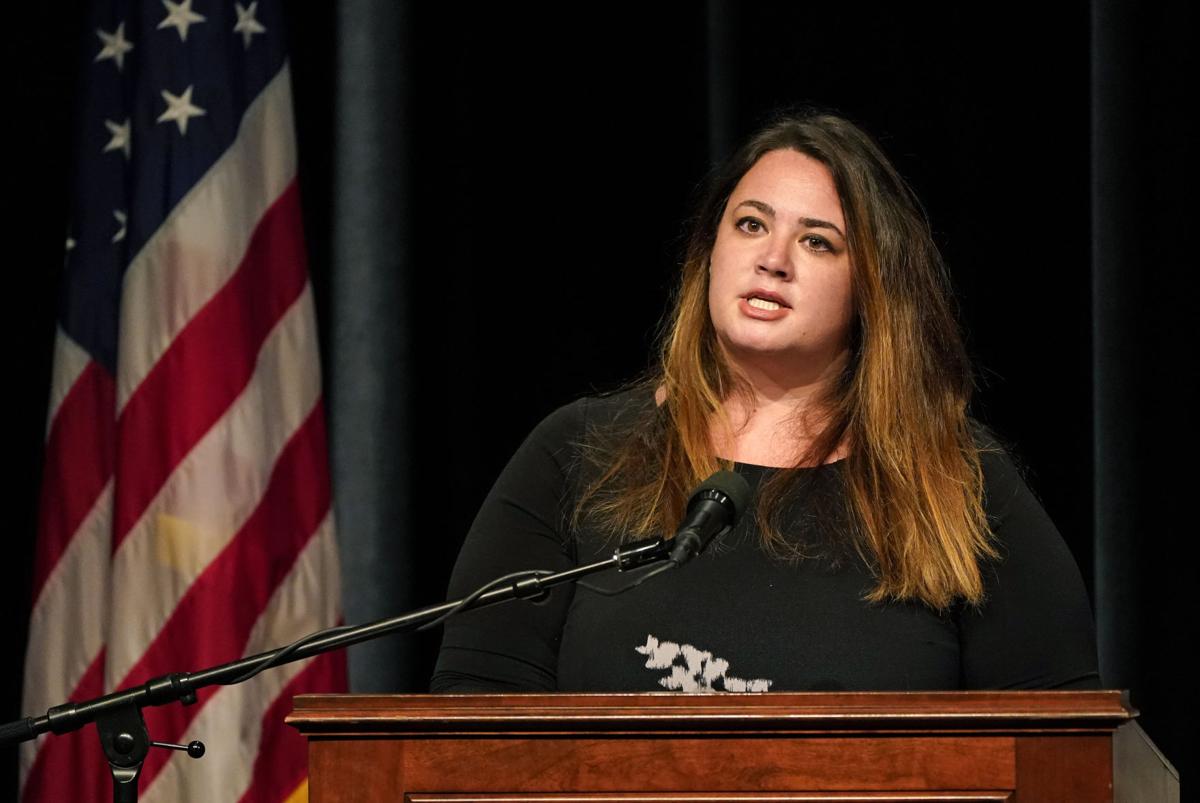 DES MOINES — In an abrupt development and without explanation from the source, Dr. Caitlin Pedati's resignation as Iowa's medical director and epidemiologist was announced Wednesday by the state public health department.
Pedati, one of the central figures in the state's ongoing response to the COVID-19 pandemic, plans to leave the agency in late October, according to an Iowa Department of Public Health news release, which includes comments from Gov. Kim Reynolds and interim state public health director Kelly Garcia, but not Pedati.
When asked, the state public health department did not say why the news release did not contain a comment from Pedati, and that she is not available for an interview as her focus is "working with her team to prepare for this transition."
Spokespeople for the governor's office and state public health department said Pedati was not asked to resign by Gov. Reynolds or Garcia, and that Pedati's was "a personal decision."
The news release says Pedati plans to pursue new career opportunities.
"I want to thank Dr. Pedati for her outstanding service to the people of Iowa, especially throughout the pandemic," Reynolds said in her statement. "She has been instrumental to our state's strong COVID-19 response and a valued member of my team. I wish her much success and happiness in all that she pursues."
Pedati served in her current role with the department since June 2018. Prior to that, she was a medical epidemiologist for the Nebraska Department of Health and Human Services.
Pedati was a visible adviser to Reynolds during the early months of the pandemic and was a regular contributor during the governor's weekly news briefings.
In recent months, Pedati had assumed a less public role as the state launched an effort to get Iowans vaccinated against COVID-19's Delta variant, which has caused a surge in cases resulting in more hospitalizations and deaths.
"The work of the last 18 months has been difficult at best and I remain immensely appreciative of Dr. Pedati's steadfast partnership throughout," Garcia said in her statement. "I, along with our teams at IDPH and the Department of Human Services, will miss her. Her personal sacrifice is to be commended and we wish her the very best as she begins this new chapter."
Pedati's state salary was $229,545 in fiscal year 2020, a 32% increase over her salary from the previous fiscal year, according to the state's salary database.
According to the most recent state public health data, 6,482 COVID-19 deaths have been recorded in Iowa, and more than 476,000 positive cases have been recorded.
New cases, hospitalizations and deaths have been surging once again over recent months, reaching levels not seen since last winter's deadly surge. Intensive care beds are at an all-time low for the pandemic, according to state public health data.
In Iowa, 63% of the vaccine-eligible population — those 12 years or older — are fully vaccinated, according to federal data.
The scope of the pandemic — caused by the new coronavirus and COVID-19, the disease it causes — has been unlike any since a worldwide influenza outbreak over a century ago.
A pediatrician by trade, Pedati said in a May 2020 interview that one of the things that drew her to public health service was the ability to address health issues on a larger scale.
Pedati became a vitally important and very public figure in the weeks after the new coronavirus was first detected in Iowa in early March. She helped provide the public health department's guidance that helped Reynolds set policy, and regularly appeared with the governor at daily briefings.
As with most governors, Reynolds has made myriad critical decisions, including to temporarily shut down schools and many businesses, and more recently when to begin relaxing some of those business restrictions.
Throughout the pandemic, Pedati never criticized Reynolds' policies, even when they conflicted with medical science or public health consensus at the time. She was silent when Reynolds reopened businesses in May 2020 as the state continued to see high case counts and deaths. The governor took the posture that Iowans must "learn to live with COVID virus activity without letting it govern our lives," although infectious disease experts said it was too soon and would lead to more illness and death.
Pedati also stood by as Reynolds refused to implement a mask mandate to slow virus spread as recommended by medical professionals, the Centers for Disease Control and Prevention and a White House virus task force.
In early October, a federal task force in former President Donald Trump's administration told Reynolds that "many preventable deaths" were occurring in Iowa after she lifted business restrictions and refused to require that masks be worn in schools or other public places. Average daily deaths increased to 10 per day with 250 deaths in the month prior to the report.
Reynolds eventually implemented a limited mask requirement in mid-November after a record 1,510 people infected with COVID-19 were hospitalized statewide. When she lifted it in February, she did not consult the public health department.
In August 2020, Pedati acknowledge she was aware of inaccuracies in the state's coronavirus data when her agency used it to release flawed calculations that helped guide decisions on school openings and enrollment. Pedati said she became aware the previous month of a problem in Iowa's disease surveillance reporting system that backdated thousands of new test results.
Pedati will become the second major player to leave the state public health agency since COVID-19 became the department's focal point. Gerd Clabaugh stepped down as state public health director in July 2020 and Reynolds named Garcia to serve both as director of the state Department of Human Services and interim public health head.