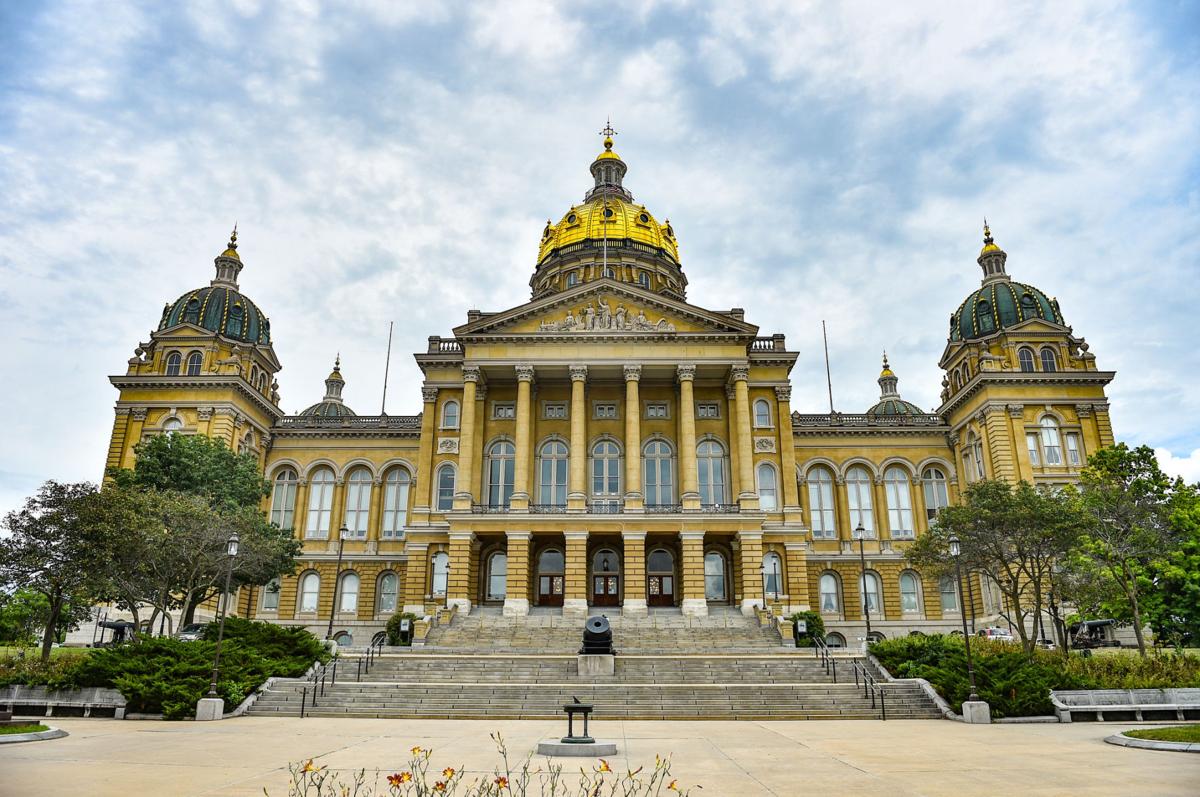 A roundup of state government and Capitol news items of interest from Friday:
GOVERNOR EXTENDS HEALTH EMERGENCY: Gov. Kim Reynolds on Friday signed a new proclamation extending Iowa's public health disaster emergency for another 30 days.
The governor's proclamation extends all the public health mitigation measures in place for businesses and other establishments until 11:59 p.m. Nov. 15.
Included were the requirements for bars and restaurants to ensure 6 feet of physical distance between each group or individual dining or drinking; to ensure all patrons have a seat at a table or bar and consume alcohol or food while seated; and to limit congregating together closer than 6 feet. Requirements for social distancing, hygiene and other public health measures to reduce the risk of transmission also remain in place for gyms, casinos, salons, theaters and other establishments.
Reynolds' action also extends the suspension of weight limits for transportation of agricultural supplies and commodities on state highways for the continued fall harvest.
It also extends many of the previously issued regulatory relief measures necessary to respond to this public health disaster, including those related to health care, professional licensure, educational workforce and expirations of driver's licenses.
The order does not mandate the wearing of masks in public places, but Reynolds wrote: "I continue to strongly encourage all Iowans 2 or older to wear a mask or other face covering when in public settings, especially in circumstances when it is not possible to remain 6 feet away from others outside their household, unless it is unsafe to do so because of health or disability."
TOWNSEND APPOINTED TO VA POST: Officials with the Iowa Workforce Development announced Friday that IWD Director Beth Townsend has been appointed by Robert Wilkie, U.S. Secretary of Veterans Affairs, to serve as a member of the Department of Veterans Affairs Advisory Committee on Minority Veterans.
Townsend's appointment is effective immediately and will continue through June 2022 and will not affect her current state position, IWD officials said.
All costs associated with her participation as a member of the federal advisory committee will be covered by the Department of Veterans Affairs.
The panel advises the secretary of Veterans Affairs on the effectiveness of the VA in delivering and administering benefits, programs and services to minority Veterans. It also reviews reports and studies pertaining to compensation, health care, rehabilitation, outreach and other benefit programs administered by the Department of Veterans Affairs, according to an IWD news release.
MAIN STREET GRANTS AWARDED: Officials with the Iowa Economic Development Authority have virtually awarded $925,000 in Main Street Iowa Challenge Grants to 14 communities around the state. The money will benefit local improvement projects, including total building rehabilitations, upper-story housing renovations and facade restorations.
The grants are administered through IEDA's Iowa Downtown Resource Center and Main Street Iowa programs. The funding will be distributed in the form of matching grants to the selected Main Street programs.
The estimated total project cost of these 14 projects is more than $3.2 million to Ames, Avoca, Burlington, Centerville, Coon Rapids, Hampton, Jefferson, Jewell, Marion, Marshalltown, Mount Vernon, Nevada, Ottumwa and West Branch.
Since the first Challenge Grants were awarded in 2002, about $11.6 million in state and federal funds have leveraged more than $59 million in private investment, according to IEDA officials. Over the life of the program, 193 projects in 56 Main Street Iowa commercial districts across the state have received funding.
Get Election 2020 & Politics updates in your inbox!
Keep up on the latest in national and local politics as Election 2020 comes into focus.