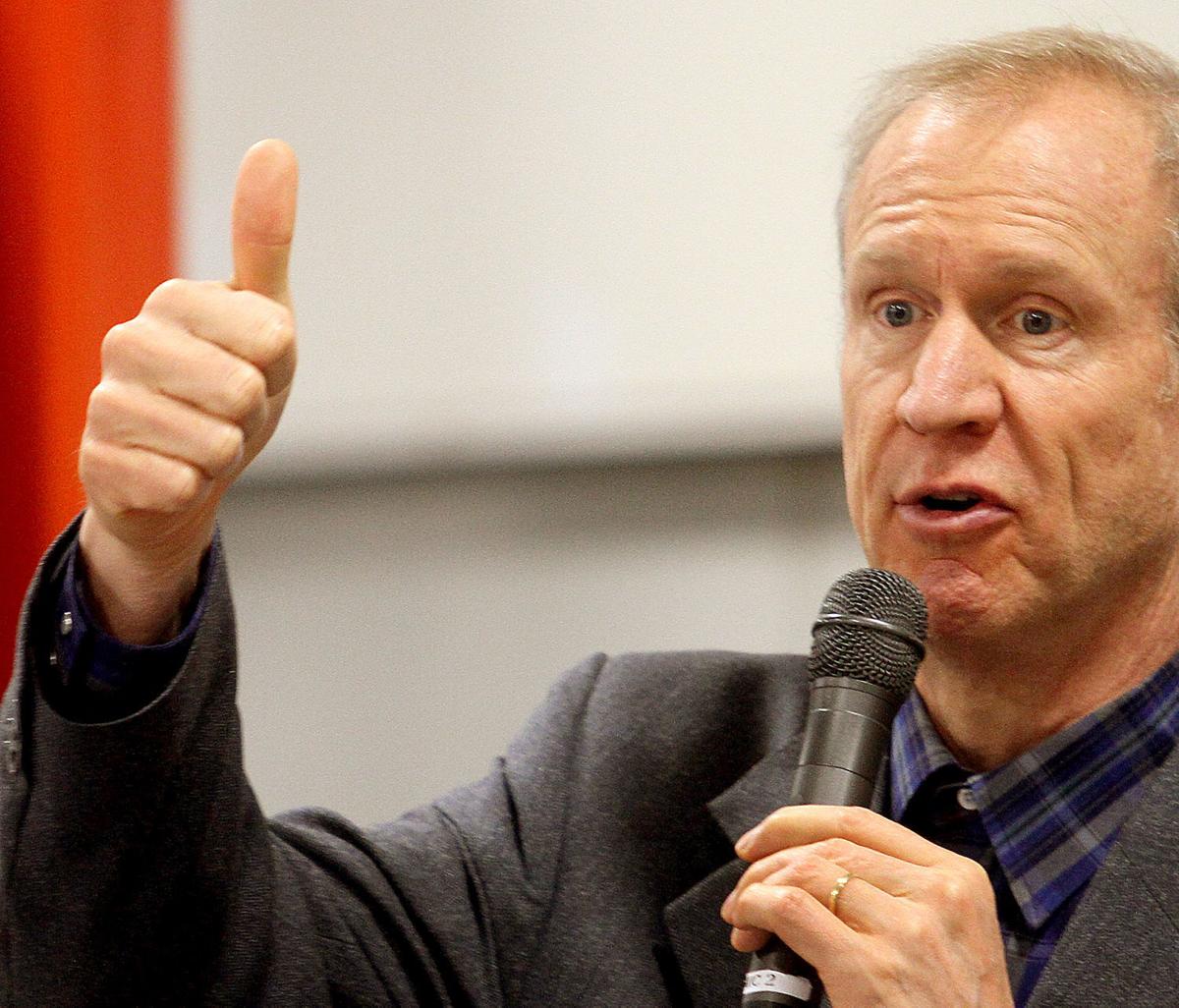 SPRINGFIELD — Gov. Bruce Rauner spent part of Thursday morning fielding questions from a group of hard-nosed reporters.
But these budding scribes weren't part of the usual Statehouse press corps. They were fourth-graders from Sangamon Valley East Elementary School in Harristown, carrying on an annual tradition that began during the administration of Gov. Richard Ogilvie in the 1970s.
Rauner welcomed each student and shook their hands as they filed into his ceremonial office on the second floor of the Capitol. The students formed a semicircle around the governor, and he made sure each one got a question in.
Taking on the role of reporters for publications ranging from the Herald & Review and The (Springfield) State Journal-Register to Reader's Digest and Sports Illustrated, the students asked Rauner about his favorite pastimes (bird hunting, fishing and riding his Harley), foods (juicy hamburgers and ice cream), and movies and TV shows ("The Godfather" and "Casablanca," "The Dick Van Dyke Show" and "Gilligan's Island").
Zara Athey, representing Reader's Digest, asked Rauner about his favorite books.
He spends most of his time reading budgets and policy papers these days, he said, but he used to enjoy science fiction and fantasy novels, such as "The Andromeda Strain," the "Dune" series and "The Lord of the Rings" trilogy, when he was younger and had more time to read for pleasure.
Zara said he thought it would be a good question to ask because she likes to read. Her favorites are the Harry Potter and Percy Jackson series.
"I think the experience was quite enjoyable," she said of the chance to question the governor.
Although they steered clear of the state's historic budget impasse and other controversial issues, some of the students' questions did put Rauner on the spot.
Mary Irwin asked, "Which city or town in Illinois do you admire the most or visit the most often?"
"Boy," Rauner said with a laugh, "that's a hard question for a politician to answer. You can't really, truly give, like, one answer. That's not really possible."
The governor said one of his favorite parts of the job is traveling the state and meeting people in the communities he visits. He added that he tries to visit schools as often as possible.
Jarrett McKittrick asked Rauner a question that could well have been posed by a professional reporter: If a business can locate in any of the 50 states, why should they choose Illinois?
"That's a great question," Rauner said. "You know what? That's the No. 1 reason that I ran for governor is to give a good answer to that. Because we should be one of the fastest-growing states where businesses most want to come."
As he often does speaking to business groups and others, the governor touted the state's location, transportation and agricultural assets and hard-working people. But he said taxes and regulations are holding the state back.
Teacher Julie Bauer said the experience gave her students "an up-close and personal look at the government."
"It's one thing to read about it, but it's another thing to walk into the Capitol, where the laws are made and people can protest and people can really speak for what they believe in," she said.
Retired teacher Jeff Deremiah has organized the trip, now in its 46th year, since its inception.