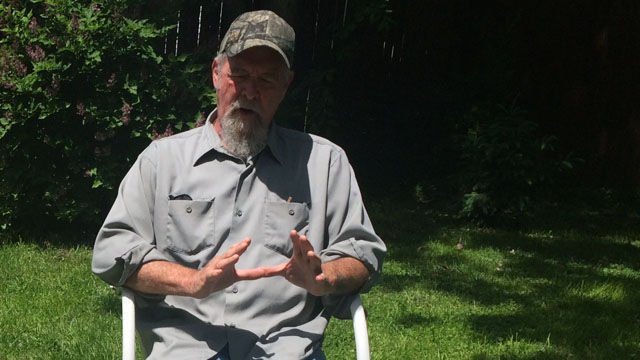 No criminal charges will be filed against a pipeline representative accused by a southeast Iowa landowner of offering to hire prostitutes for him in exchange for letting a pipeline cross his family farm.
An audio recording Hughie Tweedy, 61, of Montrose made of a Nov. 20 conversation with right-of-way agent Steven Titus did not provide enough evidence to meet the legal standard for pimping, solicitation or conspiracy, Lee County Attorney Mike Short said.
"It's obvious that Mr. Tweedy wanted to put Mr. Titus in a very compromising position," Short wrote in a news release. "Secondly, it's obvious that no final agreement was reached, no offer made or acceptance."
Tweedy secretly recorded the conversation with Titus, who was working with Dakota Access LLC, a subsidiary of Texas-based Energy Transfer Partners, the company seeking to build a 1,134-mile crude oil pipeline through 18 Iowa counties.
The pipeline is planned to pass through a wooded corner of Tweedy's 165 acres just west of the Mississippi River in Lee County. Dakota Access has asked the Iowa Utility Board's permission to use eminent domain laws if owners won't sign voluntary easements.
"This is all about saving my sacred family farm," Tweedy told The Gazette in May, when he allowed reporters to listen to parts of the recording.
On the tape, Tweedy reminds Titus of previous talks in which the agent hinted at hiring him a prostitute. The agent suggests they go to St. Louis, where he can hire two or three 19-year-old prostitutes for $1,200.
Titus also mentions an escort service, and Tweedy makes comments about wanting oral sex.
The Iowa Division of Criminal Investigation reviewed the full recording in May and interviewed Tweedy as part of an investigation into the matter. DCI spokesman Alex Murphy said Monday the division had turned over its investigative materials to Short.
Short said he considered three criminal charges — pimping, solicitation and conspiracy — but the statements on the recording didn't meet the legal requirements for the charges.
If anything, Tweedy is the one who appears to be soliciting Titus to hire the prostitutes, Short told The Gazette Monday.
But, Short said of Tweedy, "it's not like he was looking for 19-year-old call girls. He just wanted to embarrass the pipeline company."
Vicki Anderson Granado, a spokeswoman for Dakota Access, declined to comment on the investigation.
Dakota Access is proposing the pipeline from the Bakken crude supply area in North Dakota to Patoka, Ill., including a 343-mile diagonal route across Iowa. Between 63 percent and 69 percent of landowners have signed easements, according to the company and Utilities Board, but opponents have been vocal.